Politics /
AL's 71st founding anniversary being celebrated
---
Shamiur Rahman Lipu
Published:
2020-06-23 10:46:23 BdST
AL's 71st founding anniversary being celebrated
---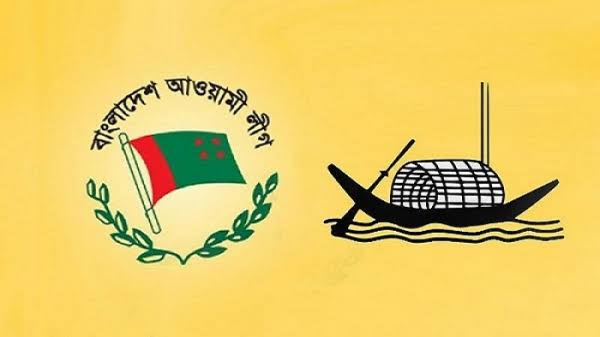 Bangladesh Awami League (AL), one of the country's oldest political parties, is celebrating its 71st founding anniversary today on a limited scale with different programmes particularly on virtual media in the wake of coronavirus outbreak.
Founded on this day in 1949, Awami League has been transformed into an organisation of the masses by leading all the democratic-political-social-cultural movements including the long arduous struggle for freedom and the War of Liberation.
President Md Abdul Hamid and Prime Minister Sheikh Hasina issued separate messages on the eve of the anniversary.
To mark the anniversary, national and party flags are hoisted atop all party offices including the Bangabandhu Avenue central office here.
The programmes include placing of wreaths at the portrait of Father of the Nation Bangabandhu Sheikh Mujibur Rahman on the premises of Bangabandhu Bhaban at Dhanmondi in the capital and at the mausoleum of Bangabandhu at Tungipara in Gopalganj in the morning maintaining health guidelines.
Besides, doa and munajat will be offered in the afternoon seeking eternal peace of departed souls of Father of the Nation Bangabandhu Sheikh Mujibur Rahman and other martyrs of 1975 carnage, four national leaders, 1971 martyrs, martyrs of different movements and struggles, and those AL leaders who died of coronavirus infection.
Healthy life and long lives of Bangabandhu's daughter Prime Minister and AL President Sheikh Hasina and family members of Bangabandhu will also be sought during Dua.
To mark the day, a webinar on 'Youth Expectations from Bangladesh Awami League' will be held tonight which can be watched live from 8:30pm on the party's official Facebook page (https://www.facebook.com/awamileague.1949/) and YouTube channel (https://www.youtube.com/user/myalbd), said a press release.
It will also be aired on private run Somoy television and Bijoy TV as well as the official Facebook pages of leading national dailies including Dainik Ittefaq and Samakal and online portal bdnews24.com.
The discussants of the program are AL Organizing Secretaries Abu Sayeed Al Mahmud Shapan, MP, and Shafiul Alam Chowdhury Nadel, Office Secretary Barrister Biplab Barua, Forest and Environment Secretary Delwar Hossain, Research and Information Secretary Dr Selim Mahmud, International Affairs Secretary Dr Shammi Ahmed and Central Working Committee members Golam Kabir Rabbani Chinu and Marufa Akter Popi.
Prime Minister's Special Assistant and a member of Awami League's International Affairs Sub-committee Barrister Shah Ali Farhad will moderate the webinar.
AL will hold another special webinar titled 'Mass people's party Awami League' tomorrow. It will be screened on the party's official Facebook page (https://www.facebook.com/awamileague.1949/) and YouTube channel (https://www.youtube.com/user/myalbd/) at 8.30pm.
The programme will also be broadcast live on private-run television channels Somoy television and Bijoy TV, Facebook pages of national dailies including Ittefaq, Samakal and Jugantor, online portals bdnews24.com, Banglanews24, Jagonews24.
Awami League General Secretary and Road Transport and Bridges Minister Obaidul Quader, Presidium Members Begum Matia Chowdhury, Engineer Mosharraf Hossain, Lt Colonel (retd) Faruque Khan, Dhaka University former Vice-Chancellor Prof AAMS Arefin Siddique and senior journalist Ajay Dasgupta will join it online as discussants. Former student leader and journalist Subash Singha Roy will moderate it.
In a statement, AL General Secretary Obaidul Quader called upon the party units across the country and their associate and like-minded bodies to observe the founding anniversary of the party maintaining health guidelines and social distancing.
Political analysts and distinguished personalities think that the achievements of Awami League are the achievements of Bangladesh and its people.
AL's late Presidium Member Mohammed Nasim last year said "Awami League is not only the oldest and biggest political party in the country but also the mainstream of democracy and secular ideologies".
Historian, writer and folklorist Shamsuzzaman Khan said Awami League became an immensely popular political party by carrying out movements, struggles and protests against repression, exploitation and subjugation by West Pakistani rulers on Banglaee nation and other small ethnic groups.
The sacrifice of Awami League leaders and workers and their contributions to the nation will be ever remembered, he added.
Though the country's biggest political party was floated as Awami Muslim League at the historical Rose Garden at KM Das Lane in Dhaka, the word 'Muslim' was dropped at its third council in 1955.
Unauthorized use or reproduction of The Finance Today content for commercial purposes is strictly prohibited.