Politics /
First phase municipal polls marked by victory of ruling Awami League candidates
---
Shamiur Rahman Lipu
Published:
2020-12-29 07:16:09 BdST
First phase municipal polls marked by victory of ruling Awami League candidates
---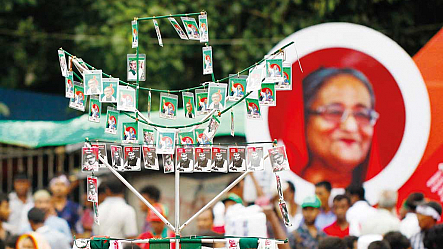 Elections to 24 municipalities have resulted in victory of ruling Awami League candidates in majority of the places so far.
The municipalities are – Panchagarh, Pirganj in Thakurgaon, Phulbari in Diinajpur, Badarganj in Rangpur, Kurigram, Puthia and Katakhali in Rajshahi, Shahzadpur in Sirajganj, Chatmohor in Pabna, Khoksha in Kushtia, Chuadanga, Chalna in Khulna, Betagi in Barguna, Kuakata in Patuakhali, Ujirpur and Bakerganj in Barishal, Gafargaon in Mymensingh, Madan in Netrakona, Manikganj, Dhamrai in Dhaka, Dirai in Sunamganj, Borolekha in Moulvibazar, Sayestaganj in Habiganj and Sitakunda in Chattogram.
Results from some of the municipalities came in at night, showing AL candidates doing better than their rivals.
In Sitakunda, Freedom Fighter and AL nominee Bodiul Alam was elected to the mayor's office for a second consecutive time.
He bagged 10,829 votes while his nearest rival from BNP, Freedom Fighter Abul Monsur, got 3,072 votes.
Ballots were cast using electronic voting machines (EVM).
Meanwhile, Anowar Bhuiyan was elected councillor of ward-1, Badiul Alam Jashim ward-2, Shamsul Azad ward-3, Haradhan Chowdhury Babu ward-4, Shafiul Alam Murad ward-5, Didarul Alam ward-6, Fazle Elahi ward-7, Mofizur Rahman ward-8, Julfiqar Ali ward-9.
Apart from them, Shamima Akter has been elected member of wards 1, 2 and 3; while Kamrun Nahar won in wards 4, 5 and 6; and Masuda Akter in wards 7, 8 and 9.
Independent mayoral candidate Jahirul Islam boycotted the polls alleging irregularities and citing untoward incidents.
In Kushtia's Khoksha, AL's Tarikul Islam has been elected mayor for a second consecutive time.
According to unofficial results, he has received 9,327 votes and his nearest rival, BNP's Nafiz Ahmed, got 1,583 votes.
Nafiz raised allegations of irregularities shortly after announcement of unofficial results.
In Manikganj, AL's Ramjan Ali has won beating his only rival, BNP's Ataur Rahman, by 29,251 votes.
Abul Kalam Azad has been elected councillor of ward-1, Nurul Islam ward-2, Taslim Hridoy ward-3, Arshed Ali Biswas ward-4, Abdur Razzak ward-5, Shayekh Shibli ward-6, Md Kabir Hossain ward-7, Abu Md Nahid ward-8, and Ujjal Hossain ward-9.
In the reserved seat for women, Najma Akter won from wards 1, 2 and 3; Rajia Sultana wards 4, 5 and 6; and Jesmin Akter wards 7, 8 and 9.
In Dhamrai, AL candidate Golam Kabir is leading the mayoral race with 23,110 votes. His nearest rival, BNP's Najim Uddin Monju got only 1,503 votes. The results will be announced on Tuesday morning.
Meanwhile, in Shayestaganj, BNP leader MF Ahmed Oli won the mayoral race with 4,041 votes. AL's Masud Uzzaman Masuk got 3,141 votes.
Oli had won the mayoral polls twice in 2004 and 2011.
In Thakurgaon, renegade AL candidate Freedom Fighter Md Ekramul Haq won the mayoral election bagging 9,133 votes. His nearest rival, AL candidate former mayor Kashirul Alam got 2,790 votes while BNP's Rejaul Karim got 2,714 votes.
SM Ikbal Hossain Sumon has been victorious at Gafargaon in Mymensingh. His rival was BNP candidate Shah Abdullah Al Mamun.
In Chatmohar of Pabna, Awami League candidate advocate Shakhawat Hossain been mayoral elect. He bagged 6,812 votes while BNP's rebel candidate got 842 votes.
Awami League candidate Saiful Islam has won mayoral polls in Madan municipality under Netrokona. He got 3,141 while independent candidate Modasser Hossain Shafik 1,869.
Panchagarh municipality is set to get the first-ever female mayor for Awami League candidate Zakia Khatun becoming victorious. She obtained 12,056 votes while five-time mayor and BNP candidate Towhidul Islam 9, 475 votes.
BNP candidate Farid Ahmed has been mayoral elect of Sayestaganj in Habiganj. He is going to hold the post for the second consecutive term. He got 4,033 votes while his rival Awami League candidate Masuduzzaman 3,258.
In Barguna, Awami League nominated candidate ABM Golam Kabir has been victorious defeating BNP contestant Humayun Kabir Mallik. Kabir has been elected for the second consecutive term securing votes which are 11 times higher than that of the rival.
Awami League mayoral candidate Jahangir Alam was declared victorious in Chuadanga. He got 21,633 votes while BNP rebel candidate Mozibul Haque 7,607 votes.
The Election Commission held the vote under the first phase. Starting at 8:00am, vote casting continued till 4:00pm. Many places saw the use of EVM machine.
Unauthorized use or reproduction of The Finance Today content for commercial purposes is strictly prohibited.