Politics /
World should follow Bangabandhu's ideas of secularism: Amartya Sen
---
Staff Correspondent
Published:
2021-01-28 13:58:26 BdST
World should follow Bangabandhu's ideas of secularism: Amartya Sen
---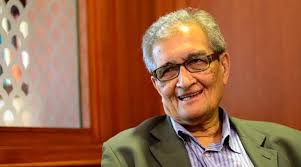 Nobel Laureate Prof Amartya Sen has said that most nations should follow Bangabandhu Sheikh Mujibur Rahman's ideas of secularism to build an egalitarian society.
The Indian economist makes the observation at the Bangabandhu Birth Centenary Talk on "Bangabandhu and Visions of Bangladesh" organised by the Bangladesh High Commission in UK and the South Asia Centre of the London School of Economics (LSE).
"The subcontinent, including India, is going through a challenge of ideological confusion. Now, we have reason to turn to Bangabandhu's secular ideas for guidance. All the countries need Bangabandhu's ideas," he said.
He also said Sheikh Mujib saw secularism in the light of freedom.
Amartya Sen said Bangabandhu was a great political leader and most admired by the people in Bengal. His ideas of secularism, equality and leadership emanated from his love for the people who faced repression during the Pakistani regime since 1947 when India and Pakistan were separated on the basis of religion.
"Bangabandhu was clear in his mind that political use of religion can mean favouring certain religious groups," the Bengali economist and philosopher said.
Bangabandhu, through his struggles, sought to build a society that will have freedom and equal rights for all, he said.
"Bangladesh had its ups and down when it comes to secularism but Bangabandhu was seeking a secular democracy when the constitution was written in 1972," he added.
Secularism is not a new concept in this part of the world, he said while referring to Mughal emperor Akbar.
" He [Akbar] concluded that there should not be any ban on religion chosen freely by the people," he said.
Political use of religion favours one religion over another which often leads to violence, he said.
Bangabandhu's idea of not using religion for political purpose has extensive application even today since it is important for the world, not just for Bengal, he said.
Prof Rehman Sobhan, a freedom fighter and member of Bangladesh's first planning commission, also took part in the discussion.
Prof Rehman highlighted that Bangabandhu wanted to create a state in which exploitation would be done away with.
Unauthorized use or reproduction of The Finance Today content for commercial purposes is strictly prohibited.