Politics /
London, Naya Paltan become two sights of spreading rumours: Hasan
---
FT Online
Published:
2019-07-28 11:39:20 BdST
London, Naya Paltan become two sights of spreading rumours: Hasan
---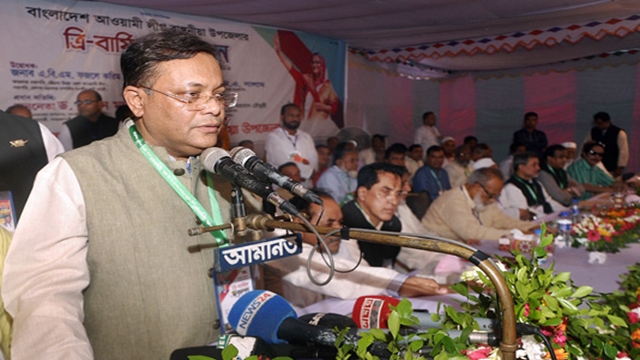 Information Minister Dr Hasan Mahmud today emphatically said that nowadays London and Naya Paltan have turned into two visible sights wherefrom rumours are being spread to mislead the people.
Dr Hasan, also publicity and publication secretary of Awami League (AL), said that the rumour of child lifting was first posted from London which subsequently spread across the country in league with BNP-Jammat activists.
"The mastermind of rumour of child lifting is now in London from where the ill-campaign is being triggered," the information minister came up with the observation while speaking at the triennial conference of Rangunia upazila unit of AL, held on Nurjahan Club premises this afternoon.
Hasan said a vested quarter is out to conspire against the country after being rejected by the people. This quarter is spreading the rumour about the construction of the Padma Bridge, he added.
"The government is taking tougher legal actions against the kingpins involved in spreading the rumours and the persons responsible for the murders must be brought to the book," the minister asserted.
He said the persons who are behind the rumours are equally convicts and none will be spared in this regard.
Presided over by upazila unit president Khalilur Rahman Chowdhury the conference was addressed, among others, by ABM Fazle Karim Chowdhury, MP, Chairman of Chattogram Zila Parisad MA Salam, AL leaders Swajan Kumar Talukder, Giashuddin, Mohammad Ali Shah, Eshanul Haider Babul, Shahjahan Siqdar, Kamrul Islam Chowdhury, Dr Mohammad Selim and Akther Hossain Khan.
The information minister said AL is a party of mass people and added those, who had dedicated themselves to the cause of the party, must take the leadership of the organisation.
"Presently everybody wants to board on the boat of AL but we cannot take them as our boat is full to the brim," Hasan said.
Referring to the remarks of BNP senior joint secretary general Rizvi Ahmed, Hasan said BNP is now behaving foolish and termed his remarks about AL as farcical and politically bankrupt.
Speaking on the occasion Fazle Karim Chowdhury, Chairman of Parliamentary Standing Committee on Railways Ministry said Chattogram -Kaptai road will be elevated to a highway.
He said initiatives would be taken to set up rail line from Chattogram to Kaptai, a tourist hub of the country.
Unauthorized use or reproduction of The Finance Today content for commercial purposes is strictly prohibited.