Religion /
Saraswati Puja today
---
Staff Correspondent
Published:
2023-01-26 18:23:09 BdST
Saraswati Puja today
---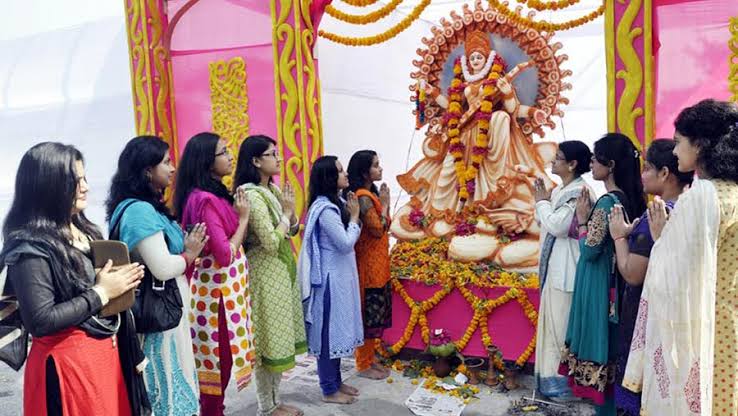 The Hindu community is celebrating Saraswati Puja, worshiping the Goddess of knowledge, music, art and culture, across the country tomorrow amid much enthusiasm, festivity and religious fervor.
President M Abdul Hamid and Prime Minister Sheikh Hasina, in separate messages, greeted the members of the Hindu community on the occasion of the Saraswati Puja.
Both the President and Prime Minister pointed out the heritage of interfaith harmony and the government's commitment to ensure rights of all people belonging to diverse religions to establish a non-communal and secular smart Bangladesh as part of building a 'Sonar Bangla' as dreamt by Father of the Nation Bangabandhu Sheikh Mujibur Rahman.
Saraswati Puja or Basant Panchami falls on the fifth 'Tithi' of the Bengali month of Maagh each year when Hindus worship goddess Saraswati to mark the coming of spring.
Traditionally children are introduced to education and learning on the day of Saraswati Puja and this ritual is called "Hatekhori". Toddlers are usually given a slate and chalk to scribble with on the auspicious day.
Major Hindu temples, schools, colleges, universities and other educational institutions stage the festival with traditional gaiety and religious fervor.
The students in particular seek blessings of Goddess Saraswati in their pursuit of knowledge, art, music and culture.
In most temples, houses and educational institutions, the Puja will begin at 8.45am followed by offering of "anjali" at 10am. Then the children will be imparted "hatekhori" (introduction to learning of children) and later prashad (foodstuff devoted to the goddess) will be distributed among devotees.
However, the puja has been held at some temples, houses and educational institutions today as the Tithi (occasion) to hold the puja began this morning and it will continue till tomorrow morning.
According to Hindu faith, goddess Saraswati represents power, creativity and inspiration and presents herself when the weather is pleasant and nature is in its full grandeur.
Depicted as a graceful woman with a crescent moon adorning her brow, she is shown riding a swan or a peacock, or is seated on a lotus flower.
The most gorgeous Saraswati Puja is being held on the premises of Jagannath Hall of Dhaka University where a huge number of devotees and crowd will throng to perform the religious rituals and visit the pandals circled on the playground of the university's largest dormitory.
Puja was also arranged at Ram Krishna Mission, Jaganntah University, Siddheswari temple, Supreme Court premises, Farashganj, Shakhari Bazar, Tanti Bazar and different other places in old Dhaka, Banani, Dhaka College, Eden Girls' College, BUET, Ramna Kali Mandir and Maa Anandamayi Ashram, Tejgaon College, Stamford University and different educational institutions in the city.
On Dhaka University campus, the Puja is also organized at all female dormitories -- Rokeya Hall, Samsun Nahar Hall, Bangladesh Kuwait Moitri Hall, Begum Fazilatunnesa Mujib Hall and Kabi Sufia Kamal Hall.
Jagannath Hall administration is organizing the dormitory's central puja at the dormitory's Upashonaloy (place of prayers) while employees of the hall has staged several pandals to worship Saraswati.
In his message President Abdul Hamid said Saraswati Puja is a very popular religious festival in Bangladesh. The participation of all irrespective of castes, creeds and religions in the festival has added a new dimension to the non-communal spirit and heritage of the country, he added.
"Bangladesh is a country of communal harmony," the President said and urged all to make contributions from their respective positions to further consolidate this harmony.
He expressed his firm belief that the nation would be able to build 'Sonar Bangla' as dreamt by Father of the Nation Bangabandhu Sheikh Mujibur Rahman with concerted efforts by members of all communities.
Prime Minister Sheikh Hasina in her message said Bangladesh is traditionally a country of communal harmony where all people irrespective of religions and castes have complete freedom to practice their respective religious activities.
She said people of diverse beliefs are living in the country together since time immemorial and performing religious rituals freely. "I think, religion is for individuals but festivals are for all. I believe the communal harmony will be strengthened further in the coming days," said the Premier.
She said Goddess Saraswati is the symbol of truth, justice and knowledge. On the occasion of Saraswati Puja, the prime minister urged all members of the Hindu Community to devote themselves in nation building through acquiring knowledge and maintaining the religious harmony.
Unauthorized use or reproduction of The Finance Today content for commercial purposes is strictly prohibited.