Sports /
Hiring from Bangladesh: Many job-seekers land in trouble amid COVID-19
---
Siyam Hoque
Published:
2020-05-10 08:09:52 BdST
Hiring from Bangladesh: Many job-seekers land in trouble amid COVID-19
---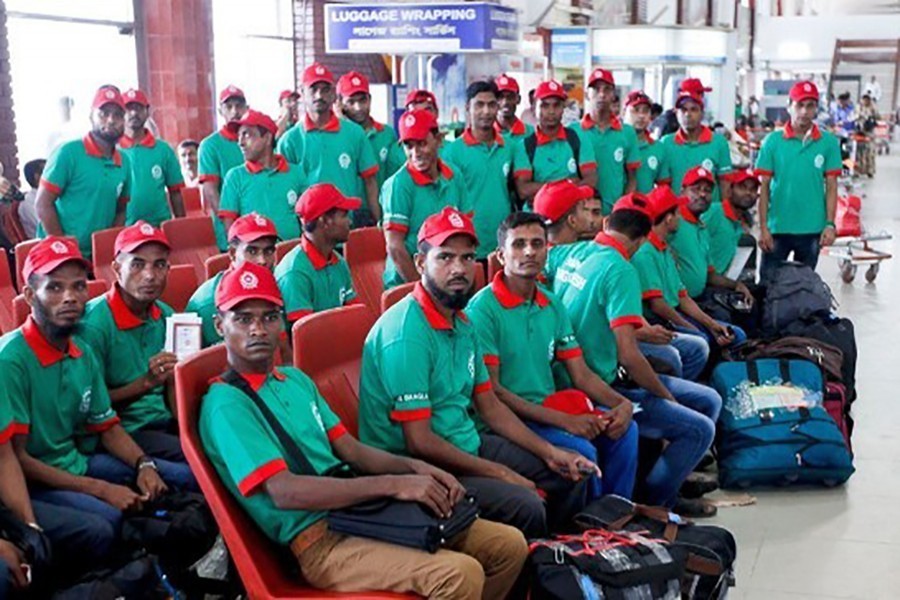 NEWS DESK
The fate of about 150,000 workers who are in the process of going abroad with jobs has fallen uncertain as the host countries cannot receive them shortly because of the prolonged coronavirus pandemic, insiders have said.
There is no possibility that the countries will be able to start recruitment within a year.
Moreover, different types of changes like screening system may be strengthened during the post COVID-19 period by the job destination countries.
So, there is no good news for the workers who are in the pipeline of going abroad currently, they said.
Shameem Ahmed Chowdhury Noman, secretary general of Bangladesh Association of International Recruiting Agencies (BAIRA), said the number of visas that were under process would be more than 100,000. The association has already enlisted 80,000 such visas.
Many of the recruiting agencies even bought air tickets for the workers while many others completed medical and emigration clearance etc.
For these reasons, a large sum of money has been involved in this system.
However, talking to the FT, several workers said their visas will expire within a month. So, they are worried about their future.
They said each of them paid Tk 350,000 to 600,000 as migration charges to go to their job destination countries.
They are also not getting assurance that they will get money back from the agents, if they fail to send them abroad.
In this situation, they are now frustrated as they have managed migration cost through borrowing from lenders and selling or mortgaging lands.
Arman Hosain (25), one of the workers, said his flight was scheduled in the middle of March last. But he failed to go as the host country imposed travel ban.
Arman gave Tk 350,000 to a recruiting agency to go to Saudi Arabia. Now he is worried about his flight as the agency said they could do nothing until or unless the embassy starts its work.
He borrowed the money from a village money lender at 48 per cent interest yearly.
He cannot pay monthly interest to the lender as he is now empty handed, he said and added that he had a small business in the capital. After the lockdown started, his business was closed.
"My family is now passing through hardship," he said, adding that as they have a lower middle class image in the village they cannot even stand for relief on the street.
But now their condition is so bad that they are forced to take food support from neighbourers.
Another worker, Md Jashim, who paid Tk 500,000 to a recruiter to go to Saudi Arabia, is also facing same problems.
"I do not know how can I pay my loan as I collected the money from different people. If I fail to go abroad, it will be difficult for me to stay at village," he said.
Shakirul Islam, chairman of Ovibashi Karmi Unnayan Programme (OKUP), said they are also getting calls through hotline number from the workers.
OKUP, a grassroots migrant rights organisation, has so far received 14 such calls where workers expressed their worries over their migration, he said.
Mr Islam said the government should chalk out a comprehensive plan to extend support to the workers.
If the workers fail to go abroad or do not get their money back, it will bring an adverse impact on their families and society, he observed.
On the other hand, BAIRA secretary general Mr Noman said of the total visas, 80 per cent have come from Saudi Arabia while 20 per cent from different countries like Oman, UAE, Jordan, Lebanon, Singapore etc.
All the countries are now struggling with the coronavirus pendamic. Because of economic setback, the countries may cut jobs for foreign workers as local people also will face employment crises.
So, it is very uncertain when and how the recruitment process will be started by these countries, he said.
But if the agencies fail to send the workers, they will face a great trouble as workers will claim their migration costs. And the workers have rights to get their money back, he said.
So, they have formally placed a demand that the government introduce a fund to resolve the present crisis, he added.
Over 10 million Bangladeshi workers are staying in different countries currently, recruiters have said.
Unauthorized use or reproduction of The Finance Today content for commercial purposes is strictly prohibited.