Independent Directors in many cos not playing due role: BSEC
---
Abu Taher Bappa
Published:
2020-09-23 09:14:58 BdST
Independent Directors in many cos not playing due role: BSEC
---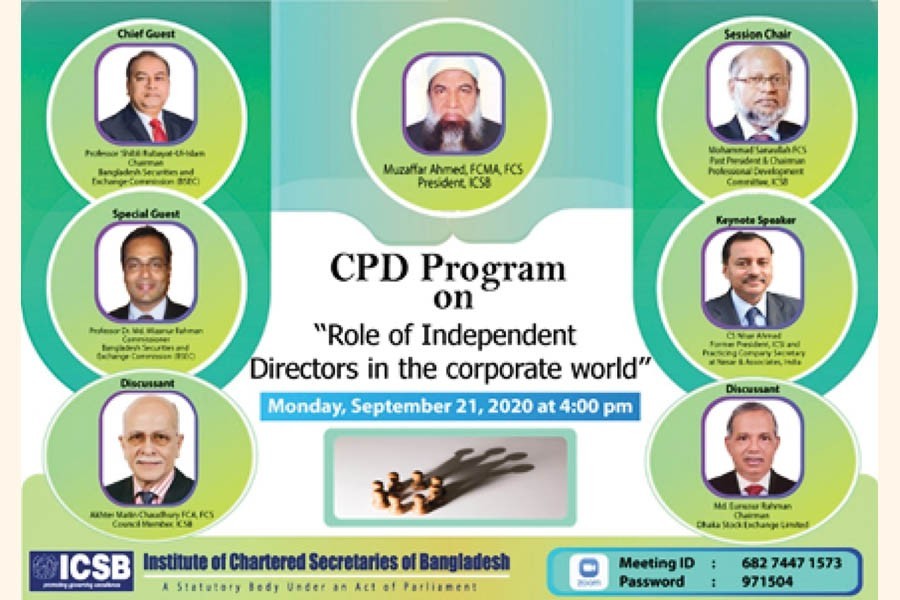 The chairman of Bangladesh Securities and Exchange Commission (BSEC) on Monday said the appointments of Independent Directors in many companies in Bangladesh are made just from relatives, friends and they are not playing their due role.
"The BSEC is currently working on the issue since the role of Independent Directors is very important to ensure corporate governance," Professor Shibli Rubayat-Ul-Islam said while addressing a webinar on "Role of Independent Directors in the Corporate World".
The Institute of Chartered Secretaries of Bangladesh (ICSB) arranged the event.
The BSEC chief sought guidelines from different stakeholders on the issue.
Muzaffar Ahmed FCS, President of ICSB gave the welcome speech.
Mohammad Sanaullah FCS, Session Chairman and immediate past president of the ICSB suggested that the number of Independent Directors should be maintained at least one third in line with global practice.
The other suggestions include nominee directors should not be treated as an Independent Director, Independent Directors' panel to be prepared based on the qualification, long experience as a director, business knowledge and ethical leadership, fixation of adequate fee and remuneration, proper performance evaluation of the directors, concept needs of independent directors to be inducted in non-listed companies and state-owned organizations and ensuring training / induction for such directors.
Dr. Md. Mizanur Rahman, Commissioner, BSEC was the Special Guest.
CS Nisar Ahmad, former president, Institute of Company Secretaries of India (ICSI)presented the Keynote Paper on the topic.
Md. Eunusur Rahman, Chairman, Dhaka Stock Exchange Limited and Akhter Matin Chaudhury FCA, FCS, Council Member of ICSB, were the discussants.
Special Guest Dr. Md. Mizanur Rahman said that Independent Directors should handle the interest of different stakeholders and mitigate their conflict.
"There is a problem that a large number of shareholders and some stakeholders' voices cannot reach to the management. Corporate Governance Code is not well-defined," he said.
"We are working to improve it by reviewing the codes of UK, Japan and US context. We also need to redefine the independence of Independent Directors and their qualifications. Every Director should be individually and jointly responsible for the overall activities of the board. BSEC is deeply committed and looking forward to educating and training Independent Directors," the BSEC Commissioner added.
President of the Institute in his welcome speech said BSEC can keep the governance audit only for the Chartered Secretaries.
Keynote paper presenter CS Nisar Ahmad in his presentation elaborated different factors of Independent Directors, global trends of US, Europe and Asia.
He also gave a comparative analysis of Malaysia, Singapore, Bangladesh and India as well as models of corporate governance of Anglo US Model and Japanese. He highlighted the responsibilities, roles and functions of Independent Directors.
Md. Eunusur Rahman said the position of independent director is ornamental and a factor of social pride and status in Bangladesh. Proper selection of Independent Director is important and needs to be reviewed by BSEC.
Md. Nazrul Islam Chowdhury ACS, Member Secretary of Professional Development Sub Committee delivered vote of thanks on behalf of the Institute.
Unauthorized use or reproduction of The Finance Today content for commercial purposes is strictly prohibited.