Tech /
Marginal people yet to reap benefit due to tech-illiteracy: Speakers
---
Staff Correspondent
Published:
2022-04-26 12:44:12 BdST
Progress in digitalisationMarginal people yet to reap benefit due to tech-illiteracy: Speakers
---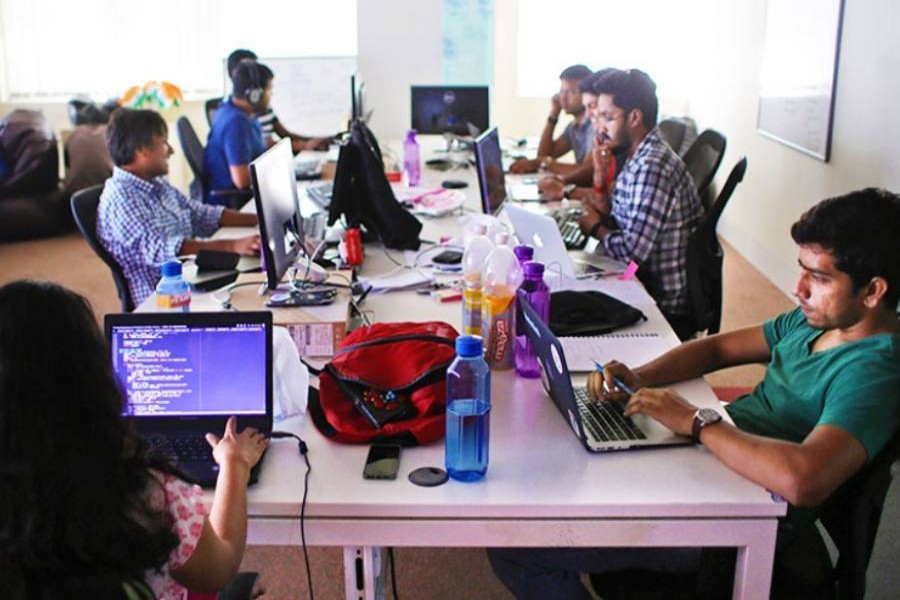 Despite making progress in digitalisation, marginal people in the country are yet to get the benefit mainly due to tech-illiteracy, speakers said at a webinar on Monday.
Therefore, they suggested introducing target-specific digital services so that marginalised communities could adopt those to improve their living standard.
Innovision Consulting Private Limited and mPower, a social enterprise working with information technology solutions, jointly organised the webinar on 'Digital Inclusion - The Next Frontier in Moving Bangladesh Forward'.
The webinar is one of a series of webinars being organised under the theme 'Bangladesh Miracle' by Innovision Consulting, in association with the Department of Economics at North South University as an academic partner and the Financial Express as the print media partner.
Director of e-Agriculture at mPower Shah Mohammad Mushfiqur Rahman made a keynote presentation, while Innovision Managing Director Md Rubaiyath Sarwar moderated the discussion.
Mushfiqur Rahman in his presentation said digital inclusion did empower individuals and societies to effectively use information and communication technologies, enabling them to contribute to and benefit from today's digitalised economies and societies.
According to the presentation, five pillars of digital inclusion include device, internet access, affordability, skill and appropriate contents.
Mr Rahman said Bangladesh ranked 52nd in the 2020 edition of the digital inclusion index out of 82 countries.
"Ensuring digital inclusion can benefit the country's people to avail better healthcare, financial and other services to improve living standards," he said.
Speaking on the occasion, Head of Digital Business at Green Delta Insurance Company Moniruzzaman Khan said the digital inclusion scenario in the country was changing positively as the young generation was quickly adopting the digital tools and services and disseminating their knowledge among others.
Referring to the necessity of supporting marginal communities, he said: "Introducing customised content through digital services is essential to reach marginal people like farmers and rickshaw pullers."
Bangladesh Lead of Better than Cash Alliance, United Nations, Nabila Khurshed said more resistance was found on the supply side as many companies did not want to pay the employees digitally.
Policies regarding differently-abled are not yet in consideration as there are many other issues like gender disparity that are yet to be fully addressed, she added.
Co-founder and COO of Jeeon Bangladesh Ltd Ahmed Abu Bakr underscored the need for focusing on different versions of the digital tools to increase reach among low-income or marginalised groups.
Partnership with intermediaries is also important in this regard, he said.
Portfolio Manager of Inclusive Financial Solutions at Innovision Consulting Fatema Tuz Johora said there are a number of bottlenecks like unavailability of required documents and infrastructures, hindering digital financial inclusion for the informal sector.
Dr Nova Ahmed, associate professor of the Department of Electrical and Computer Engineering at North South University, said there was a lack of awareness about the benefits of technology in the country.
While using Mobile Financial Service (MFS), some people, women in particular, were harassed in violation of their privacy, she said, adding that only proper use of the technology could ensure women's safety.
"Technology should be included in the curriculum. There is a huge gender gap, specific to our country, which makes the country lag behind other South Asian countries," she noted.
Other partners of the webinar series include Youth Policy Forum, DSDE, Sarabangla.net and Printagraphy.
Unauthorized use or reproduction of The Finance Today content for commercial purposes is strictly prohibited.