Tourism /
Tourism business rebounds in Cox's Bazar
---
Staff Correspondent
Published:
2021-12-14 13:47:41 BdST
Tourism business rebounds in Cox's Bazar
---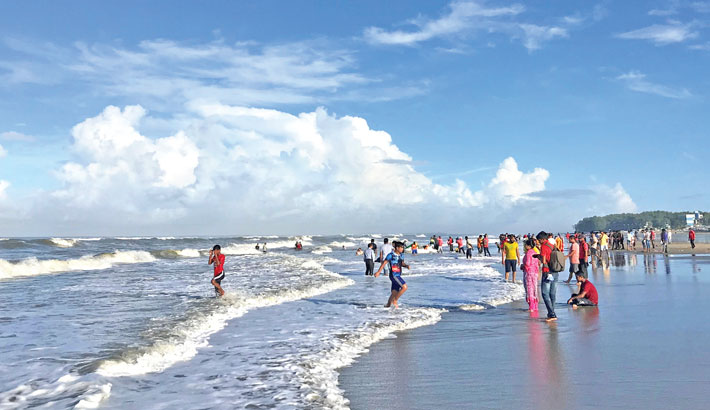 The arrival of tourists is on the rise as tourist spots, resorts and recreation centres including Cox's Bazar beach have reopened despite the Covid-19 pandemic.
The tourism industry starts reviving after an 11-month lockdown enforced by the government to stem the spread of Covid-19.
Tourism in Cox's Bazar, an international tourist destination, has begun to pick up again. Some tourist spots are being made more attractive to tourists by developing infrastructures.
Apart from Cox's Bazar beach, all the tourist spots including Dulahazara Bangabandhu Safari Park, Ramu Buddhist Monastery, Botanical Garden, Mathiner Koop, Himchhari, Adinath Temple, Patuartek, Darianagar, Inani Pathar Beach, Jalia Island are now tourist attractions.
Every day a large number of domestic and foreign tourists are coming here. There are no vacancies in more than 450 hotels, motels and guest houses at weekends.
Hotel and motel owners, however, stressed the need for increasing the facilities for tourists as 70 percent of the rooms at these hotels and motels have already been booked.
Alhaj Omar Sultan, president of Cox's Bazar Hotel Motel Guest House Owners' Association, said there are more than 450 hotels, motels and guest houses in Cox's Bazar town. Due to the lockdown and breakout of coronavirus, everyone's business was about to close. After the reopening of the sea beach, tourists started coming in.
"Now hotel owners are trying to turn around again. We are offering various facilities to the tourists to recoup the loss caused by the pandemic," he added.
Abul Kashem Sikder, general secretary of Hotel Motel Guest House Owners' Association, said although tourism businesses suffered huge losses during the pandemic, the beach is now open and tourist arrival is increasing during the winter season. "Everyone is trying to overcome losses."
Hotel owners have already started taking preparations for the celebration of 31st Night. Advance booking has also been completed in many hotels. Above all, the tourism business is booming, he said.
Alhaj Lion Abdul Karim, vice-president of Hotel Owners' Association and chairman of Ocean Paradise Limited said: "Due to the coronavirus pandemic, I could not pay back loan timely. Now I am trying to make up the loss. If tourist arrivals continue, we will be able to recoup it very quickly."
Abdul Chowdhury, general secretary of Hotel Owners' Association, said from now on, several groups are making bookings for 31st Night at big hotels. "We will be able to make profit if an uptrend of tourist arrival continues."
Kasem Ali, vice-president of Restaurant Owners' Association, said there were more than 300 small and large outlets in and around Cox's Bazar. He said food became costlier due to a sharp rise in prices of essential commodities.
SM Kibria, founding president of Tour Operators Association, said shipping has started from Teknaf to St. Martin's Island. "Due to coronavirus pandemic, all the tour operators became unemployed. Travel has started in tourist spots including St Martin's Island. More infrastructural facilities need to be ensured for travelling to tourist spots."
Kalim Ullah, general secretary of Cox's Bazar Hotel Motel Guest House Officers' Association, said many officers have lost their jobs. Now everything goes back to normal.
Abu Morshed Chowdhury Khoka, president of Cox's Bazar Chamber of Commerce and Industry, said traders had suffered a lot during the corona pandemic. "Traders involved in the tourism industry were left helpless. Though traders did not get government incentives due to various reasons, now they are able to recoup losses to some extent."
However, more facilities need to be provided for tourists in Cox's Bazar. There is no park for children who come with their parents. A number of events, including a separate children's park, need to be set up to entertain tourists.
Deputy Commissioner of Customs Excise and VAT, Cox's Bazar, Mohammad Chaidul Alam said the government was helping the traders in recouping the loss caused by the pandemic.
VAT collection from AC hotels has increased. VAT for non-AC hotels has been reduced from 7.5 per cent to 5 per cent. In the current fiscal year, revenue collection target has been set at Tk 4.06 billion.
Of this, Tk 775 million has already been collected till October. Besides, Tk 3 billion was collected last year. He said Tk 1 billion is collected as revenue from the tourism sector alone every year.
Tourist Police Cox's Bazar Zone Superintendent of Police Zillur Rahman said policemen are on duty at all tourist spots, including Cox's Bazar beach, to ensure safety of incoming tourists.
Apart from security, services are being provided to tourists. At the same time, police are working to raise awareness among tourists about health rules.
Cox's Bazar Deputy Commissioner Mamunur Rashid said infrastructural development work is underway at several tourist spots. "Various facilities are being created for the convenience of tourists. Everything is monitored from a separate tourist cell to provide facilities to the tourists visiting Cox's Bazar."
Unauthorized use or reproduction of The Finance Today content for commercial purposes is strictly prohibited.