Fish farmers in trouble too
---
Siyam Hoque
Published:
2020-04-23 06:25:07 BdST
Fish farmers in trouble too
---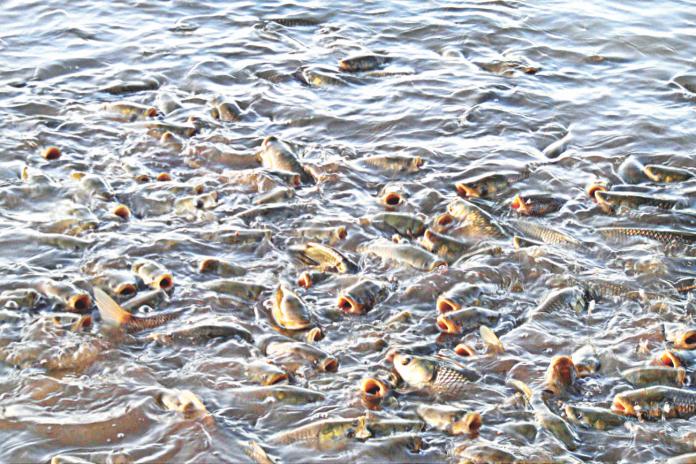 NEWS DESK
Fish farmers in Mymensingh region are incurring losses because of transport disruption caused by Covid-19 shutdown.
Farmers in Mymensingh, Netrakona and Kishoreganj are unable to harvest fish and sell those to different parts of the country due to lack of buyers and smooth inter-district transportation, said fisheries officials and fish farm owners.
If the current situation prevails, fish farms in Mymensingh district may suffer a loss of Tk 400 crore, said Dilip Kumar Saha, the district fisheries officer.
There are around 1,12,000 fish farmers, mostly in Trishal, Gouripur, Phulpur, Tarakanda, Bhaluka and Muktagachha upazilas, as well as 300 hatcheries and 900 nurseries in the district.
The fish from the district are sent to different parts of the country including Dhaka, Sylhet and Chottagram year-round.
But now, many farmers cannot send their fish outside the district and have to keep feeding the adult fish, instead of starting a new fish rearing cycle, said the officer.
Mahbubul Islam, owner of a fish farm on 15 acres of land in Solimpur village under Trishal upazila, invested Tk 50 lakh, including Tk 20 lakh loan. Five employees work at his farm.
Mahbubul said he couldn't get any transport to send his fish to the market. "I am worried about loan repayment now," he said.
Fish farmer Abu Raihan of Dhanikhola village in Trishal claimed he already incurred a loss of over Tk two lakh since the shutdown.
"Throughout last week I sold only around 50 maund [1.2 tonnes] of fish in the local market, but early March in just two days, I sold five tonnes of climbing perch," said Raihan, whose fish farm is on 10 acres of land.
He said the demand for fish in cities, where most supplies go, has decrease because many people went back to their villages in fear of coronavirus.
"Because of the dearth of buyers, I cannot harvest fish. Instead, I have to continue to feed them," said Raihan, who invested around Tk 35 lakh, mostly from bank loans, in his farm.
He is worried about not getting a fair price for his produce in future to help recover his loss.
About 3,200 fish farmers and 50 hatchery owners are facing similar plights in Trishal, informed Tofail Ahmed, senior fisheries officer of the upazila.
According to farmers, Mymensigh's fish sector employs some seven lakh people, many of whom may lose their jobs because of the financial crisis faced by the farm owners.
About 26,000 fish farmers, 250 nursery and 12 hatchery owners in Netrokona are in the same state, said Md Fazlul Kabir, the district fisheries officer.
The supply of fish feed is still normal and the price is as usual. But the price may increase, if the present situation continues, he feared.
District Fisheries Officer Ripon Kumar Paul of Kishoreganj also said around 27,000 fish farmers in the district might count huge losses. But an exact figure is yet to be assessed.
Farmers are also having difficulty finding labourers for fish harvesting because many workers are reluctant to come out and catch fish during the pandemic, Ripon added.
The fisheries officials informed that they are preparing lists of the fish farmers to send to the Ministry of Fisheries and Livestock for the financial assistance offered under the stimulus package of Tk 5000-crore declared by the prime minister recently to address the Covid-19 fallout.
Unauthorized use or reproduction of The Finance Today content for commercial purposes is strictly prohibited.