Input supply disruption takes toll on farming
---
Siyam Hoque
Published:
2020-04-28 08:55:52 BdST
Input supply disruption takes toll on farming
---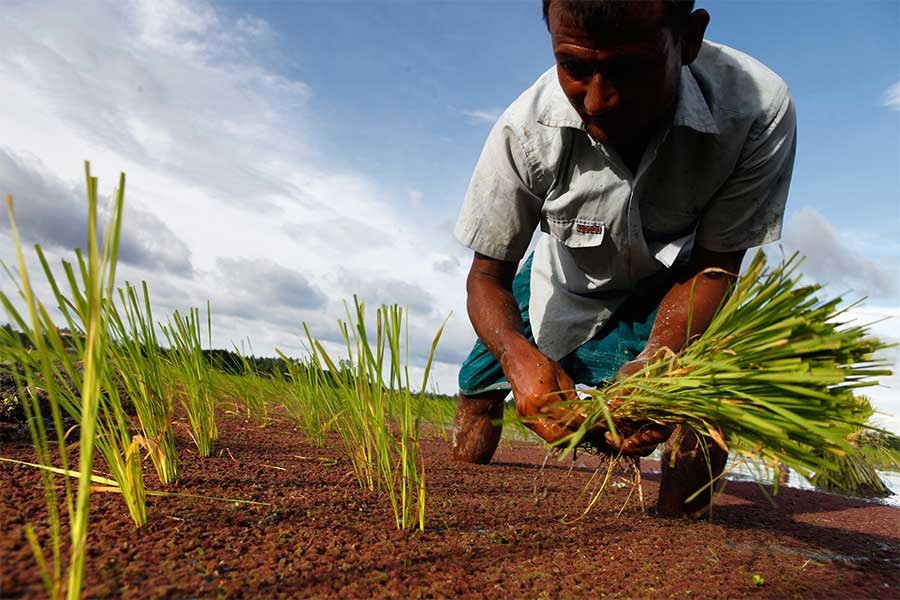 NEWS DESK
Disruptions to agricultural input supply amid coronavirus lockdown have been taking a heavy toll on the cultivation of seasonal crops in Bangladesh, farmers and suppliers have said.
Experts have emphasised smooth supply chain management of farm inputs, equipment and crops to continue sound production in order to tackle any possible food scarcity because of the superbug.
It is a peak cultivation season for summer vegetables, jute, spices and Aus paddy, so farmers need uninterrupted supply of seed, fertiliser, pesticide and other items, they said.
In many places, Boro growers, who started cultivation late, also need pesticides for better crop management.
According to insiders, the ongoing lockdown since March 26 has largely been affecting the supply of both farm inputs and products.
Although the government has ensured uninterrupted supply chain of farm inputs, many dealers and retailers have shut their shops amid the COVID-19 pandemic.
Mahbubul Alam, a farmer from Haruapara in Panchagarh Sadar, said there was a shortage of pesticides for tomato and brinjal fields.
The farmers who cultivated tomato needed pesticides against late blight and fruit borer disease from the last week of March, he told the FE.
But retailers shut their shops until April 10 which caused damage to crops on many fields, Mr Alam cited.
He said the lockdown has come as a double blow as production has been affected for a lack of inputs in time while crop prices are now below production costs.
Mr Alam has grown tomato on 4.0 hectares of land at a cost of Tk 1.55 million.
He is expecting 300-308 tonnes of tomato whose market price is the maximum Tk 1.2 million.
Kamal Uddin, a farmer under Charaikhola union in Nilphamari Sadar, said he cultivates Parija rice in Aus season after harvesting potato.
He said four retail shops near his village have no stock of seed for now.
Mr Uddin has one and a half weeks in hand to span seeds for seedbeds or it will be late for cultivation.
Khalilur Rahman, agri-input retailer at Burichong in Cumilla, said they had to keep their shops shut until the second week of April amid the lockdown.
"Later, we were allowed to open shop from morning till 2:00 pm," he told the FT.
Mr Rahman said it is the peak trading time for pesticides and hybrid rice seed.
But transactions have declined by 80 per cent in the current coronavirus situation. Farmers have also stopped visiting shops, the trader uttered.
May is the peak period for Aman farmers who will need seed and fertiliser soon after Boro harvest.
"If this current trend in sales continues," Mr Rahman said, "we might have no other alternative but to shut our shops."
Contacted, Department of Agricultural Extension (DAE) director general Dr Abdul Mueed said before lockdown, agriculture ministry ensured uninterrupted supply chain of agricultural inputs.
Vehicles loaded with fertiliser, pesticide, diesel, seed and agricultural produce were declared outside the purview of the transport ban, he added.
Mr Mueed said the government directive was also sent immediately in this regard.
He said the DAE also provided farmers with mobile phone numbers of the local extension officials so that they could contact in any emergency.
The DAE with the aid of the local administration also sent more than 0.15-million farm labourers to remote districts for Boro harvest, Mr Mueed concluded.
Farm economist Prof Golam Hafeez Kennedy said although the ministry has managed supply chain of farm inputs and produce amid lockdown, there was a lack of coordination at local level.
Apart from the ongoing vegetable, ginger, jute and Aus cultivation, he said, the second major Alam rice season is going to start across the country.
According to Mr Kennedy, farmers need an estimated 0.15-million tonnes of seed during Aus and Aman seasons.
They also need 1.8-million tonnes of fertiliser for rice and vegetable farming for the next four months.
Modern farming is also based on chemical pesticides, the agronomist went on to say.
He said many farmers in Rajbari, Pabna and Faridpur could not manage jute seed in March amid lockdown which might affect production of the cash crop.
Mr Kennedy said the entire farm input supply should be made easy to maintain sound production which is imperative to tackle any potential food crisis.
It is time to compensate both farmers and small-scale input retailers for their losses, he suggested.
Syngenta Bangladesh managing director AMM Golam Towhid said they have time to implement the government initiatives at field level for production, distribution and retail of farm inputs and produce.
"We will just need a close coordination among DAE, local administrations, farmers and input suppliers," he told this correspondent.
Mr Towhid of the leading multinational farm input company said farmers should get timely and proper information about cultivation.
Transportation for farm sector should be smooth and normal, he said emphatically.
Maintaining good production of crops is obligatory to combat any critical crossroads as the after-effects of the virus outbreak, the Syngenta executive stated.
Unauthorized use or reproduction of The Finance Today content for commercial purposes is strictly prohibited.