Shortfall fear makes rice market volatile
---
Abu Taher Bappa
Published:
2020-09-06 06:10:04 BdST
Shortfall fear makes rice market volatile
---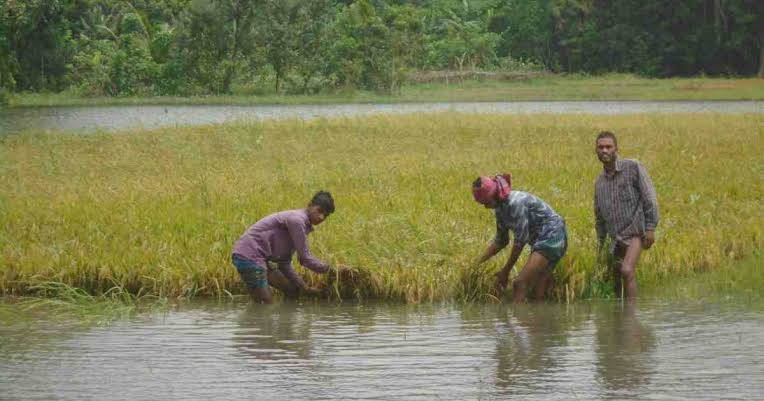 A three-phase natural calamity, COVID-19 pandemic and the perceived fear of production shortfall are making the country's rice market volatile.
The fear of staple shortage deepened after multiple natural disasters hit the crops.
Excessive rainfall in March-April, cyclone Amphan in the month of May and consecutive floods in June- July damaged crops, of which 70 percent is paddy.
Already prices of rice in the local market showed an upward trend during the last three weeks, compounding the hardship of the limited income people.
Prices of all kinds of rice rose by 10-20 percent in a month across the country, according to the Department of Agricultural Marketing and the Trading Corporation of Bangladesh.
Rice prices started increasing at a time when the government agency revealed that production of the key staple was all-time high amounting to 20.26 million tonnes in Boro season.
But people involved in the sector said the two-month flood has severely affected Aman farming, triggering the fear of further spike in rice prices.
Millers said traders and big farmers are storing the paddy following flood fearing crop loss during the Aman season.
According to the Food Department under food ministry, the government's procurement of rice was below requirement by the end of August, for which it extended the rice purchase period until mid-September.
Until August 31, the government procured less than 60 percent of its target.
Mohammad Moniruzzaman, additional director of food department, said the government procured 656,000 tonnes of boro rice (parboiled and white rice) against its target for 1.15 million tonnes from May 7 to August 31.
He, however, said although the procurement remained poor the government has sufficient stock around 1.0 million tonnes of the staple.
About the procurement price for farmers, he acknowledged it is one of the major reasons for poor procurement.
The government is buying rice at Tk 35-36 a kg when the price of coarse rice is Tk. 38 a kg at the mill-gate now.
Prices of rice varieties like Swarna, Brridhan-28 and 29, Miniket, Jeera, Najirshail showed a Tk 250-275 hike per 50-kg sack at mill gates in Naogaon, Kushtia, Rangpur, Dinajpur in a month, according to the Bangladesh Auto Major Husking Mill Owners Association (BAMHMOA).
BAMHMOA secretary K M Layek Ali, said high paddy prices as well as flood in many milling hubs had caused the hike. He said Brridhan-28 paddy prices have increased to Tk 1,200-1,250 a maund, which was Tk 900-950 a maund a month back.
A Bangladesh Rice Research Institute (BRRI) study said there will be no shortage of rice until November as the country will have 5.55 million tonnes of surplus rice during the period.
BRRI, in its latest study, said rice production increased by 3.54 percent in Boro season despite decline in acreage as per hectare yield rose notably.
The Institute also found that farmers have stored 29 percent of total paddy they produced in Boro season, which was 20 percent last year.
Agricultural economist and former research director of Bangladesh Institute of Development Studies (BIDS) Asaduzzaman said it is assumed that there is a shortfall in rice and the procurement target to be not met.
He said the government should go for import immediately, not depending on the private sector alone. He said already prices of rice have gone up in the market so there is no time to make any delay.
However, international prices of the staple are surging in recent times. The FAO Rice Price Index said prices surged by 2.7 percent in August from that of July and the current price is 8.7 percent higher than the corresponding period of last year. Indian, Thai and Vietnamese parboiled rice are now trading at prices between US $ 385 and $ 508 a tonne. The prices were between $330 and $440 a tonne before the pandemic.
A study, released on Saturday by Disaster Management Watch, said farmers have been facing problems. About 56 percent of them do not have sufficient cash for the next cropping season, some 54 percent find the prices of input high, and 56 percent are facing labour shortage.
Underscoring the need for ensuring fair price for farmers, report said COVID coupled with flood has led to such problems. It estimated that there could be 22 percent crop loss due to the floods.
Unauthorized use or reproduction of The Finance Today content for commercial purposes is strictly prohibited.