Govt eyes Aman harvest to recoup crop loss by flood
---
ALIF
Published:
2020-09-24 07:10:13 BdST
Govt eyes Aman harvest to recoup crop loss by flood
---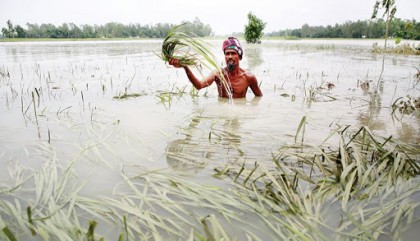 The government has taken an all-out effort to mitigate the damage of crops by flood and ensure food security through Aman and different winter vegetable cultivation.
Measures such as creating alternative seedbeds, cultivating other crops on damaged lands and monitoring weather conditions have been taken by Department of Agriculture Extension (DAE) to recover the looses.
The floods have destroyed different standing crops including Aus, Transplant Aman, Broadcast Aman, Aman Seedbed, summer vegetables, jute, sugarcane, banana and green chilli that affected 12,72,151 farmers in 37 districts.
Dr. Md. Abdul Muyeed, Director General of Department of Agricultural Extension (DAE), said that they have taken different initiatives including providing seed, fertilizers, sapling and many other support to the farmers for recovering the crops looses by the flood.
To recover the losses the government launched Tk17.54 crore agri rehabilitation programme for 1, 39,631 marginal and small farmers in the affected areas.
They have been distributing different leafy vegetable seeds, guard, bean, cucumber and other vegetable seeds free of cost among 1,51,600 farmers which is worth around Tk10.27 crore.
DAE also produced Aman sapling through community-based farming and distributed that among the affected farmers.
The sapling has been distributed among 35,166 farmers in 33 districts while they have made seedbeds on 525 acros of land.
Under the floating bed sapling producing programme they have made 5,060 floating bed seadbeds in 40 districts and provide sapling to 1,265 farmers.
DAE Director General Muyeed also said, "They have been providing different input so that prolonged flood will not decline crop production in the country. This year the target of Aman production is 153.79 lakh metric ton from 58,953 lakh hectors of land but the target is likely to exceed." DAE also produced sapling for planting with rice transplanter and under the programme they made Ropa Aman seedbed on 41,600 trays for 1,600 farmers in 25 districts.
If Aman rice is not possible to cultivate in flood affected aresa then mung bean will be cultivated and for this DAE provides seed and fertilizers among 50,000 farmers in 35 districts.
Without this the government will also provide agricultural inputs free of costs among 9,29,194 affected farmers to produce wheat, mastered, peanut, sunflower, onion, chili and other crops. Crops of 1,58,814 hector of land have been totally damaged while 2,57,148 hectares of land have been inundated by the flood. The floods have damaged crops worth Tk13.23 billion crore in 37 affected districts across the country.
Unauthorized use or reproduction of The Finance Today content for commercial purposes is strictly prohibited.