Onion crisis may create opportunity for growers
---
SAMI
Published:
2020-10-05 10:14:41 BdST
Onion crisis may create opportunity for growers
---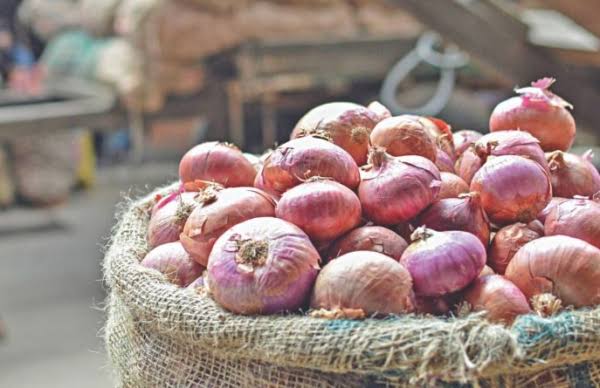 he ongoing crisis and growing demand for onion is likely to bring a boon for farmers, ultimately encouraging them to produce a plenty of the essential cooking ingredient in the country.
Crisis of onion is not a new issue in Bangladesh but there are no long-term steps taken by the government to increase its production.
The country experienced an onion shortage in 2013 but in the last couple of years onion crisis has become more acute due to the restriction of onion export by India, the main source country of onion for Bangladesh.
Onion cultivation will start in the country within a month. Farmer will cultivate murikata onion to make seed for onion cultivation while the variety will hit the market in mid-December.
The main harvesting season of onion is March, and at that time, onion produced from seed will come to market that can be stored for a long time.
Last year onion production has increased by 1.76 lakh metric tonnes while the production was 25.545 lakh metric tonnes, according to the Department of Agricultural Extension (DAE).
The demand for onion is around 34-35 lakh metric tonnes per year in the country, said Dr Md Abdul Muyeed, Director General of Department of Agricultural Extension (DAE).
He said onion is a perishable item and so 4-5 lakh metric tonnes of onion wasted during storage.
The DG of DAE said farmer also fear to cultivate a plenty of onion as nor'easter and different adverse weather condition before the harvesting period affect onion field, putting them in crisis.
"There were some land dedicated for onion farming and some dedicated farmers also produce onion," he said, adding that they are encouraging other farmers to produce onion.
This year DAE targeted farming onion in more 15,000 hectors of land while last year onion was cultivated on 2.376 lakh hectors of land.
The amount of land under onion cultivation also increased by about 29,000 hectares from FY'18-19 to FY'19-20.
Each year farmers increased cultivation of onion when they witnessed a good price of the spices in the country, said agri economist Prof ASM Golam Hafeez.
He said if the government gives support and ensures fair price, then farmers can fulfill the rising onion demand in the country.
Ali Hossain, an onion farmer from Kushtia, said in the last two years he got higher price after producing onion and this year he will also cultivate onion in his three bighas of land.
The input cost of onion is increasing day by day that also hampers farmers to produce onion, he said, adding that farmers sell onion during harvesting period in which the price was Tk1,000 per mound (40 kg) but now the onion price in Tk 3,000-Tk3,200 per mound (40kg ) in the whole sell level.
Muyeed DG of DAE said they have taken different initiatives to increase the onion production.
They will increase onion production from 20,000 metric tonnes per hectors to 21,000 metric tonnes per hector that will increase 2.5 lakh metric tonnes of onion in current season, he said.
BARI Onion-6, invented by Bangladesh Agricultural Research Institute (BARI), gave good yield last year. Researchers of the institute hope that the cultivation of this variety of onion will increase further this year.
In winter, a variety of onions has been cultivated but now an adequate number of summer varieties of onions are in the farmer's field.
Muyeed also said, "Due to crisis of summer season onion variety DAE has failed to demonstrate that in the farmers filed, if BADC gives seed of those varieties, then they can increase summer time onion."
"This season they have a plan to cultivate summer time onion on 1,000-2,000 hectors of land. To increase onion production DAE will provide incentive including seeds, fertilizer and farmer will get a loan at 4 percent rate from bank," said the official.
Unauthorized use or reproduction of The Finance Today content for commercial purposes is strictly prohibited.