Govt to raise duty on rice Import to 'protect growers'
---
SAM
Published:
2018-06-05 09:56:39 BdST
Govt to raise duty on rice Import to 'protect growers'
---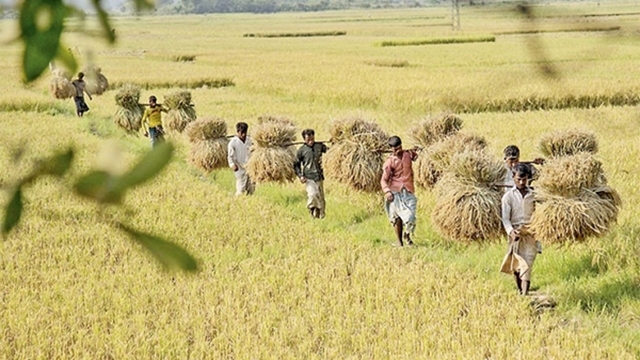 FT ONLINE
The government will re-impose 28 percent duty on import of rice to protect the growers as the country got a bumper paddy production in the boro season, said Commerce Minister Tofail Ahmed yesterday.
The move comes after many farmers sold their produce to middlemen at prices well below their production cost in the face of surging rice imports and increased domestic production this year.
Sheikh Mushfikur Rahman, a farmer in Bagerhat, said, "This is a delayed move. The declaration should have been earlier. This is not going to benefit small farmers as many of them have already sold their produce. This will benefit the middlemen."
He said he would be one of the few of growers who hold on to a portion of their produce until the price rises.
Now, prices of paddy at the farmers end are between Tk 17.5 and Tk 22.5 a kg depending on the quality, according to two millers and Mushfik. The prices are below the government's estimated production of cost of Tk 24 per kg.
Local farmers are not getting the proper prices from the sales as excessive rice was imported with only 2 percent duty in place, Tofail told journalists at a press conference at his secretariat office.
He said the re-imposed duty would come into effect with the proposal of the upcoming national budget. Finance Minister AMA Muhith is scheduled to unveil budgetary measures on June 7.
Sazzad Zahir Chandan, general secretary of Bangladesh Krishak Samity, a rights organisation for farmers, said his organisation was against import of rice during the harvest season.
He echoed Mushfik and said farmers would not be able to reap the benefits of the increased duty.
"Millers and ruling party men who supply the staple to government silos will make profit now," he said.
Last year, the government reduced the duty on rice imports in two phases to increase supply and curb price spike owing to crop losses in the north where floods had a devastating impact.
The north accounts for more than half the boro production.
The government first reduced duty on import of rice to 10 percent in June last year and in August, the duty was further reduced to 2 percent to raise the stock of rice.
As a result, rice import soared to 39 lakh tonnes in July-May, up from only 1.33 lakh tonnes the previous year, according to the food ministry data.
According to US Department of Agriculture, the rice deficit for Bangladesh was an estimated 10 lakh tonnes.
"We witnessed a bumper paddy production this season. So, it has been decided that the duty on import of rice would be taken to the previous level," said Tofail, adding, "There would not be any bad impact on the local market if the duty is re-imposed, as we have a lot of stock of the staple.
"If the duty is not raised from the 2 percent, the traders will import a lot of rice and the local farmers will lose interest in growing rice in the next season," the minister said.
"If needed, we will lower the duty again," said Tofail.
KM Layek Ali, general secretary of Bangladesh Auto Major and Husking Mills Association, said duty hike would help millers to clear their stock, which they could not get rid of due to low demand and imported rice flooding the market.
Layek said many farmers, including some with small farms, still have paddy in stock. "Those farmers, who could dry their paddy, despite inclement weather during and after the harvest, have retained a portion."
Mushfik said prices of paddy fell to as low as Tk 15 a kg in his locality last month and many marginal growers had to sell their produce. "And marginal farmers, who have sold paddy, will have to buy rice at higher prices in the coming days if the prices go up. They could suffer at both ends."
At the briefing, Tofail said India imposed anti-dumping duty on Bangladeshi jute to protect the interest of their own farmers.
"We are also imposing duty to protect the interest of our farmers."
Some 6.3 percent more paddy was produced this boro season compared to the last season, according to a report by the United States Department of Agriculture last week. During this boro season, paddy acreage was 1 lakh more than that of last year, the report said.
Unauthorized use or reproduction of The Finance Today content for commercial purposes is strictly prohibited.