Mango flowering starts early in Rajshahi
---
A Malek
Published:
2019-01-13 12:57:44 BdST
Mango flowering starts early in Rajshahi
---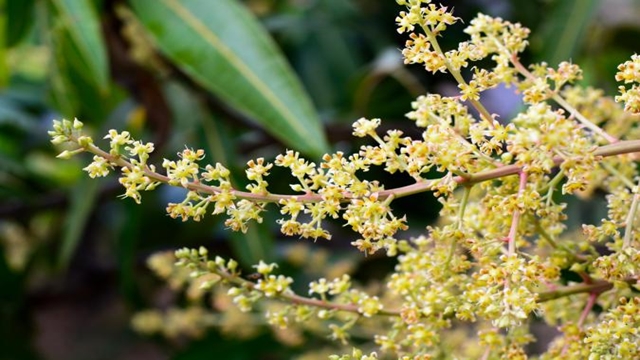 Although there are couple of weeks more to end winter some of the mango trees have started sprouting early in the region.
Mango trees are sprouting early at various places like Vatapara,
Gourhanga, Bheripara, Police line, Malopara, Meherchandi and Bhadra in the
city. But extent of flowering is comparatively less than that of the normal
time.
Selim Reza, 48, a mango trader of Rustampur village under Bagha Upazila,
told BSS that the farmers are seen very busy in nursing mango trees at
present to protect the flowering from dropping.
Usually, he adds, mango buds are not seen to sprout so early in so cold
temperature rather the blooming of mango buds in some early varieties are
seen to occur during the last week of January and continues to do so till to
the middle of March.
Abdul Matin, a resident of Premtali village, said mango buds are not seen
to sprout this time. Even, an early variety buds during the last week of
January. He said impact of global climate change might be a cause of such
early budding of mango trees.
Shamsul Alam, Deputy Director of Department of Agriculture Extension,
said flower comes in some trees early every year. The flower has started
appearing this year also. If the current sprouting were not affected by any
dense fog early the farmers can derive the benefits of early harvest.
There are around 35 lakh mango trees of different ages on some 23
thousand hectares of land in the region.
Dr Alim Uddin, principal scientific officer of Rajshahi Horticulture
Research Institute, said budding of BARI-11 variety of mango is seen budded
at an early time.
He said for the last one decade it has been noticed from some places of
the country that mango is budding early.
Dr Alim said mangoes grown through such early budding are usually tasty
and sweet to consume but those contain some more fibre.
The weather of the region seems suitable for smooth sprouting of mango
buds so far and due to non-emergence much new leaves on the trees, there is a
possibility of huge budding of mango trees this year.
If the weather remains favourable, there would be abundant production of
mango in Rajshahi and Chapainawabganj districts, famous for mango production.
The number of growing mango trees has been increasing in the region for
the last couple of years following greater interest among the people. Mango,
the leading seasonal cash crop of the northwestern region, vitalizes the
overall economy of Rajshahi and Chapainawabganj districts.
Farming of mango has been increasing every year and the gardeners are
earning huge profits by cultivating high yielding and hybrid varieties like
Amropali side by side with the traditional and popular indigenous varieties.
The farmers and villagers have been showing more interests in mango
farming, one of the most important seasonal cash crops of the region, in
recent years with a view to increasing its productions and achieving economic
well-being.
Unauthorized use or reproduction of The Finance Today content for commercial purposes is strictly prohibited.