Sunamganj losing land fertility for topsoil extraction
---
Al Fahad
Published:
2020-02-25 10:46:42 BdST
Sunamganj losing land fertility for topsoil extraction
---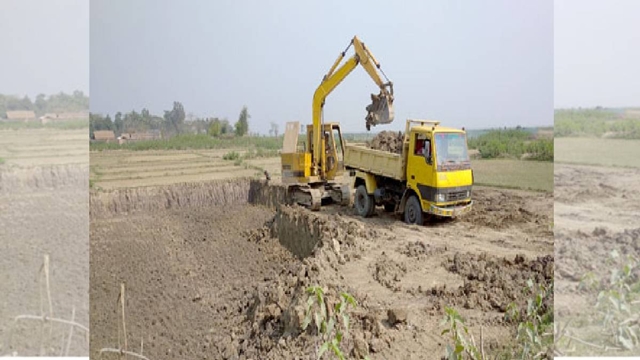 In an utter violation of the law, the extraction of topsoil from arable land for brick kilns is going on unabated in Dharampasha Upazila, destroying the land fertility.

The Brick Manufacturing and Brick Kilns Establishment (Control) Act 2019 has prohibited the extraction of topsoil from agricultural land.

It has also prohibited the soil extraction from hills and hillocks.

As per the law, after receiving approval for any brick kiln, its owner has to inform the authorities concerned about where soil will be collected from. The brick kiln can only go into operation after having permission from the district administration.
As the demand for topsoil for brick kilns has seen a rise, its extraction is going on unabated in violation of the law.

Locals said after the harvest of Aman paddy, farmers started selling topsoil from their land to brick kilns. Moving from village to village, brokers are convincing them to sell the topsoil.

Without considering its long-term effect, they are selling soil for instant profit.

Delwar Hossain, a farmer of Sunoi village, said the owner of a piece of land by his one sold the topsoil to a brick kiln. "I tried to make him understand that it would reduce the land fertility as well as production. But, he didn't pay any heed to this. He is doing harm to his land for making a onetime profit."

Wishing anonymity, the manager of a brick kiln said they require 25-30 trolleys of soil every day and farmers are willingly selling soil to them.

Mahbub Faruki, owner of M/S BMS Brick Kiln, said it is not possible to manufacture bricks with all types of soil. "Soil from agricultural land is suitable for it. So, the demand for the soil is high."

"As we are not getting soil as per our demand, we need to depend on soil of agricultural land," he added.

Terming it a matter of deep concern, Ferdausur Rahman, chairman of Paikurati union Parishad, said it is urgent to immediately stop this illegal practice. "Or else, the entire Upazila will face a severe consequence."

He also underscored the need for creating awareness among farmers.

The UP chairman said officials of the Department of Agricultural Extension (DAE) should work in the field to raise awareness among farmers to this end.

Md Nazmul Islam, an official of the Dharampasha DAE office, said fertility exits within 15-20 inches from the surface. "When the topsoil is extracted, it destroys fertility completely. It takes around 10-15 years for the land to get back this fertility."

Md Abu Taleb, acting Upazila nirbahi officer of Dharampasha, said the selling of topsoil from agricultural land is prohibited.

Admitting that there are complaints of illegal extraction of topsoil, he said necessary steps will be taken soon.

Abdul Ahad, the deputy commissioner of Sunamganj, said action will be taken soon to stop this illegal practice.
Unauthorized use or reproduction of The Finance Today content for commercial purposes is strictly prohibited.