Bank /
Interest rate spread rises in August
---
Abu Taher Bappa
Published:
2020-10-01 13:31:52 BdST
Interest rate spread rises in August
---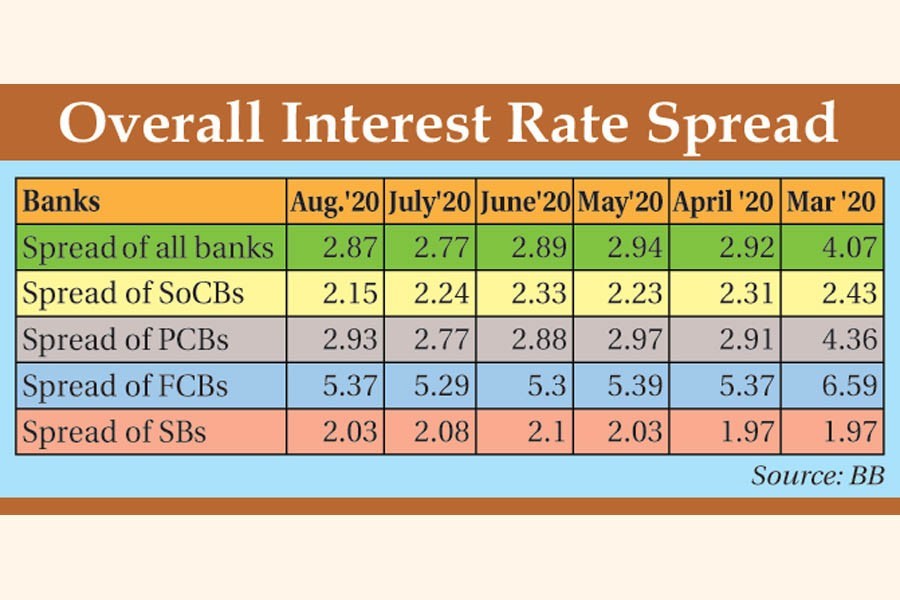 The interest rate spread in the country's banking system increased slightly in August 2020 as banks further slashed rates on deposits but charged a little bit higher on lending.
The weighted average spread between lending and deposit rates offered by commercial banks rose to 2.87 in August from 2.77 per cent in July. It was 4.07 per cent in March.
The weighted average rate on deposits fell to 4.95 per cent in August from 5.02 per cent in July while such rate on lending rose to 7.82 per cent from 7.79 per cent, revealed the Bangladesh Bank statistics.
Senior bankers, however, predicted that the spread may improve further in the near future if the falling trend in interest rates on deposits continues.
Most of the banks have already slashed their interest rates on all types of deposits because of a higher inflow of liquidity in the market, they explained.
Pubali Bank managing director and CEO Md Abdul Halim Chowdhury said the spread might increase further in September following maturity of FDRs (fixed deposit receipts) that were collected earlier with higher rates.
He also expected that loans and advances would increase in September as businessmen are showing interest to expand their businesses.
But some 'good borrowers' have already urged to sanction their loans at below 9.0 percent interest rates, Mr Chowdhury said.
"Yield on advances has increased slightly as the central bank has suspended adverse classification of any loans until December 31 this calendar year," said a senior executive of a leading private commercial bank (PCB) while explaining the increased lending rates.
Interest rates on deposits might fall further because excess liquidity in the banking system has maintained an upward trend in recent months, he added.
Average spread with state-owned commercial banks (SoCBs) was 2.15 percent in August, 2.93 percent with PCBs, 5.37 percent with foreign commercial banks (FCBs) and 2.03 percent with specialised banks (SBs).
In April, the spread dropped significantly to 2.92 percent from 4.07 percent in March following implementation of the single-digit interest rate in the banking sector.
Unauthorized use or reproduction of The Finance Today content for commercial purposes is strictly prohibited.