Bank /
10 NBFIs hold 81pc bad loans in the sector
---
Staff Correspondent
Published:
2021-08-31 13:25:56 BdST
10 NBFIs hold 81pc bad loans in the sector
---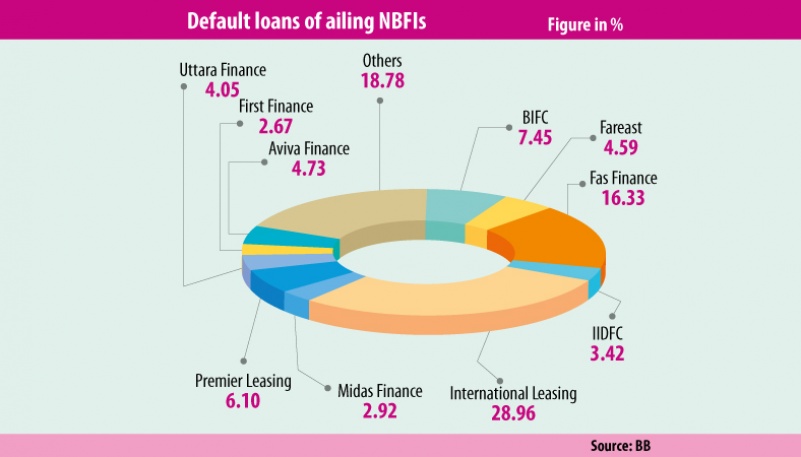 Non-bank financial institutions have continued to face a rising trend in non-performing loans and loan loss provisioning due to poor governance and major irregularities.
According to NBFIs, this sector is facing a fresh setback as one-third of NBFIs are holding 81 percent of the total bad loans.
Only 10 NBFIs, out of the total 34 NBFIs in the country, are currently holding 81.24 percent non-performing loans in this sector, according to Bangladesh Bank data.
According to the central bank, till March, this year, total NPLs in 34 NBFIs stood at Tk 10,353.6 crore, of the amount, Tk 8,411.97 crore bad loans were found only ten NBFIs, which was 81.24 percent of the total NPLs in this sector.
The ten NBFIs are- BIFC, Fareast Finance, Fas Finance, Aviva Finance, IIDFC, International Leasing, Midas Finance, Premier Leasing, Uttara Finance and First Finance.
Five to six NBFIs, out of the ten NBFIs, are in critical condition, said a high official of the central bank on condition of anonymity.
"The whole sector is now facing an image crisis due to their ailing financial health," he said, further adding that those institutions need to be reformed.
As of March this year, NPL of Bangladesh Industrial Finance Company Limited (BIFC) stood at Tk 772.03 crore, which was 94.78 percent of its outstanding loans, Fas Finance NPL stood at Tk 1691.46, crore or 87.92 percent of its loans, Fareast Finance NPL stood at Tk475.71 crore or 50.58 percent of its loans, International Leasing NPL stood at Tk 2999.31 crore or 74.56 percent of its loans.
Premier Leasing NPL stood at Tk 631.36 crore or 48.58 percent of its loans, First Finance NPL stood at Tk 276.51 crore or 31.25 percent of its loans, Industrial and Infrastructure Development Finance company (IIDFC) NPL stood at Tk 354.73 or 24.44 percent of its loans.
Midas Finance NPL stood at Tk 302.07 or 31.22 percent of its loans; Aviva Finance NPL stood at Tk 489.88 crore or 16.13 percent of its loans and Uttara Finance NPL stood at Tk 418.91 crore or 15.33 percent of its total loans, according to the BB data.
Industrial and Infrastructure Development Finance Company managing director Md Golam Sarwar Bhuiyan said that the present NPLs rate in IIDFC rises as we have not yet responded positively to the loan reschedule pleas from defaulting clients.
"Now, we are trying to recover the bad loans in any way," he, however, said.
As the loans recovery rate from the clients is good now, we would be able to reduce the NPLs within this year, said IIDFC managing director.
"Recently, around Tk 600 crore loans were taken over by many banks from IIDFC, which was another reason behind the increasing trend of NPLs rate."
The NBFI sector is now facing huge criticism due to the three or four ailing NBFIs but this is good initiative that the government started to reform the board of directors of such ailing NBFIs, said Md Golam Sarwar Bhuiyan, first vice-president of the Bangladesh Leasing and Finance Companies Association, a forum of CEOs of NBFIs.
The Finance Ministry in June, 2019 had instructed the central bank to shut the People's Leasing and Financial Services as the NBFI has failed to repay the depositors' money despite maturity of the funds.
This liquidation move put this sector in further crisis and then the government restructured the NBFI instead of liquidation.
The High Court recently restructured the board of directors of the ailing people's leasing and international leasing to protect the depositors' money.
Bad loans at non-bank financial institutions rose by 47.18 percent year-on-year in March this year due to the ailing financial health of some NBFIs.
"NBFIs are the pocket institutions of big industry owners," said Bangladesh Bank former governor Salehuddin Ahmed while talking to The Business Post.
In this regard, he further explained that some more rules and regulations need to be introduced in this sector to bring the situation under control and also to establish good governance. Besides, the central bank's monitoring system should also be strengthened over the NBFI sector, he added.
"The BB's monitoring over the NBFI is less strong than the commercial banks," said the former governor.
Bangladesh Bank executive director and spokesperson Md. Serajul Islam said, "The central bank on February 15 formed a five-member committee to investigate into the irregularities in the NBFIs."
Apart from the role of the institutions concerned, the role of those, who were in-charge of the BB during those incidents, will also come under scrutiny by the committee, he added.
"The investigation is still going on."
Meanwhile, BLFCA Chairman Mominul Islam said that the NBFI sector is now facing an image crisis due to few ailing NBFIs.
"Four or five ailing NBFI should be closed or reformed to bring back the image of the sector," said Mominul, also the managing director of IPDC Finance.
"It is positive side that the actual health of those NBFI comes to the light due to the inspection of the central bank," he added.
Unauthorized use or reproduction of The Finance Today content for commercial purposes is strictly prohibited.