Budget /
JS passes Tk 15,339.82cr supplementary budget for 2017-18
---
Nirmal Barman
Published:
2018-06-12 12:07:30 BdST
JS passes Tk 15,339.82cr supplementary budget for 2017-18
---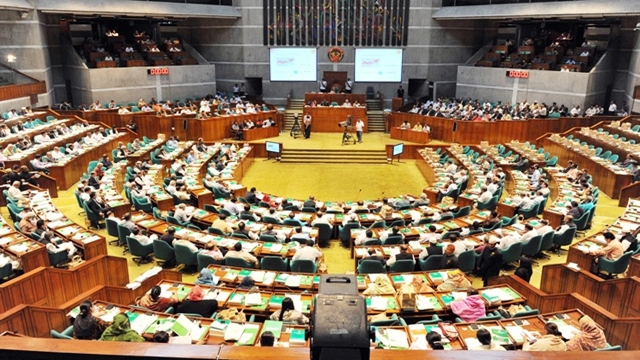 FT ONLINE
The Jatiya Sangsad today passed the supplementary budget of Taka 15,339 crore, 82 lakh and 50 thousand for the current fiscal 2017-18 (FY 18) to meet the increased expenditures under different ministries/divisions.
Finance Minister AMA Muhith placed the supplementary budget for the current fiscal in the House on June 7 along with the national budget for fiscal 2018-19 (FY 19).
He moved the Appropriation (Supplementary) Bill, 2018 in the House. The lawmakers approved the bill by voice votes allowing the government to spend Taka 15,339 crore 82 lakh and 50 thousand from the consolidated fund to meet the expenditures of the current fiscal ending on June 30, 2018.
A total of 22 divisions/ministries sought demand for additional allocation in the supplementary budget of the current fiscal, which lawmakers from both treasury and opposition benches took part and discussed about the demand.
The total allocation in the current national budget was Taka 4 lakh and 266 crore. Later, the allocation in the revised budget stands at Taka 3 lakh 71 thousand and 495 crore.
In the national budget of the current fiscal, the revenue income was estimated at Taka two lakh 42 thousand and 752 crore. In the revised budget, the revenue was kept at Taka two lakh 18 thousand and 500 crore.
In the supplementary budget, the highest Taka 3,926 crore 11 lakh and 64 thousand was allocated for the Power, Energy and Mineral Resources Ministry while Taka 3,347 crore 41 lakh and 62 thousand was sanctioned for the Prime Minister's Office.
Besides, Taka 1,868 crore 60 lakh and 95 thousand was sanctioned for local government division under Local Government, Rural Development and Cooperatives Ministry, Taka 1,182 crore 64 lakh and 55 thousand for Road Transport and Highways Division under Road Transport and Bridges Ministry, Taka 1,162 crore, 42 lakh and 23 thousand for economic relation division, Taka 1,109 crore, 11 lakh and 1 thousand for Security Services Division under the Ministry of Home Affairs, Taka 471 crore, 96 lakh and 21 thousand for Public Administration Ministry, Taka 5 crore, 54 lakh and 46 thousand for Public Service Commission under Public Administration Ministry, Taka 11 crore, 83 lakh and 18 thousand for Implementation, Monitoring and Evaluation Division under Planning Ministry, Taka 50 crore, 91 lakh and 75 thousand for Statistics and Information Management Division, Taka 28 crore, 60 lakh and 31 thousand for Foreign Ministry, Taka 659 crore 93 lakh and 30 thousand for Defence Ministry, Taka 56 crore 33 lakh and 86 thousand for Law and Justice and Taka 4 crore, 1 lakh and 87 thousand for Legislative and Parliamentary Affairs Ministry Division under Law, Justice and Parliamentary Affairs Ministry, Taka 57 crore 34 lakh and 63 thousand for the Ministry of Women and Children Affairs, Taka 49 crore 80 lakh and 79 for Housing and Public Works Ministry, Taka 315 crore, 78 lakh and 72 thousand for Religious Affairs Ministry, Taka 311 crore, 51 lakh and 49 thousand for Rural Development and Cooperatives Division under LGRD and Cooperatives Ministry, Taka 91 crore 66 lakh and 57 thousand for Land Ministry, Taka 173 crore 77 lakh and 36 for Shipping Ministry, Taka 93 crore 23 lakh and 71 thousand for Chittagong Hill Tracts Ministry, Taka 3 crore 13 lakh and 64 thousand for Supreme Court, Taka 162 crore 61 lakh and 86 thousand for Health Education and Family Welfare Division under Health and Family Welfare Ministry.
Different ministries, divisions and institutions sought the additional amount under 22 demands for the grant. Earlier, some opposition and independent lawmakers brought a total of 173 cut-motions. The MPs discussed four proposals of the cut-motions, which were rejected by voice votes.
Lawmakers of both treasury and opposition benches took part in the general discussion before the passage of the supplementary budget of the current fiscal 2017-18.
Finally, the House unanimously passed the Appropriation (Supplementary) Bill 2018 through voice votes.
Earlier, Agriculture Minister Begum Matia Chowdhury, treasury bench member Dr Abdur Razzak and opposition bench members Fakhrul Imam, Selim Uddin and Rawshan Ara Mannan took part in the supplementary budget discussion about supplementary budget and issued various matters in the Jatiya Sangsad.
Agriculture Minister Begum Matia Chowdhury gave statement on additional allocation defending the justification for the demands. "The government has undertaken various projects as Bangladesh is now at a stage with its economic capacity to implement those," she said.
Later, Finance Minister Abul Maal Abdul Muhith also elaborately described about the additional allocation of different divisions/ministries.
Unauthorized use or reproduction of The Finance Today content for commercial purposes is strictly prohibited.