Business /
City cattle markets yet to get usual impetus
---
LIPU
Published:
2020-07-28 12:21:13 BdST
City cattle markets yet to get usual impetus
---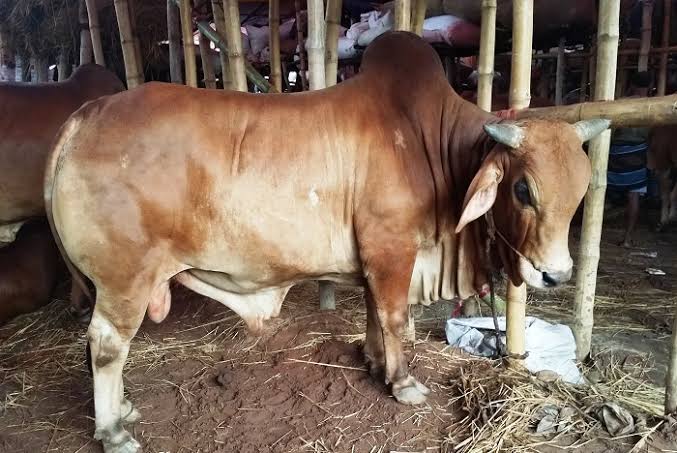 Cattle markets in the capital are yet to see buying and selling of sacrificial animals, as customers are still monitoring market trends, while traders are waiting for good prices with only four days left for the Eid-ul-Azha.
While visiting several cattle markets in the city, FT Team observed lower presence of interested buyers comparing to the previous years, while cattle traders said they hardly sold any sacrificial animal.
Traders were seen passing times with their animals rather than showing 'utmost seriousness' to sell those. Most of them prefer to wait until Friday with a hope to get fair prices.
Trucks loaded with cattle (bulls, oxen and goats) were still found arriving in the markets on the day.
Usually city dwellers start going to cattle markets four to five days before the Eid to perceive the market trends. They begin purchasing desired animals, mainly one or two days before the Eid.
But this year, a new reality emerged due to the coronavirus pandemic. Public health experts recommended people not to gather in large numbers to avoid contact with the deadly virus. It resulted in poor number of customers in the cattle markets, said traders and customers.
"Every year people start coming to haats (markets) at least five days before the Eid to assess cattle prices. But this year we barely see any customer asking prices of our cows," said Abdus Samad, a cattle trader from Tangail.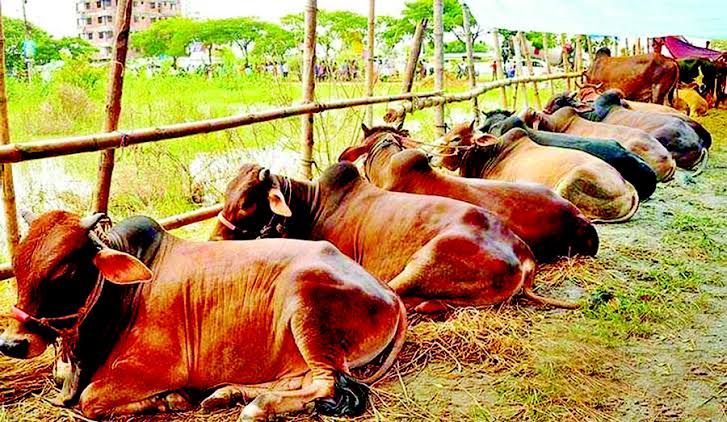 He brought 16 medium to big-sized bulls in Aftabnagar cattle market, under the Dhaka South City Corporation (DSCC), this year but could not sell a single one until Tuesday morning.
Expressing fear over low prices and unsold animals, he said, "We hear that the price of cows outside the capital is quite low. If the same thing happens here (Dhaka) too, many traders will not be able to recover their investments."
Besides, taking back the unsold animals is a matter of great hassle and extra expense, he added. "I've brought 20 cattle from Meherpur to this market. If I get optimum profits, then I will sell those," Md Ali, a trader from Gangni upazila of Meherpur, said in Kamalapur cattle market.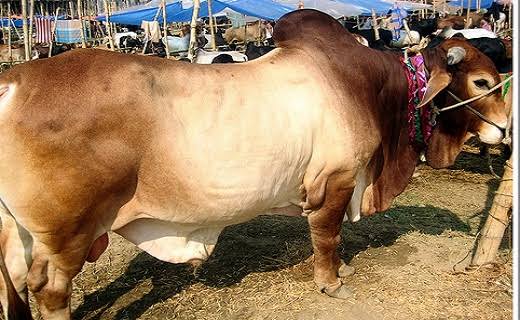 Md Nazrul, another trader from Bhanga upazila of Faridpur, said in the same market that he wishes to sell 15 cows of different sizes. But he could not sell any of those until around 12pm on Tuesday.
He said some customers offered prices for his small and medium-sized cows, but those were lower than his expected selling prices.
Customers in the markets said the prices of big-sized cattle seem to be high on the day, ranging between Tk 180,000 and Tk 250,000 each, and in some cases more than that.
On the other hand, prices of medium and lower medium-sized bulls ranged between Tk 80,000 and Tk 120,000 each and between Tk 65,000 and Tk 75,000 each respectively.
In another DSCC cattle market at Meradia, adjacent to Banasree, Amir Hossain, a visitor, told the FT Team that he lives in Rampura and has come to Meradia to examine cattle prices.
"Traders are still asking higher prices. They are demanding Tk 120,000 to Tk 140,000 for a medium-sized cow, which I bargained for Tk 80,000 to Tk 85,000," he added.
However, Rashidul Islam, a trader from Rangpur, standing next to Mr Hossain, said the prices of cattle food are on the rise, while it is costlier to nurture cows this year due to flood in North Bengal for last one month.
The trader also admitted that cattle business this year may not go well like previous years due to the pandemic situation.
In the meantime, many city dwellers prefer to buy sacrificial animals from online marketplaces this year to avoid crowd in markets. Many e-commerce sites and Facebook pages are selling and delivering cows at the doorsteps of purchasers.
"Professional dairy farmers usually sell big cows. This time, the demand for big cows is low. So, they will face huge business loss," said a leader of Bangladesh Dairy Farmers' Association (BDFA).
Unauthorized use or reproduction of The Finance Today content for commercial purposes is strictly prohibited.