Business /
So far 3.0m pieces of rawhide stored in warehouses
---
SAMI
Published:
2020-08-12 12:56:37 BdST
So far 3.0m pieces of rawhide stored in warehouses
---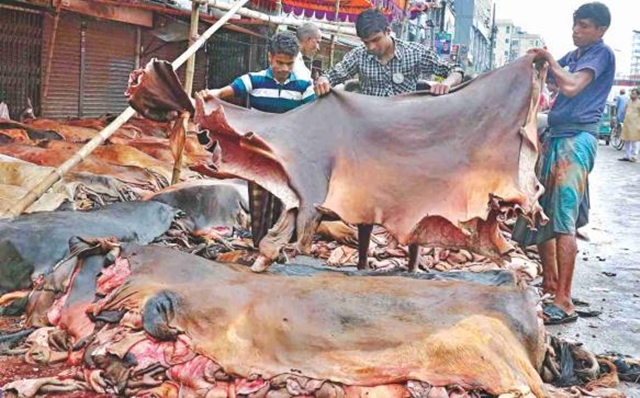 More than 3.0 million pieces of salted rawhide of both cattle and goats have been stored in different warehouses across the country, official figures show.
Of them, over 2.4 million pieces are from cattle and 0.62 million pieces from goats. Only 2,980 pieces are from buffaloes.
Dhaka division tops the list with storage of such rawhide totalling 1.19 million pieces.
Besides, over 0.67 million pieces had been stored in Chattogram division, 0.53 million pieces in Rajshahi division, 0.21 million pieces in Khulna division, 0.18 million pieces in Sylhet division, 0.17 million pieces in Rangpur division and 83,629 pieces in Barishal division until Tuesday, according to the latest data of the Directorate of National Consumer Rights Protection (DNCRP).
The pieces of rawhide from sacrificial animals were estimated at 8.0 million during the last Eid-ul-Azha festival, a source concerned said.
The rawhide was being sent to Savar Tannery Industrial Estate, Posta and Hazaribagh in Dhaka and other areas, he added.
The DNCRP sent the figure to the commerce ministry on Tuesday last. Earlier, the ministry asked the DNCRP to provide the data, a deputy director of the state entity said preferring anonymity.
Currently, the rawhide was being collected by the traders concerned across the country, commerce secretary Md Jafar Uddin said on Monday.
Replying to a question, he said, "We will give permission to export wet blue of sacrificial animals on a case-to-case basis as per our decision taken earlier."
When contacted, Chairman of Bangladesh Tanners Association Md. Shaheen Ahamed said the number of sacrificial animals was fewer in the last Eid-ul-Azha. It may be more or less 30/35 per cent. Approximately, 4.5 million and 2.0 million pieces of rawhide of cows, goats and buffaloes may be collected in the country. But it will take time to get an actual number of the pieces of rawhide of sacrificial animals.
He, however, said hundreds of thousands of rawhide pieces have been stockpiled in different madrashas, orphanages and houses across the country. The number of such pieces may stand at over 0.1 million.
Despite frequent attempts over phone and SMS, Director General of DNCRP Bablu Kumar Saha could not be contacted for his comment in this regard.
The government fixed the price of rawhide of sacrificial animals at Tk 35-40 per square foot (sqft) (salted) in the capital during the last Eid-ul-Azha.
On the other hand, the rate was fixed at Tk 28-32 per sqft outside the capital.
The prices of goatskin (salted) was fixed at Tk 13-15 per sqft across the country while she-goat's skin at Tk 10-12 per sq ft.
Tanners usually purchase rawhide, around 50 percent of their demand during Eid-ul-Azha.
Unauthorized use or reproduction of The Finance Today content for commercial purposes is strictly prohibited.