Business /
BRRI survey blames hoarding for rice price volatility
---
Abu Taher Bappa
Published:
2020-10-01 10:50:54 BdST
BRRI survey blames hoarding for rice price volatility
---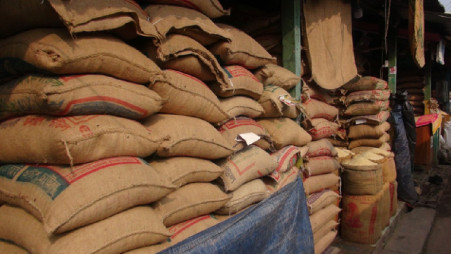 Blaming manipulation by millers for the recent rice market volatility, a government survey said the millers are involved in hoarding the staple food.
The hoarding has also triggered an artificial supply crisis of rice, thus making the market unstable in recent days, the survey said.
The Bangladesh Rice Research Institute (BRRI) conducted the survey against the backdrop of sudden hike in prices of rice in the market by Tk 2.0-5.0 a kg in the last few days in the market.
The government's decision to fix price of rice, in the meanwhile, failed to cool down the city market on Wednesday.
While the stock of 2019-20 boro paddy at the farmers' level has decreased, there is a huge amount of stock with traders and rice millers, which is around 84 percent, said the survey.
The prices of a maund of coarse paddy capped by the government have not crossed the Tk 1,040 (Tk 26 a kg) limit yet, but those of finer varieties of paddy is being sold at Tk 950-1,150 a maund in the market, an increase by 19 percent to 27 percent, added the study.
Currently, price setting and processing of rice is now controlled by the traders and millers and they do not want to lose their clout, the study noted.
The survey suggested controlling and regular monitoring of the rice/paddy market for the sake of keeping the market stable.
It said there has huge stock and supply chain of the rice is uninterrupted in the country.
Increased cost of production, hoarding and panic for food deficit have created an adverse impact on rice price, the survey said.
The government on Tuesday fixed rice prices following a hike at the retail level.
The mills will now have to sell fine quality Miniket rice at Tk 2,575 a sack of 50 kg and medium quality at Tk 2,250 in line with the new prices.
Food Minister Sadhan Chandra Majumder fixed the prices after meeting the millers and traders at the Food Bhaban.
The minister said the import of fine quality rice will begin if the businesses do not sell the grain at the fixed prices.
The food minister had initially told the mill owners to sell rice throughout October at prices they had been charging 15 days ago.
Mr Majumder later met a group of traders again and set the new prices.
When asked, President of Bangladesh Auto Major and Husking Mill Owners Association Abdur Rashid said there is no valid reason for the sudden price hike of rice in the market.
Mentioning that a section of unscrupulous traders might have hoarded rice, he said the government should strengthen monitoring and supervision to keep the rice market stable.
Unauthorized use or reproduction of The Finance Today content for commercial purposes is strictly prohibited.