Business /
Govt to extend full support for making Bangladesh 4IR responsive
---
Staff Correspondent
Published:
2020-10-05 09:46:30 BdST
Govt to extend full support for making Bangladesh 4IR responsive
---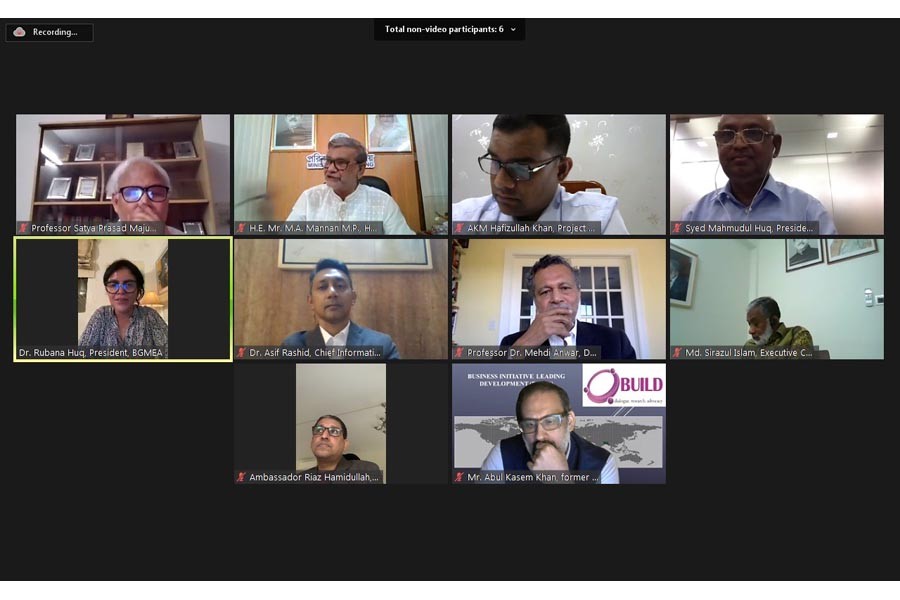 Planning Minister M A Mannan has assured full support of the government to formulate and implement a national strategy and action plan for making Bangladesh 4IR responsive.
He was addressing as the chief guest at a webinar titled 'Post COVID-19: Challenges & Opportunities for Entrepreneurship and Employment in the context of the current status of Skill Development and readiness for Fourth Industrial Revolution (4IR)', jointly organised by Bangladesh Investment Development Authority (BIDA) and France Bangladesh Chamber of Commerce and Industry (CCIFB), held on Sunday, said a press release.
The misnister emphasised collective efforts of the academia, industry and the government to use the different tools of 4IR to address the challenges and harness the opportunities to promote innovations, investments and growth in line with sustainable development goals and Bangladesh's aspirations to become a developed country by 2041.
President of CCIFB and event moderator Syed Mahmudul Huq said that the COVID-19 pandemic has brought immense pressure on individuals, enterprises and societies, and pushed them to accelerate the pace of using different 4IR tools.
He mentioned that China, South Korea and Taiwan successfully managed and mitigated the fallout of the pandemic by utilising different 4IR tools, namely artificial intelligence, big data and other emerging technologies.
"Deploying the same tools and technologies, we can create new products, new industries and new jobs", Mr Huq said, adding these would warrant enhanced investments in science, technology and innovations in the form of a more structured national strategy and approach.
Mr Huq urged the planning minister to lead this initiative from the front by integrating the planning and the development targets in line with 4IR and urged him to accord the highest priority for their implementation, especially in consideration of attaining sustainable development goals by 2030 and achieving the status of a developed country by 2041.
Dr Mehdi Anwar, professor of Department of Electrical and Computer Engineering, University of Connecticut and keynote presenter of the event highlighted the challenges posed by cyber-enabled 4IR and exacerbated by the COVID-19 pandemic which require industries in Bangladesh to re-orient themselves and adopt online platforms to remain globally competitive. A clear understanding of the challenges facing our industry and designing a strategy to be successful in the world dominated by internet-of-thinks (IoT), automation, deep learning and machine learning, will require a thorough understanding of all possible challenges facing our industries and global competition, establishing relevant communications and related infrastructures and generating a qualified workforce.
He further said it is expected that all interconnected infrastructures be it finance and banking, transportation and energy, agriculture and aquaculture, will be cyber-enabled, and a general policy decision might initially guide the early adoption of 4IR.
Emeritus Professor Satya Prasad Majumder, vice chancellor, BUET, the planning for 4IR requires identification of possible challenges posed to the local industry, assessment of technology gaps, and a trained workforce. We need to formalize the establishment of a network of universities or utilise existing networks that have wide participation of local and international public and private universities as well as industry, with the goal to promote innovation, address local and global challenges, and generate a qualified workforce. Identifying financial resources while forming a marketing strategy in partnership with local and global partners, participating universities, and industry to support the establishment of this network of connected universities could be another good option, he stated.
Riaz Hamidullah, Bangladesh Ambassador to the Kingdom of the Netherlands, who has been working as the focal point for Bangladesh for World Economic Forum, emphasised the need to map the key industries across manufacturing including agro-processing and service sectors in Bangladesh that could use digital or automated processes and technologies; and stand to benefit out of enhanced/optimized use of some of the key 4IR technological tools, applications and ideas. He also pleaded to pilot a few 4IR initiatives in the form of start-ups across e-commerce, e-learning, e-agriculture, smart-grid, smart logistics, Fintech, IoT, etc. in order to demonstrate results and build confidence and eventual scaling up. He also pleaded for some Govt Departments /Institutions to champion rolling out of 4IR tools and their applications. He also suggested that BIDA conduct studies to assess how 4IR helps in augmenting Bangladesh's competitiveness in business and logistics.
Dr Rashid Hamid, team leader of the UN 4IR Study, discussed on global importance of 4IR and the state of readiness of Bangladesh as he emphasized any success in 4IR requires a resilient and advanced internet infrastructure which requires implementation of appropriate policies, understanding of data transfer and localization, reliable power grid and/or distributed and sustainable electric power and the tools.
Abul Kasem Khan, chairman of Business Initiative Leading Development (BUILD) emphasised engaging the private sector and stakeholders in Policy Design for improving investment climate, policy continuity for improved predictability on business climate and confidence, from business deregulation, financial and tax reforms, improvement in cost of doing business conditions and therefore, a high powered national competitive strategic action process to tackle the new realities. He also mentioned in his remarks that providing incentives to technology and innovation under a comprehensive policy framework be developed from typical manufacturing (OEM manufacturing) to ODM (Original Design Manufacturing) will support and encourage innovation for greater participation in global value chains.
Dr Rubana Huq, president of BGMEA spoke how the anticipated transition to automation and cyber-enabled modalities will have a great economic impact on the nation and in the near term on RMG industries.
Dr Asif Naimur Rashid, chief information officer (CIO), Robi Axiata Limited pleaded that the current 4IR policy in the country should be anchored from a central policy owner at the government level whereas it is now distributed across several ministries with very limited visibility or control. He also suggested the present policy needs indicate specific incentives for 1st movers/ risk takers trying 4IR on an industrial scale and there must indication of reutilising factor of the spare labor in other sectors.
Panelist Aurélien Sostaponti, head of Industry and Cleantech Department, Business France in charge of South Asia including Bangladesh, shared the ongoing practices and planned strategy to incorporate aspects of 4IR to promote business between France and Bangladesh.
The panelists call for engaging legislators to formulate policy to award Intellectual Property rights to the Innovator or Innovators with the funding agency either government or non-government having the first right of refusal if commercialized. An R&D environment should be created that would provide short- and long-term funding to SMEs and startups to take innovation to the market and reward industry to encourage them to augment government funding for industry-university joint R&D initiatives. They also suggested establishing a focused committee representing all sectors to, carry out a Technology Need Assessment (TNA) by assessing existing resources and aspired developments, develop an implementation strategy with an appropriate timeline, and identify markets, partners and funding pipelines. To enhance regional, multilateral and international cooperation, promoting and leading South-South cooperation and facilitating international partnerships at university, industry and research center levels are crucial.
While speaking as the Chair of the event, BIDA Executive Chairman Md Sirazul Islam, reiterated BIDA's commitment to work with the industry, academia and research institutions to face the challenges and harness the opportunities as offered by emerging technologies under 4IR. He mentioned that it is the need of the hour to re-skill and reshape our large workforce and in this connection, BIDA is working with the private sector to impart training on different skills required for use of different tools of 4IR and promote innovations and entrepreneurship.
In the end AKM Hafizullah Khan, project director, Entrepreneurship & Skill Development Project (ESDP), BIDA offered a vote of thanks.
Unauthorized use or reproduction of The Finance Today content for commercial purposes is strictly prohibited.