Business /
Prices of imported onion go up again
---
Abu Taher Bappa
Published:
2020-10-06 13:47:58 BdST
Prices of imported onion go up again
---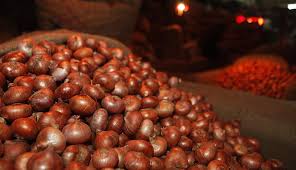 The prices of onion, especially imported variety, increased again notably on Monday.
Traders attributed the hike in onion prices to supply crunch amid low import.
Prices of imported onion rose to Tk 90-110 a kilogram depending on quality against Tk 70-80 a kg just a day back.
Trading Corporation of Bangladesh (TCB) recorded 28.5- 37.5 percent surge in the prices of imported onion just in a day.
The price of local onion remained almost static at Tk 90-100 a kg until evening on the day, according to kitchen market sources.
Traders said onion prices started spiraling again after remaining almost static for two weeks.
Onion prices surged to Tk 90-120 a kg in the third week of September after India imposed a ban on its export from September 14.
Later, the prices declined to Tk 65-80 (imported) and Tk 80-100 (local) a kg in retail markets due to some initiatives taken by the government and the private sector to import the essential item from alternative sources.
TCB also started open market sale (OMS) of onion at subsidised rate of Tk 30 a kg across the country through 275 trucks.
Only a few vendors had imported onion. Most of the groceries and kitchen vendors have local onion in their shops.
Jewell Rana, proprietor of Bismillah Store at West Dhanmondi, said that he was selling only local onion due to low supply of imported one in wholesale markets and higher prices.
He said vendors were unwilling to sell imported onion, mostly brought in from India much earlier, as its quality has deteriorated.
Supply of imported onion was also low at Shyambazar, the biggest spice wholesale of the city, on the day.
Narayan Chandra Saha, proprietor of Nabin Traders in the market, said the stock of imported onion has almost run out.
"I am selling only local onion at Tk 70-72 a kg," he added.
Supply of local onion is still good but a shortage of imported onion might also affect the indigenous variety very shortly, he said, adding that few traders have imported onions and sold them at Tk 80 a kg at Shyambazar on the day.
Prices of imported onion were selling at Tk 74-75 a kg at Khatunganj wholesale market on Monday morning which increased to Tk 80 a kg in the evening.
Local importers brought in 285 tonnes of onion from Myanmar between September 26 and October 1.
Deputy director of Plant Quarantine Wing of Chattogram Port Asaduzzaman Bulbul said that 325 import orders have been issued so far to bring in 15,000 tonnes of onion from twelve countries.
He said consignments with 228 tonnes of onion will arrive in the port from China and Egypt within next seven days.
Consumers Association of Bangladesh (CAB) secretary Humayun Kabir Bhuiyan said further surge in onion prices will take a heavy toll on the poor people who have already been hit hard by rocketing prices of rice, edible oil, vegetables and other essentials.
"Import should be raised significantly. It is possible as prices of the spice in the countries like China, Turkey, Egypt, Netherlands, and Pakistan are much cheaper now."
The demand for onion in the country is minimum 6,500 tonnes per day and the government should have accurate data on its availability, he added.
"The government should have authentic data on local production and onion import this year which could help it take appropriate policies regarding the onion market."
Market monitoring should also continue to prevent any artificial hike, he said.
According to the Bangladesh Bureau of Statistics (BBS) and the Commerce Ministry, the country's onion production was 1.911 million tonnes this year against the demand for 2.4 million to 2.5 million tonnes.
Private importers meet the shortfall through imports mainly from India and Myanmar.
From October 2019, Bangladesh started importing the item from other countries like Egypt, Turkey, Pakistan, China following a sudden export ban by India.
Like last year, India slapped export ban this time which made the onion market here volatile.
Unauthorized use or reproduction of The Finance Today content for commercial purposes is strictly prohibited.