Business /
Chittagong port provides eco-friendly fuel oil to ships to curb marine pollution
---
Staff Correspondent
Published:
2020-10-08 19:27:42 BdST
Chittagong port provides eco-friendly fuel oil to ships to curb marine pollution
---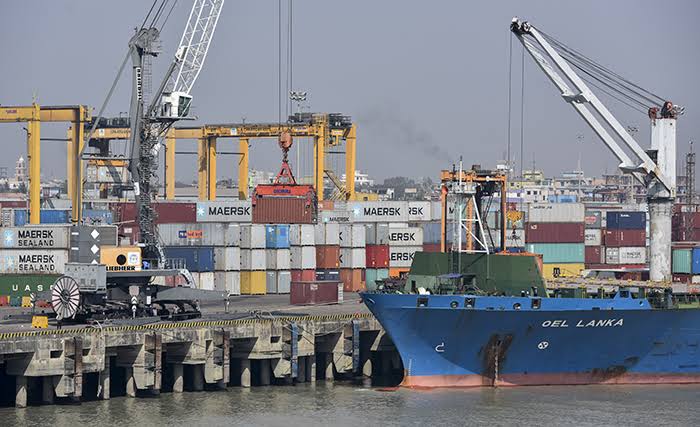 Both foreign and local ships are now procuring eco-friendly low sulphur fuels from Chittagong Port as the government has taken steps to supply fuels containing 0.5 per cent sulphur to the oceangoing vessels to reduce marine pollution.
The moves have been taken in compliance with guidelines of International Maritime Organisation (IMO) which made it mandatory to use marine fuel with 0.5% sulphur from January 01 this year.
Earlier, the foreign ships had to procure lower sulphur marine fuels from either Singapore or Malaysia before arriving at Chittagong Port.
CPA Chairman Rear Admiral S M Abul Kalam said that foreign ship operators and international shipping companies had been demanding for providing environment friendly marine fuels at Chittagong Port for a long time.
"The CPA and BPC have taken the move to import low sulphur fuels and we are providing the low sulphur fuels to (foreign and as well as local) ships now. Providing the low sulphur fuels to ships is an important indicator that Chittagong Port has fulfilled all requirements to attain international standard," he added.
President of Bangladesh Shipping Agents Association Ahsanul Haque said, a large amount of foreign currency will be saved as the IMO standard low sulphur fuels have been made available at Chittagong Port. Earlier, the ships had to get the fuels from Singaporean or Malaysian ports before coming to Chittagong Port, he said adding, "It is an indicator that the port has been modernised step by step."
Mizanur Rahman Majumdar, president of Bangladesh Bunkers Suppliers Association (BBSA) and also Chairman of Port Land Group said, the IMO issued the directives for supplying .5% sulphur content fuels to all member countries. "After the directives and intervention of Prime Minister Sheikh Hasina, the BPC approved steps to import fuels containing .5% sulphur for the port," he said.
He informed that the government has taken a decision to import 1.2 million (12 lakh) metric tonnes of the fuels in the first phase for the first six months. "Of the fuels, 9,30,000-9,90,000 MT is gasoline, 120,000 MT jet fuel, 20,000 MT furnace oil, 45,000 MT-gas and 80,000 MT marine oil, he added.
He called upon the authorities concerned to bunker and supply the oils within 24 hours of their import considering the requirement of the oceangoing vessels.
Sources said, the BBSA signed an agreement with Padma Oil Company, Meghna Oil Company and Jamuna Oil Company to import oils containing maximum .5% sulphur. Ten organisations under the BBSA -Port Land International (OT New Shah Amanat), M/S Frank Trade (OT Sultan Shah), M/S Ocean Fuels International (OT Mick Mahi), M/S A R Corporation (OT Latifa Jahan), M/S Sea Marine Fuel Suppliers & Company (OT New Sea Queen Access-1), M/S GL Shipping Lines (OT Mick Hridoy-1), M/S Al Noor Corporation (OT New Karnaphuli Deluxe-7), M/S Wahab Sea Marine Service Company (OT Mutual Express), M/S Khijir Enterprise (OT SMS-1) and M/S Coastal Carriers Limited (MT Impress) have already got the approval to supply the lower sulphur fuels for the oceangoing ships.
Unauthorized use or reproduction of The Finance Today content for commercial purposes is strictly prohibited.