Business /
PPP crucial to tackle any economic challenge: DCCI
---
Staff Correspondent
Published:
2023-01-25 00:38:22 BdST
PPP crucial to tackle any economic challenge: DCCI
---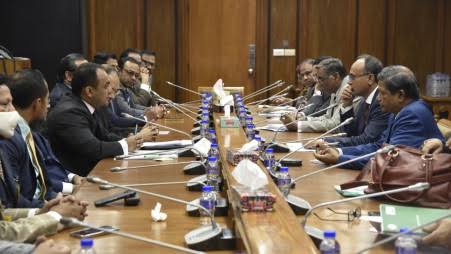 Dhaka Chamber of Commerce and Industry (DCCI) President Barrister Md Sameer Sattar today called upon the Bangladesh Bank (BB) and stated that public-private partnership (PPP) is crucial to tackle any economic challenge.
Sameer Sattar also called upon BB to assist the commercial banks with adequate foreign exchange supply to settle the LCs to ensure the continuous supply of essential commodities during the upcoming month of Ramadan.
He told this while the Board of Directors of DCCI called on the Governor of Bangladesh Bank Abdur Rouf Talukder at the Central Bank headquarters in the city, said a press release.
During the discussion, Sameer Sattar thanked Bangladesh Bank for unveiling a timely Monetary Policy (MPS) that would help both private and financial sector to turn around as the MPS includes some instrumental policies and guidance.
He also hailed the initiative of continuing the re-financing scheme of Taka 50 thousand crore for agriculture, CMSMEs and import substitute industries. He further emphasized on necessary reforms, like easing the documentary requirements for CMSMEs to access finance and, especially, in relation to Credit Guaranty Scheme for the better interest of the CMSME community.
Besides, he urged for easing the documentation process for young and innovative startups so that they can avail loans easily.
He also underscored the need for enhancement of the private sector credit growth to accelerate the contribution of private sector in the economic resurgence, in this given geo-economic context.
In addition, he suggested to ensure good governance to contain the soaring non-performing loans (NPL) by taking stern measures for quick loan recovery focusing on habitual defaulters as well as necessary reforms to regulations in the banking sector.
Abdur Rouf Talukder said that we are facing three major challenges now and these are ongoing Russia-Ukraine war, interest rate hike by the Federal Reserve and recent Covid situation in China.
However, he said that despite these challenges, our economy is quite stable. He also indicated that the current situation of LC may ease within the next couple of months.
He reaffirmed that Bangladesh Bank has been relentlessly working through relevant policy measures and actions like lowering the LC margin to ensure seamless supply of essential commodities in the market during the upcoming Ramadan.
Considering the importance of remittance inflow, he mentioned that recently there have been some changes in the process of sending remittance including the waiver of relaxation of required documents and fees by the local banks and engaging Mobile Financial Services (MFS) to bring remittance home.
As a result, he expects that the remittance inflow will increase considerably in future.
DCCI Senior Vice President SM Golam Faruk Alamgir (Arman), Vice President Md Junaed Ibna Ali and members of the Board of Directors were also present during the meeting.
Unauthorized use or reproduction of The Finance Today content for commercial purposes is strictly prohibited.