Business /
BTMA opposes Titas gas price hike plea
---
FT online
Published:
2019-03-13 11:46:29 BdST
BTMA opposes Titas gas price hike plea
---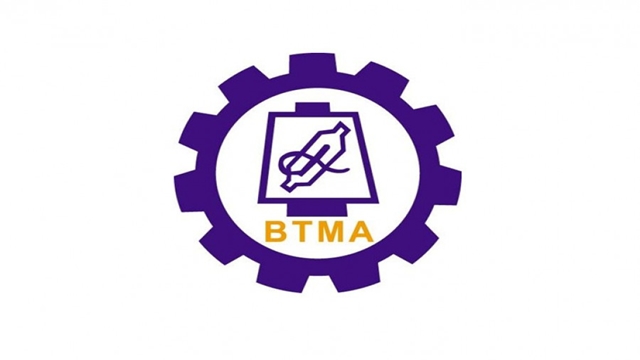 The Bangladesh Textile Mills Association (BTMA) has strongly opposed the proposal of the Titas Gas Transmission and Distribution Company to raise service charge and gas price.
On Tuesday, the trade body also demanded compensation from Titas, saying millers have incurred huge losses for the company's failure in its proper supply system.
BTMA president Md Ali Khokhon termed the proposal 'irrational'.
In a position paper, he said they opposed all proposals to raise gas tariff and service charge unless Titas delivers its promised standard of services and uninterrupted gas supply.
He was presenting the paper at a public hearing held at Bangladesh Energy Regulatory Commission (BERC) here.
The trade body also opposed any government initiative to implement the proposal of the distribution company.
According to BTMA officials, TItas has proposed a 96 per cent rise in gas tariff for captive generators from existing Tk 9.62 per cubic metre.
It also sought to hike up service charge to Tk 0.84 from existing Tk 0.25 per unit.
According to the proposal, gas price per cubic metre might cost Tk 18.85.
More than 400 textile mills, including spinning, produce about 1300 megawatt of electricity through captive power generators, the officials said.
"Encouraged by the government, large textile mills have invested a huge amount of money in captive power generation, developing infrastructure and importing generators for power production," Mr Khokhon said.
Erratic gas supply, low pressure and higher bills for service in the past five years have led to a substantial rise in yarn and fabric production costs, he explained.
The BTMA demanded damages from Titas for textile mills as the sector incurred huge losses for the latter's failure to ensure smooth supply system since 2015.
According to the position paper, more than 3.0 million people directly and indirectly depend on the primary textile sector involving over $7.0 billion investment.
Mr Khokhon said the sector is already undergoing a price disadvantageous position as the local market is flooded with illegally imported yarn and fabric.
This is happening at a time when competitor countries, who have their own raw materials, are being incentivised by their governments, he added.
Any 'wrong decision' like an increase in gas prices for captive power generation might severely affect the industry, the BTMA chief cautioned.
He exhorted both the government and the BERC not to allow any price hike proposals before paying compensation by the distributor to the industry.
A total of 424 spinning mills, 794 weaving mills and 241 dyeing, printing and finishing mills are registered with the BTMA, according to the association.
Currently, the industry has an annual yarn spinning capacity of 2,410 million kilogram.
Its woven fabric producing capacity is 3,580 million metres and the dyeing, printing and finishing capacity is around 3000 million metres.
Unauthorized use or reproduction of The Finance Today content for commercial purposes is strictly prohibited.