Business /
Low height of MRT-6 blocks infrastructure on its corridor
---
Al Fahad
Published:
2020-02-17 16:00:07 BdST
Low height of MRT-6 blocks infrastructure on its corridor
---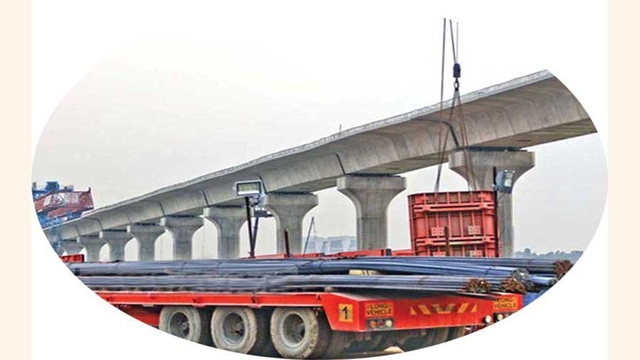 The under-construction metro rail has blocked the scope of constructing any other road infrastructure in its corridor, as height level of the mass rapid transit (MRT) line was lower than standard world practices, according to transport experts.
They also said the 13-metre standard height, designed in the MRT-6 a decade ago, should not be continued in other MRT projects, as the height will not allow building any other infrastructure to provide traffic solution in future.
The experts further said other road infrastructure, like - expressway, tunnel, and U-loop etc, are designed to provide intersection solutions in different corridors, although mass transit systems, like - metro rail, are there.
They explained that any form of rail-based elevated system - mono rail, light rail and metro rail - does not need any ascending or descending ramps to connect with at-grade road.
But elevated road projects, like - interchanges and expressways, need many ramps to provide accessibility to the at-grade vehicles, they added.
Due to the low height of MRT-6, being constructed from Uttara to Motijheel in elevated way, the scope of constructing a flyover has already been spoiled.
Besides, extension plan of Mogbazar-Malibag flyover from FDC rail crossing would not be possible for the same reason, experts noted.
The Rajdhani Unnayan Kartripakhya (Rajuk) is yet to find space to design ramps of the planned Jhilmil flyover to bring traffic from Dhaka-Mawa Expressway after completion of Padma Bridge.
Sources said 13 metres height of MRT-6 at Paltan crossing forced the flyover to go up to 35 metre to cross the MRT viaduct and its catenary system.
Rajuk first planned to take the ramp at Shantinagar, but it clashed with Malibag flyover.
Later, the agency tried to find a solution by designing the ramp at Notre Dame College and Kamlapur Station, which were also not possible due to the height that MRT-6 has to maintain to take different turnings from Paltan crossing.
Transport expert Professor Shamsul Hoque said worldwide standard practice is to maintain the height of road infrastructure, including flyover and expressway, as intersection solution at first level or below15 metres.
But, metro rail's level starts from second level, which is above 15 metres, as rail and passengers use stations in the same level. The road infrastructures would need more space to touch the ground, if their height increases, he said.
The professor of Civil Engineering Department of Bangladesh University of Engineering and Technology (BUET) cited the example that future junction treatment at Kuril with flyover and U-loop would not be possible, if its height remains above 15 metres.
Recently, Prime Minister Sheikh Hasina allowed the Dhaka Mass Transit Company Limited (DMTCL) to construct elevated part of MRT-1 at 13 metres after Rajuk requested to raise the height at second level for its planned intersection solution at two crossings in Purbachal satellite town.
DMTCL Managing Director (MD) M A N Siddique said the entity follows the approved technical standards, including height, in designing elevated parts of the MRT projects.
"We have no scope to change the design, as Revised Strategic Transport Plan (RSTP) has also been prepared on the basis of those technical standards."
The DMTCL MD also said it would have been difficult to maintain the machinery, required to construct viaduct above in the congested Dhaka city.
Sources said the technical standards were incorporated by Japanese experts at the initial stage of the first metro rail project as a solution to the capital's severe traffic jam, when the country had no local expert to guide it.
Besides, lack of budget to increase MRT height was another reason behind it.
However, transport experts and analysts opposed the MD's ground, as the height of MRT-6 at Farmgate was hiked at second level after Dhaka Elevated Expressway project officials raised the point of metro rail's height to design its ramp there.
The costs of other MRTs, including MRT-1, MRT North and MRT South, are going to be estimated two to three folds higher than MRT-6, considering various issues in the congested and unplanned city.
The MRTs in other countries, like - India, Malaysia, Thailand and Indonesia etc, were also constructed at second level.
Unauthorized use or reproduction of The Finance Today content for commercial purposes is strictly prohibited.