US-Bangla plunges into gold smuggling
---
Special Correspondent
Published:
2021-02-02 19:23:02 BdST
US-Bangla plunges into gold smuggling
---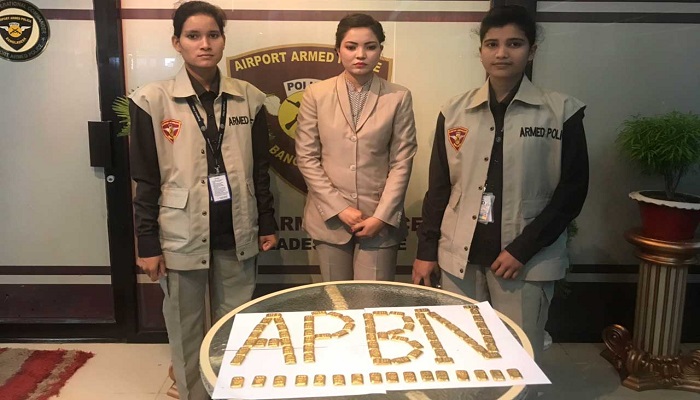 US-Bangla Airlines Ltd is reportedly being involved in smuggling gold into Bangladesh as many smuggled consignments of the precious metal have been seized in recent times from the flights of the private airline company.
Dhaka Customs House and the Customs Intelligence and Investigation Directorate have seized the smuggled gold repeatedly at the airports in the country.
Some employees of the airlines have already confessed before the courts that they are involved in gold smuggling, sources concerned said.
In the latest incident, Dhaka Customs House seized 7.290 kilograms of illegal gold worth nearly Tk 5 crore from a US-Bangla flight which landed at Hazrat Shahjalal International Airport in Dhaka from Mascut, the capital of Oman.
Earlier, customs officials seized 4.640kg gold from another flight of the US Bangla Airlines on January 11 last year.
They also seized 3.712kg gold worth about Tk 3 crore from the driver of a US-Bangla passengers-carrying bus at the same airport on July 31 in the same year.
Customs officials also seized 14kg gold worth around Tk 7 crore from a US-Bangla aircraft on 20 April in 2019.
In another incident, Rokeya Sheikh alias Moushumi, a cabin crew of the US-Bangla Airlines, admitted to a court that she was involved in gold smuggling on September 9 in the same year.
Besides this, a US-Bangla employee was caught red-handed with three gold bars by customs officials on November 22.
Customs officials also seized 4 kg and 665 grams gold worth Tk 2.70 crore on September 24 in 2017. A consignment of 4.064kg gold worth about Tk 2.55 crore was recovered from a US-Bangla flight on October 11 in the same year.
Dhaka Customs House Commissioner Moazzem Hossain told newsmen, "We have given deep attention to the gold smuggling issue. We're also monitoring the US-Bangla's involvement in gold smuggling."
The Customs is taking action against those who are involved in smuggling gold.
Bangladesh Jewellery Manufacturers and Exporters Association President Anwar Hossain said, "It is not possible to smuggle gold by air without any involvement of the airlines. Others are also involved in such immoral activities."
Some 17 agencies work at the airport, so it is very difficult to smuggle gold, evading their eyes, he added.
Bangladesh Jewellery Samity (BAJUS) general secretary Dilip Kumar Agorwala said, "It has been learnt since long that only cabin crews are involved in gold smuggling."
If airlines are not involved in gold smuggling directly, it is not possible for only cabin crews to do so, he opined.
Airport sources said Bangladesh has become a safe route of a gold smuggling syndicate due to its suitable geographic location.
Customs officials often seize huge amounts of smuggled gold from inbound passengers at the country's three international airports, sources said.
Intelligence sources said smugglers have been using Bangladesh as a transit route for gold smuggling into some countries, especially border countries.
For gold smuggling, local and international syndicates are allegedly using the country's airports, including Hazrat Shahjalal International Airport in Dhaka, Shah Amanat International Airport in Chattogram and Osmani International Airport in Sylhet.
A report by a law enforcement agency says in 2019, more than 100 people were arrested and 70 cases filed in connection with the smuggling of gold through the airports in the country.
According to customs sources, in recent times, the law enforcement department identified 27 local and international syndicates who were directly or indirectly involved in gold smuggling through the three international airports.
Of the syndicates, seven were involved directly in gold smuggling at Dhaka airport while three at Chattogram airport and one at Sylhet airport.
It also said they observed that now smugglers have preferred alternative routes, including railways, roads and waterways, for transporting the contraband consignments.
Unauthorized use or reproduction of The Finance Today content for commercial purposes is strictly prohibited.