Marcel brings 50 plus models of fridges centering Ramadan
---
Rubel Rana
Published:
2018-05-20 08:32:07 BdST
Customers are offered tour to America, Russia or cash discountMarcel brings 50 plus models of fridges centering Ramadan
---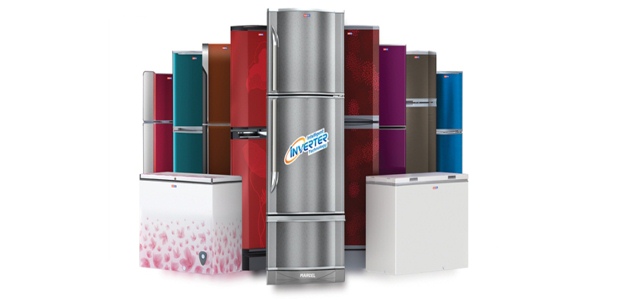 FT ONLINE
The local electronics and electrical appliances manufacturer 'Marcel' is now
manufacturing and marketing more than 50 models of fridges on the occasion of
Ramadan.
Under the Marcel brand fridges, there are huge power-efficient frost and non-frost
refrigerators with inverter technology's compressors. In addition, the local brand is
manufacturing and supplying several models of glass door frost fridges with eye-
catching designs and colours.
Customers of Marcel fridges are also offered free fridge, television and air-
conditioner or a tour to America or Russia or maximum Tk 1000 cash discount on
the registration of their purchased fridges under the ongoing nationwide 'Digital
Campaign.'
Marcel officials said, the demands for fridges were slightly gone up centering both
the Ramadan said the sweltering summer heat. Marcel's target is to meet the
remarkable portion of the demands. Thus, they are now marketing more than 50
models of fridges of the world's latest technologies.
Sales representatives of Marcel fridges said they brought tempered glass-door and
huge power efficient inverter technologies frost fridges in the local market
centering the Ramadan month. This month, Marcel is marketing 11 models of
tempered glass-door frost fridges with splendid designs across the country. In
addition, there are two models of non-frost refrigerators with huge power efficient
inverter technology's compressors.
Engineers of Marcel fridges said, they are now manufacturing various designs of
fridges of the latest technologies to deliver world-class products at reasonable rates
to the local people in this Ramadan. They brought diversity in both the designs and
the colours.
With the aim of reducing the electricity consumption of fridges by about 60
percent, they added inverter technology's compressors to Marcel fridges. They are
now using globally recognized HFC free environment-friendly R600a refrigerant
in Marcel fridge compressors.
Dr Md Shakhwat Hossen, marketing head of Marcel, said that they set a target of
selling out about 21 percent of the annual sales target of Marcel fridge in the month
of Ramadan.
He hoped that they will be able to meet the lion portion of the local demands of
fridges in this Ramadan.
He also informed that they are now holding a remarkable market share. In the last
couple of years, they posted more than 40 percent growth in the sales of their
fridges, he said and hoped that continuity of this growth will be sustained in this
year.
Marcel is releasing each and every fridges after getting the quality certificate from
international standard NUSDAT-UTS testing lab. Customers of Marcel fridges are
now enjoying one year replacement guaranty, maximum 10 years replacement
guaranty for compressors, installment facility up to 36 months and swift post sales
services to the customers, which are resulted in turning into the customers' top
brand, the Marcel authorities said.
Unauthorized use or reproduction of The Finance Today content for commercial purposes is strictly prohibited.