Myanmar Junta Must brought in ICC: Experts
---
SAM
Published:
2018-05-31 15:54:47 BdST
UN Must Not Allow another Rwanda CaseMyanmar Junta Must brought in ICC: Experts
---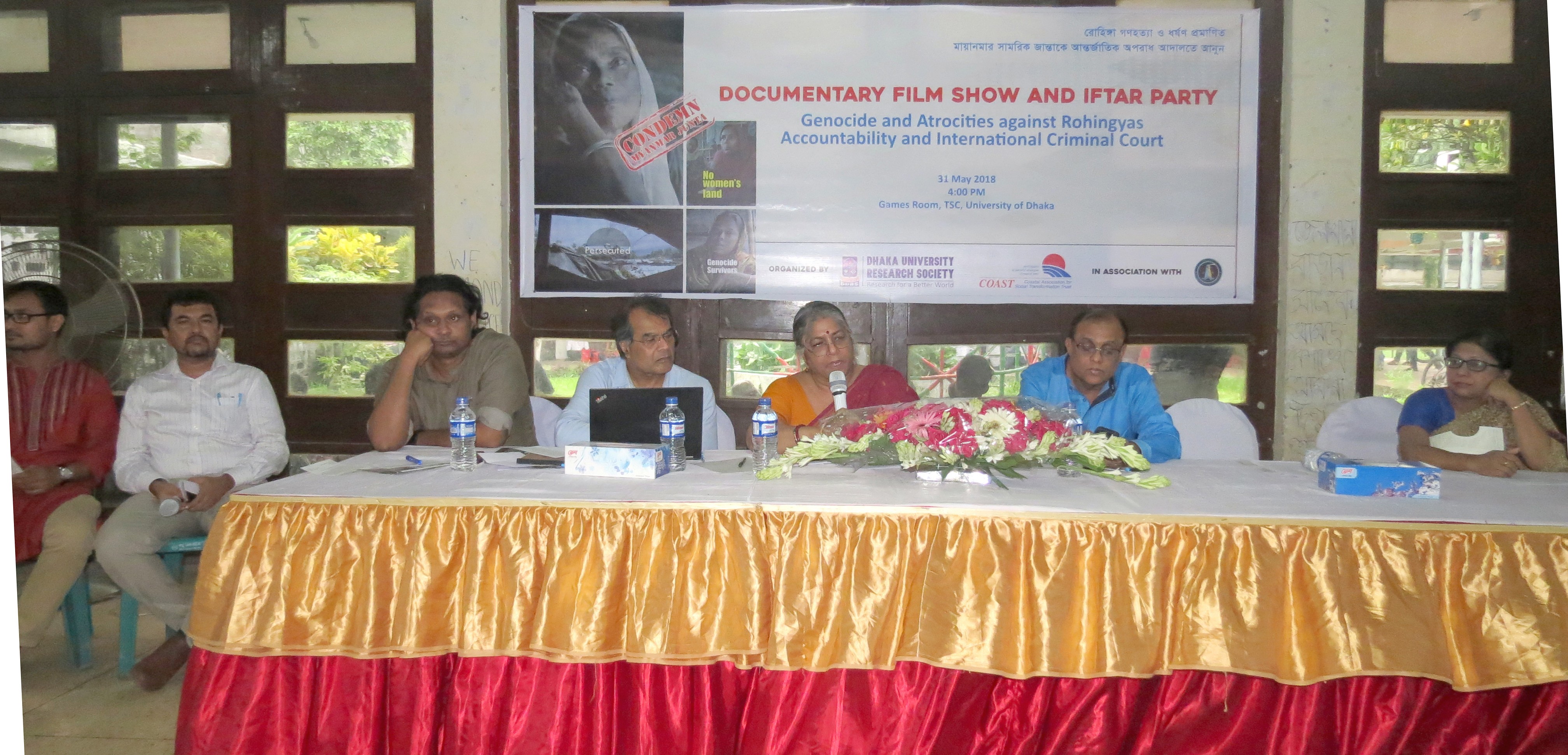 STAFF CORRESPONDENT
Experts today urgued government to take tougher stance against Mysnmar and bring them into the International Criminal Court. Also place evidences of genocide and atrocities on Rohingya by Myanmar Military forces.
Dhaka University Research Society (DURS) and COAST Trust have jointly organized a documentary film show and seminar at Dhaka University Teacher Student Center title " Genocide and Atrocities against Rohingya : Accountability and International Criminal Court".
The seminar was moderated by Mr Saifullah Sadeq of DURS and Mr Barkat Ullah Maruf of COAST. Ms. Shireen Haq of Nari Pokkho spoken in the program as a special guest.
Other speakers of the seminar were Mr. Saiful Huq Omi, Dr. Shaikh Abdus Salam, Professor Mofizur Rahman, Dr. Muhammad Manjurul Karim, and Dr. Fazrin Huda.
All the speakers and students who have spoken in the seminar urged government of Bangladesh to respond to the request of International Criminal Court (ICC) to place evidences of genocide and atrocities on Rohingya.
In the seminar COAST social media team have presented three documentary films in this regard, namely, The Persecuted, Genocide – stories of Genocide Survivors and The No Woman Lands, these three film has prepared by Mr Barkat Ullah Maruf along Mr Ripon K Das just after the August 2017 Rohingya influx.
Students and civil participants raise questions on why different international and national NGOs who are working in relief work, is not raising voices on genocide in Myanmar. They also raise question high cost of relief operation.
They also said that the problem will not be solved until Mayamar government will be be brought in accountability and in ICC., UN must be effective in this regard.
Mr. Shireen Haque said that there are already a memorandum of concerned citizen has given to the government of Bangladesh urging to respond to ICC request. This is a international issue, this is not only relief issue, this is a political problem, if it is not solved in Myanmar then it will have impact in Bangladesh.
Mr Rezaul Karim Chowdhury of COAST said that, UN must not fail again like Rwanda case, government of Bangladesh and its civil society must do mobilization in international level to bring Myanmar junta in ICC and stand against in any Genocide.
Unauthorized use or reproduction of The Finance Today content for commercial purposes is strictly prohibited.