Crab Export will Contribute Significantly to the National Economy
---
SAM
Published:
2019-11-10 02:59:53 BdST
Crablet Production for the First time at the Entrepreneur level crab hatchery in Cox's BazaarCrab Export will Contribute Significantly to the National Economy
---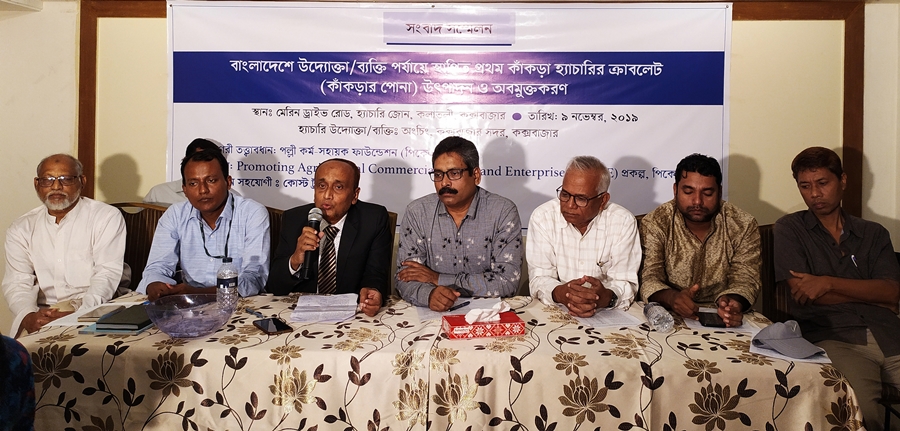 PRESS RELEASE
Cox's Bazar experiences crablet production at the entrepreneur level crab hatchery for the first time.
Entrepreneur, organizers who gave technical and financial support to the hatchery reveals this inspiring information from a press conference organized today in Cox's Bazar.
The press conference was jointly organized by COAST Trust and Palli Karma Sahayak Foundation (PKSF) to celebrate the success of the above-mentioned crablet production.
Barequl Islam Chowdhury, Head of Social Business, COAST Trust presented the keynote at the press conference.
Among others, Senior General Manager of PKSF Dr. Akand Md. Rafiqul Islam, Assistant Directors of COAST Maqbul Ahmed, Regional Team Leader of COAST Jahangir Alam, Sheikh Nazrul Islam of PKSF, Mr. Chowdhury Md. Masum, Executive Director of the SANGRAM were present at the occasion. COAST Trust Deputy Director Mustafa Kamal Akand moderated the press conference.
Barequl Islam Chowdhury said, "only about 2% of the total need for small crab/crablet is being collected from the natural source (sea and rivers) every year. Due to the lack of crab / small crabs, few farmers are cultivating crabs at certain times of the year instead of all year round. However, due to the non-availability of crab, more than 2.5 to 3.0 lakh poor crab farmers are unable to cultivate crab and Bangladesh is deprived of the opportunity to export more than Tk 7662 crore a year."
"Crab fattening program has been undertaken at the entrepreneurial level to create opportunities for the production of crablet by establishing crab hatchery on a large scale to create income and employment opportunities through expansion of crab cultivation as an adaptation tool to climate change in all coastal areas of the country," he added.
To improve the country's booming crab farming sector in the coastal areas, PKSF is implementing the Promoting Agricultural Commercialization and Enterprises (PACE) with the financial support of IFAD. COAST has established the crab hatchery in Cox's Bazar with the technical and financial support of PKSF.
Dr. Akand Md. Rafiqul Islam said, "this type of hatchery is very important since government laws and regulations don't allow crabs cannot always be harvested from natural sources like rivers and sea."
Crab producer Ong Chin said, "I had been trying to produce crabs for a long time, but could not produce it due to lack of technical and experience, even though there was a huge demand for crabs. COAST Trust and PKSF came forward to make my dreams a reality."
"For the first time in Cox's Bazaar, we are successful in producing crablet in crab hatchery. However, we can produce crablet less than demand," he added.
Another entrepreneur of the crab hatchery from Ukhia, Md. Bedar Uddin said, "we are working to produce crablet with the support of COAST and PKSF. Hopefully, it will play an important role in the economic development of Bangladesh."
Mustafa Kamal Akand said, "the initiative of producing crablet would not only contribute to the national economy but will also play a vital role in achieving the SDGs, especially to the SDG target number one."
Unauthorized use or reproduction of The Finance Today content for commercial purposes is strictly prohibited.