Pk Halder finally arrested in India
---
Staff Correspondent
Published:
2022-05-15 09:57:26 BdST
Pk Halder finally arrested in India
---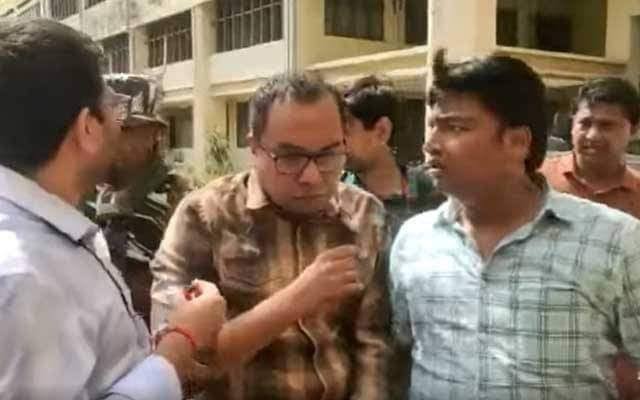 Former NRB Global Bank managing director Prashanta Kumar Halder, also known as PK Halder and wanted in several graft cases filed over embezzling Tk 10,000 crore, was arrested in India's West Bengal on Saturday.
The Enforcement Directorate (ED), an investigative agency of the Indian finance ministry, conducted multiple drives in West Bengal's North 24 Parganas and South 24 Parganas and arrested him in Ashoknagar, reported Indian media quoting the ED.
Bangladesh's Anti-Corruption Commission (ACC) Chairman Moinuddin Abdullah said that they had also come to know about the matter from the media.
"There are multiple corruption cases against Halder. Our efforts will continue to bring him back to Bangladesh," he added.
ACC sources said Halder and his associates had allegedly embezzled over Tk 10,000 crore after receiving loans from various non-banking financial institutions in the name of companies owned by him and his family members.
How he was arrested
Officials of the Financial Intelligence Unit of the Bangladesh Bank and the ACC gave the Indian intelligence agency information about the embezzlement by Halder and his associates.
The Indian intelligence agency later found that Sukumar Mridha, an associate of Halder, had also left Bangladesh and has a house in West Bengal's Ashoknagar. The duo had made illegal transactions in Dhaka, Kolkata, Howrah, Chennai, and Mumbai.
The ED conducted multiple drives in at least 10 places, including Kolkata, North 24 Parganas, and South 24 Parganas, after receiving information from Bangladesh officials.
Hindustan Times said Halder was hiding in a house in Ashoknagar in North 24 Parganas and was arrested along with five others during the raids.
Halder and his aides are accused of embezzling thousands of crores of taka and siphoning it off to India and other countries. On October 22, 2019, the ACC issued a travel ban on Halder, but he managed to flee the country through the Benapole land port. It was reported that Halder had fled to Canada.
Changing identity
According to the Indian intelligence agency, the house Halder was hiding in is around 40km from the Bangladesh border.
Quoting the ED statement, Hindustan Times said Halder had been living in West Bengal posing as an Indian citizen. He used the name Shibshankar Halder after procuring a ration card issued by the West Bengal government, an Indian voter ID card, and a PAN and Aadhar card. His aides also managed to get similar documents.
ED officials said all the arrestees had fraudulently obtained Indian citizenship papers, adding they would be able to confirm the fraudulence after investigation. Reports said Halder behaved well with locals and also entertained people. He spent a lot of money and lived a luxurious life.
Assets in India
All the arrestees set up companies in India using fake documents and also purchased immovable property in various places, including Kolkata, said ED officials.
It is alleged that Halder siphoned off a huge amount of money from Bangladesh and used it to buy a large amount of land and other property in different places in West Bengal.
The money was borrowed from various banks by companies existing only on paper. Realising they were deceived, the banks informed the Financial Intelligence Unit of the Bangladesh Bank, which subsequently approached the Indian government.
Bringing him back
The Indian media reported Halder would be produced before the court with a plea to interrogate him in custody. He will first be tried under Indian law, but bringing him back to Bangladesh will depend on negotiations between the two countries' governments.
Asked about Halder's extradition, ACC lawyer Khurshid Alam Khan said there were some formalities. "If he has committed any crime under any Indian law, he will be taken to the court there and has to face a trial."
After the formalities, he would be handed over to the Bangladesh authorities by the Indian government under the Bangladesh-India extradition treaty, he said.
"He will be presented to the court in Bangladesh after his extradition. Then a remand order will be sought by the ACC in connection with the corruption cases against him," added the lawyer.
Home Minister Asaduzzaman Khan told reporters that they had not yet received any official news about Halder's arrest and would make a decision after understanding the situation.
"Several cases have been filed against Halder in Bangladesh. The decision will be made after understanding the overall situation."
ACC sources said Halder had embezzled around Tk 3,500 crore from International Leasing and Financial Services, Tk 2,200 crore from FAS Finance and Investment, Tk 2,500 crore from Reliance Finance, and Tk 3,000 crore from People's Leasing and Financial Services.
In January last year, the International Criminal Police Organisation, commonly known as Interpol, issued a red notice against Halder.
ACC acting secretary Syed Mahbub Khan told the media last week the commission had issued notices against 33 individuals of the Halder syndicate, asking them to submit their wealth statements to the commission.
Of them, 13 are yet to submit their statements and cases will be filed by the ACC against them soon.
The ACC also froze the bank accounts of 83 individuals accused of being associates of Halder in the scams. Moreover, Tk 1,000 crore worth of assets have been seized while travel bans have been issued on 64 people linked with Halder.
So far, 13 of the 64 have been remanded and 11 have confessed to their involvement in Halder's various scams. 34 cases have so far been filed against Halder and his associates over graft charges.
Unauthorized use or reproduction of The Finance Today content for commercial purposes is strictly prohibited.