Economy /
BIMSTEC conference begins in Dhaka
---
SAM
Published:
2018-03-20 12:23:15 BdST
BIMSTEC conference begins in Dhaka
---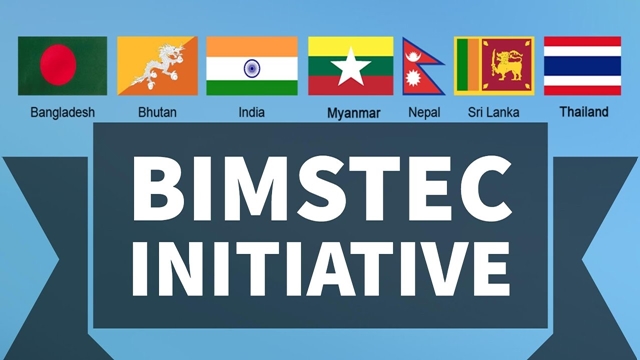 FT ONLINE
Scholars, think-tanks, government officials, diplomats, business leaders and other stakeholders of the Bay of Bengal region have convened in Dhaka to take stock of the seven countries grouping BIMSTEC's achievements and chart a future course of action.
Foreign Minister AH Mahmood Ali inaugurated the daylong conference on Tuesday marking the 20th anniversary of the establishment of the Bay of Bengal Initiative for Multi-Sectoral Technical and Economic Cooperation or BIMSTEC.
It was established through the adoption of Bangkok Declaration in June 1997 to promote cooperation in the areas of trade, investment, technological exchange and other interrelated areas and contribute to peace, progress and prosperity in the region.
Bangladesh, Bhutan, India, Myanmar, Nepal, Sri Lanka and Thailand are the members of the grouping now.
In spite of the solid foundation of geographical contiguity and shared history and cultural ties, BIMSTEC has yet to make visible progress in advancing concrete cooperation among the member states.
Two recent developments, however, according to the BIMSTEC Secretariat, have generated renewed hope that BIMSTEC is poised to take off as a viable regional grouping.
First, BIMSTEC established its permanent Secretariat in Dhaka in 2014.
Second, BIMSTEC cooperation received new impetus from the Leaders' Retreat held in Goa, India on Oct 16, 2016, wherein the leaders pledged to work collectively towards making BIMSTEC stronger, more effective, and result oriented.
It is now being seen as an alternative to SAARC by some think-tanks following India-Pakistan tension leading to the postponement of the 2016 summit in Islamabad.
BIMSTEC connects South Asia with Southeast Asia, and serves as a platform for inter-regional cooperation between SAARC and ASEAN members.
It accounts for 21 per cent of the world population, providing huge potential for trade. But intra-BIMSTEC trade is very low mostly due to what experts say low level of economic integration within the region and a dearth of infrastructure, especially transport connections within those countries.
Secretary General Ambassador M Shahidul Islam said as the BIMSTEC process enters the third decade of its existence, the conference will take stock of BIMSTEC's achievements and chart future course of the organisation.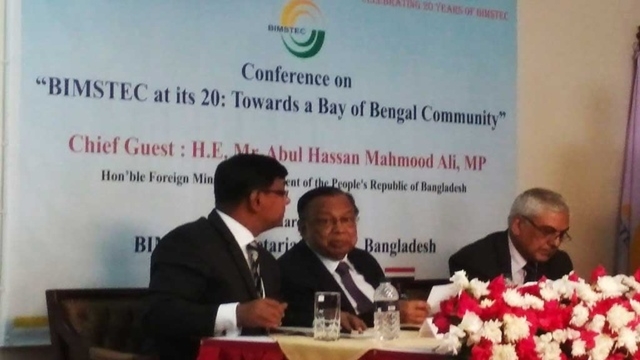 The conference titled "BIMSTEC at its 20: Towards a Bay of Bengal Community'' will contribute toward improved understanding and awareness about the potential of the BIMSTEC initiative as well as the challenges facing it currently, the Secretariat said.
It is also aimed at providing practical ideas and thoughts towards developing the future work plan of the BIMSTEC Secretariat, and giving "more visibility" to the work of the BIMSTEC Secretariat, reports bdnews24.
There will be four working sessions where panellists will discuss the role of connectivity in BIMSTEC integration, role of people-to-people contact, security cooperation and economic integration in the Bay of Bengal region.
Executive Director of BRAC Institute of Governance and Development Dr Sultan Hafeez Rahman, Chairman of the Institute of Conflict, Law and Development Studies Ambassador Muhammad Zamir, Chairman of the Board of Governors of the Bangladesh Institute of International and Strategic Studies Ambassador Munshi Faiz Ahmad, and Chairman of the Centre for Policy Dialogue Prof Rehman Sobhan will moderate those sessions.
Dr Prabir De, professor of Research and Information System for Developing Countries in New Delhi, Dr Surat Horichailkul, director of the Indian Studies Centre of Chulalongkorn University in Bangkok, Mahjabeen Khaled MP, bdnews24 Editor-in-Chief Toufique Imrose Khalidi, Senior Research Fellow of Observer Research Foundation in India Joyeeta Bhattacharjee, FBCCI President Shafiul Islam Mohiuddin and Commerce Secretary Shubhashish Bose are the speakers.
Three publications -- BIMSTEC Energy Outlook 2030, Twenty Years of BIMSTEC: Promoting Regional Cooperation and Integration in the Bay of Bengal Region and Bridging the Bay of Bengal: Towards a Stronger BIMSTEC -- would also be launched at the conference.
Prime Minister's International Affairs Adviser Gowher Rizvi will speak at the closing session.
Unauthorized use or reproduction of The Finance Today content for commercial purposes is strictly prohibited.