Economy /
Rise in exports, remittance eases dollar crisis
---
Hasibul Aman
Published:
2023-03-19 20:01:26 BdST
Rise in exports, remittance eases dollar crisis
---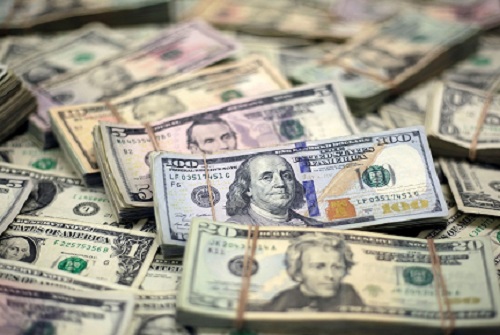 The Bangladesh economy has shown signs of improvement in overcoming the deepening dollar crisis caused by the Russia-Ukraine war, with an improvement in forex supply at banks.
This has led to importers suffering less from the dollar crisis, as banks are approving more import Letter of Credit (LC) openings than during the peak crisis moment, according to insiders in the banking sector.
Data from the central bank shows that the dollar reserve at banks increased by $1 billion in just over two months, from $2.05 billion on January 5 to $3.05 billion on March 13.
Although opening LCs still takes time, it has become more comparatively hassle-free than the situation six to seven months ago, according to Mostafa Jamal, an apparel exporter who extensively opens LCs for importing raw materials.
A number of entrepreneurs in the export-oriented RMG sector said the dollar crisis has eased, allowing them to import raw materials according to their needs, with bank LC opening becoming comparatively hassle-free.
Bangladesh Ceramic Manufacturers and Exporters Association president Md Sirajul Islam Mollah said: "Most of the ceramic raw materials have to be imported, but we could not import enough raw materials 7-8 months ago because of dollar crisis."
"But the crisis is gone now. We can open LCs now," he added.
The rebound in foreign remittance inflow, coupled with healthy exports, has contributed to addressing the dollar crisis. Remittance grew 15 percent year-on-year to over $1.96 billion in January this year, while February's remittance rose 4.47 percent to $1.56 billion from a year earlier.
Exports set a record in December last year, with the country earning $5.37 billion from goods shipment with 9.33 percent yearly growth over $4.91 billion earned in December 2021.
The central bank sold $8.5 billion to scheduled commercial banks during the first seven months until January 23 this fiscal to address the dollar crisis.
This was higher than the $7.62 billion sold in the whole 2021-22 fiscal year. Forex reserve at the central bank reached its peak at $48.04 billion in August 2021, the highest in the country's history.
In 2022, the central bank had to sell $12.61 billion to banks to help them overcome the cry for the dollar. So far in the ongoing FY23, more than $10 billion has been pumped into the banking sector. As a result, forex reserve at the central bank decreased to $31.28 billion now.
The central bank has taken initiatives to step up remittance sending through the banking channel, and there will be no dollar crisis during Eid-ul-Fitr and Eid-ul-Adha when more remittances will come, said Bangladesh Bank spokesperson Mezbaul Haque.
According to a top official of a scheduled bank, at present, they do not need to buy dollars from Bangladesh Bank and they do not face any problems in meeting their clients' import bills, supported by export earnings and remittance receipts.
Some other bankers also echoed this, saying that the dollar pressure is easing and LCs are opened in a selective way to avoid any crisis.
Ahsan H Mansur, executive director of the Policy Research Institute (PRI), thinks that the current trend of exports and inward remittance receipt can help overcome the dollar crisis to a large extent.
He observed that a record number of workers went abroad last year, so the chance of a rise in remittances is greater than that of a fall.
Unauthorized use or reproduction of The Finance Today content for commercial purposes is strictly prohibited.