Economy /
Quality governance, democracy crucial for LDC graduation
---
SAM
Published:
2018-03-11 10:40:04 BdST
Political stability also must to reap benefits of developing countryQuality governance, democracy crucial for LDC graduation
---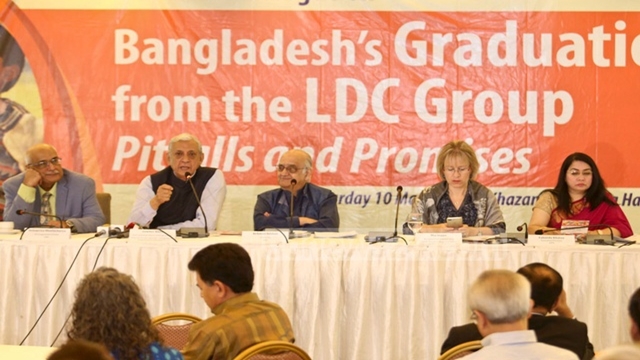 FT ONLINE
To enjoy the benefits of graduating to a developing country from a least developed country, Bangladesh needs political and democratic stability, a think tank has said.
Centre for Policy Dialogue (CPD), an economic think tank held a dialogue on 'Bangladesh's Graduation from the LDC: Pitfalls and Promises' in the capital on Saturday.
Speakers at the dialogue said that for a smooth transition political stability and good governance are key elements, along with the other issues.
"Bangladesh's graduation to a developing country from an LDC is a landmark success in the contemporary development experience. Bangladesh is graduating with a large population, sizeable economy, exports and progress in poverty alleviation – the first LDC to meet all three criteria at the time of graduation," said Debapriya Bhattacharya, distinguished fellow of CPD.
"If there is no stability and sense of unity in the country, we may lag behind in utilizing the graduation as an advantage and opportunity," Debapriya said.
To enjoy the benefits of graduation, Bangladesh needs to ensure good governance. Without good governance, there are chances of creating institutional and policy weaknesses, he said.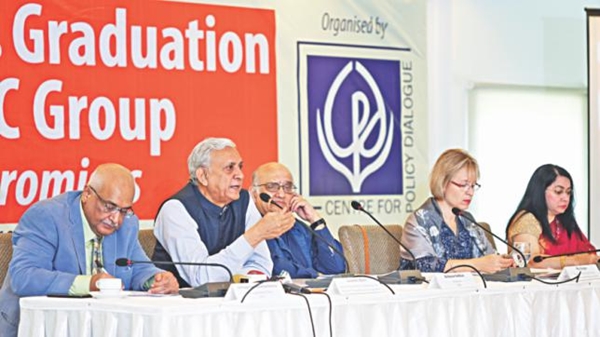 Gowher Rizvi, prime minister's foreign affairs adviser, acknowledged that much needs to be done to ensure quality governance. Bangladesh's graduation narrative is different from its peer countries like Bhutan and the Maldives, according to Sobhan.
For instance, the Maldives is a country of single driver economy: the tourism.
"But, Bangladesh is different as there are several major key drivers of economy," he said, while citing the thriving entrepreneurial class that has developed a competent garment sector and small and medium enterprises.
Bangladesh has a strong and dynamic workforce, mostly from rural areas, which have been contributing to productivity.
"Such a good number of labour force is not available in Bhutan."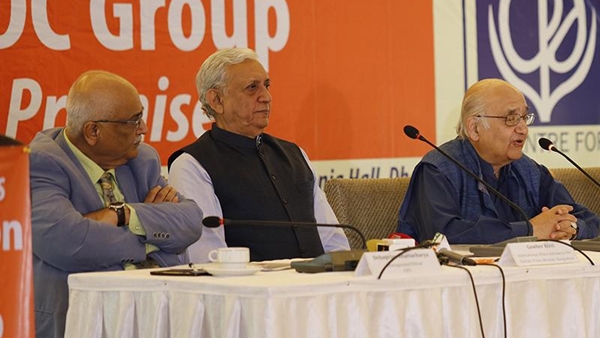 Talking about the challenges after graduation, CPD Chairman Rehman Sobhan said: "Behind all these challenges lies our capability for quality of governance and the sustainability of our democratic process, where you create a sustainable environment where people can transit from one era to another without the threat of violence and the fear of political instability."
"Bangladesh will graduate to a middle income country by 2021, but there will be technical challenges in 2024. Political stability and continuity is a challenge," said prime minister's International Affairs Adviser Gowher Rizvi.
"There is growing inequality in the country. Growth rate is high but inequality remains. Despite all efforts, we have not been able to eradicate poverty," he added.
He also focused on increasing women's participation in the workforce, saying: "Currently there are 36% women in workforce and if we can increase it to 48% to 50% it will help enhance 0.8% GDP."
"Bangladesh's graduation is integrated not only with the economy but also politics, which is going a through critical time," Foreign Secretary Md Shahidul Haque said.
Bangladesh has to keep itself politically, economically, socially and culturally stable, said Shahidul.
What will happen after graduation
As an LDC country, Bangladesh enjoys duty free market access to European countries and other developed countries. After graduation, Bangladeshi exports will face an additional 6.7% tariff.
Bangladesh will lose the concessional loans from development partners, which will cause interest rates to rise.
To remain competitive in the global export market, Bangladesh will have to focus on negotiation to enjoy duty free market access and find other sources of low cost loans.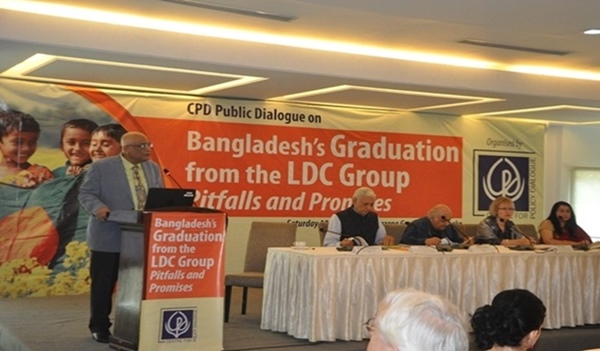 "From previous experiences, we have seen that after graduation most countries witness a decline in GDP, foreign aid and remittances. As a result, the financial systems of those countries come under pressure, especially when revenues from tax do not increase," said Debapriya Bhattacharya, distinguished fellow of CPD.
But a good number of countries receive FDI to offset this crisis.
"The question is whether Bangladesh will be able to attract FDI," said the economist.
Though Bangladesh is moving forward with export processing zones and export has increased, production is concentrated in a handful of products. The productivity of workers is lowest among LDC countries, he added.
"As an LDC, we have greatly benefited from various protective advantages in the form of duty-free access to a variety of countries, and reserved markets which provided the take-off point, and initially catalyzed the arrival of the South Koreans to enable us in initiating the garments industry," said Rehman.
"Entrepreneurs must be incentivized by creating appropriate environment of governance, regulatory environment, and a sustainable financial sector operated on competitive principles," he said regarding the improvement of entrepreneurship.
He also urged the government to create a genuine partnership, as opposed to an adversarial relationship between the state and NGOs to take forward human development even further.
He also highlighted the importance of upgrading migrants' skills and protecting them since they are the main source of Balance of Payment Sustainability.
In ensuring a smoother graduation and to over come the challenges to enjoy its benefits, experts suggested addressing issues like inequality, Rohingya crisis and climate change shocks.
"Structural risks like extreme poverty and inequality, low human capital and weak economic governance must be tackled effectively. Addressing inequalities by ensuring equality of opportunities, particularly in health and education are per-requisite for equitable growth," said Mia Seppo, the resident coordinator and UNDP resident representative.
Emerging risks like climate change, violent extremism and managing the shocks and vulnerability of Rohingya crisis to be managed effectively, said Mia.
To keep the continuing the pace of development, investment outlook for the private sector needs to be improved significantly. In doing so, the government has to provide sufficient infrastructure including power. FDI flow needs to rise and diversify, she said.
How to sustain the graduation and make it inclusive
After graduating to a developing country, Bangladesh will enjoy a four year tenure to retain progress and ultimately it will be declared in 2024. In retaining the progress, Bangladesh should focus on some issues like product diversification, negotiation skills to enjoy trade facilities and concessional loans.
To remain competitive in the global export markets, experts suggested products diversification as Bangladesh is dependent on RMG sector for its over 80% export earning. Bangladesh has to focus on negotiation skills for trade facilities and free trade agreement, Debapriya said.
To make graduation sustainable and inclusive, Bangladesh has to boost new industries by improving productivity, Debapriya said.
Focus should be given on the upgradation of agricultural sector. On the other hand, the industry people have to ensure productive jobs for the people coming from the rural areas especially from agriculture, he added.
"After graduation, Bangladesh has to increase investment both from local and foreign investment, which has been stagnant for around a decade," economist AB Mirza Azizul Islam said. Product diversification as well as productivity enhancement is a must, he added.
Labour incentive manufacturing will go, and Bangladesh will have to think about how to embrace technology and automation, said World Bank Bangladesh lead economist Zahid Hussain.
Mustafizur Rahman, another distinguished fellow of the CPD, suggested technology upgrades, skills endowment, productivity enhancement and higher competitive strength.
"Bangladesh will need to give high priority to all these areas by sound policymaking and high-quality implementation," he added.
The country needs to look for more macroeconomic stability, said Khondaker Golam Moazzem, research director of the CPD.
Unauthorized use or reproduction of The Finance Today content for commercial purposes is strictly prohibited.