'Shikkhok Batayon' adds a new dimension to education sector
---
Barun Kumar Das
Published:
2021-08-10 12:30:03 BdST
'Shikkhok Batayon' adds a new dimension to education sector
---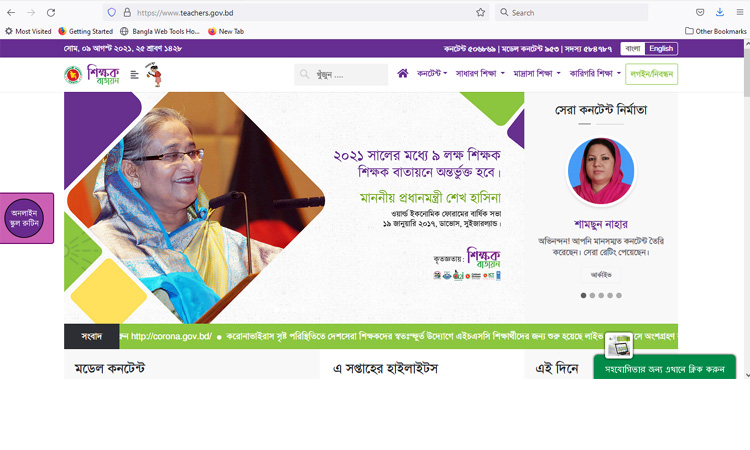 'Shikkhok Batayon', an integrated training platform for teachers, has added a new dimension to the country's educational institutions as this window has been playing an important role in training teachers during the ongoing coronavirus pandemic.
The teachers can upload and download contents, pictures or videos they create through the web portal, (https://www.teachers.gov.bd/), which has recently been redesigned and reorganised.
In the window, the teachers themselves are the tutors of each other. If anyone wants to know any issue regarding education, s/he writes on the blog. Seeing it, other teachers give ideas on the issue.
Besides, many teachers seek advices from others by putting up their contents on the website. They go to classes by modifying the contents as suggested.
Staying at home, the teachers are acquiring knowledge about those and can give advices to each other to this end.
According to 'Shikkhok Batayon's website, as per the directive of Prime Minister Sheikh Hasina in implementing 'Digital Bangladesh', works are underway to include about nine lakh teachers in the window under a joint initiative of the Education Ministry, the Primary and Mass Education Ministry and the Aspire to Innovate (a2i) Programme, jointly implemented by the ICT Division and the Cabinet Division with support from the United Nations Development Programme (UNDP). About 5.80 lakh teachers have so far included in the digital platform.
In addition, the Bangla e-learning platform "Muktapat" is going to be added to the window soon. The academic trainings at primary, secondary and higher secondary levels will be brought under the e-training platform.
Different certificate courses and special sessions of national and international experts will also be conducted online directly through 'Shikkhok Batayon'. In this way, 'Shikkhok Batayon' will become a comprehensive training platform for the teachers.
Manjur-e-Elahi, a teacher of a Satkhira college, has uploaded 52 tutorials on content creation. Australian expatriate freelance applied linguist Amin Rahman uploaded over 50 audio tutorials on English pronunciation. The teachers are acquiring knowledge from these tutorials.
Various training materials and resources prepared by development partners, including British Council, are being uploaded on the window.
While talking about the web portal, teachers in different districts of the country said even a decade ago, the teachers, who were not used to ICT like computer or mobile phone use, are now teaching students using multimedia classrooms and online.
Ayesha Akhter, an assistant head teacher of Harang High School in Chandina upazila of Cumilla, said the teachers are getting benefited a lot from the 'Shikkhok Batayon'.
"We've a lot to learn from the platform. When we upload contents, many experienced teachers give us suggestions in many ways. Revising those, we are teaching students in classrooms. I am learning myself and I can teach others too. At present, a teacher is getting the opportunity to introduce his or her institution at national level despite staying in remote areas," she added.
Zakaria Mahmud, a senior teacher of Chhotadhamai High School of Juri upazila in Moulvibazar, said once it was unrealistic to say that children from a tea garden worker's family would be able to join classes conducted by the teachers of top city educational institutions like Ideal School.
"But, today the children of remote villages are able to join classes of the teachers of all these schools. A new horizon of learning is opened for the students living in remote areas. They are learning a lot," he said.
Besides, Mahmud said, many new teachers are also learning through online trainings and watching the classes of good teachers. Many teachers, who have hidden talents, are also able to show themselves before the world, he added.
According to official data, educational activities are being conducted in 64 districts through online schools during the coronavirus crisis period. About 4.78 lakh contents have been stored in the 'Shikkhok Batayon' and of those, 953 are model contains.
Tariqul Islam, an assistant teacher of Raghunathpur High School under Nawabganj upazila in Dinajpur, said "Today, we have spread all over the world through 'Shikkhok Batayon'. 'Muktapat' has been arranging free online trainings, which help us improve our skills."
Also, he said, with the introduction of the best online performer option in the window, the teachers are getting encouraged to this end.
"After becoming a member of 'Shikkhok Batayon', I am enriching myself gradually by sharing my experience. I have shared my experience with colleagues. I have been able to connect with the a2i officials through various meetings and workshops," said Md Shawkat Hossain, an assistant teacher at Hamakandi Palli Mongal High School in Chandpur.
Meanwhile, 1,400 education ambassadors for ICT have been appointed across the country from teachers aiming to implement the activities of 'Shikkhok Batayon' at district level. The ambassadors are playing a leading role in implementing the new innovations at field level.
Unauthorized use or reproduction of The Finance Today content for commercial purposes is strictly prohibited.