'Strangers' sequel 'preys' for another box office hit
---
Nirmal Barman
Published:
2018-03-10 11:00:04 BdST
'Strangers' sequel 'preys' for another box office hit
---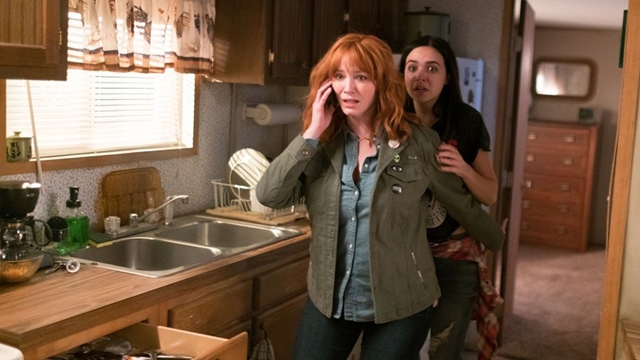 FT ONLINE
A man with a sack over his head brandishes a bloodied machete, cheerfully warning bystanders not to get trampled by his panicked victims, who aren't really looking where they're going.
It seems somehow incongruous to be offered health and safety advice from someone who looks like they really want to stab you. But this isn't a real trailer park and that isn't a real knife-wielding maniac.
AFP has come to a pop-up trailer park attraction in the heart of Hollywood recreating scenes from the upcoming horror movie "The Strangers: Prey at Night," to interview indie director Johannes Roberts about what scares him.
"I think what is genuinely scary -- and is scary in 'The Lord of the Rings' and in many, many different genres -- is emotionlessness, expressionlessness," the 41-year-old says.
"When you're being faced with something where you can't go, 'Look, I've got a family' or 'I'll give you money' or whatever -- they don't care, you're just getting this blank expression back -- it's a very frightening thing."
A decade ago, a trio of maniacal masked killers, inspired by the Manson Family, ran amok in Bryan Bertino's cult horror classic "The Strangers," a shocking, claustrophobic home invasion hit.
"Prey at Night," which hits US theaters on Friday, gives the enigmatic Dollface, Man in the Mask and Pin-Up Girl a bigger playground -- a 56-acre mobile home park in the dense woods of northern Kentucky.
When Cindy (Christina Hendricks) and Mike (Martin Henderson) take their rebellious teenage daughter Kinsey (Bailee Madison) and son Luke (Lewis Pullman) on a road trip, an ordinary family excursion becomes their worst nightmare.
Upon arrival at the secluded park, a knock on their trailer door leads to a seemingly inescapable night of terror as the masked strangers emerge from the darkness, determined to kill.
- Tolkien is horror -
Bertino's original wasn't an unqualified success -- it is rated at just 45 percent based on more than 150 reviews on Rotten Tomatoes -- but it found its niche and made $52 million at home and $30 million abroad, for a total of almost ten times its production budget.
The sequel -- which has been on quite a journey, changing hands several times since it was first announced in 2008 -- is projected to make a more modest $17 million domestically but should still turn a profit.
"When I got offered this I was, like, 'OK this could be a minefield, this could... go all kinds of wrong. But I really saw a way to make a movie," he told AFP.
The look is retro -- all far-off zoom shots and luminous fog -- influenced by the John Carpenter movies of the late 1970s and 1980s, as well as classics such as "Don't Look Now" and "The Texas Chainsaw Massacre."
"I grew up on Tolkien stuff, like 'Lord of the Rings,' which is basically horror -- they're firing severed heads over battlements," Roberts recalls.
"And then, at about 13, 14, I discovered Stephen King and I was just, like, 'OK, this is me -- I'm done.' And then I discovered all the movies that they made out of King books and I was just hooked."
Surprisingly, Roberts says he's not a huge fan of the home invasion genre, although "Prey at Night" is arguably more in keeping tonally with "vacation horror" movies like "Deliverance" (1972), "The Hills Have Eyes" (1977) and "Wolf Creek" (2005).
Although he enjoys a gratuitous splash of gore as much as the next horror geek, Roberts says he prefers ghost stories and a tense atmosphere to the "torture porn" of movies like "Saw" (2004) and its innumerable sequels.
- 'Cave sharks' -
The relatively new father hesitates over whether having his own son has changed his view on presenting violence against children in his movies. "It's funny, I did a movie prior to this called 'The Other Side of the Door' where the little boy dies at the beginning," he says.
"I wouldn't have written that now. I watched that the other day, that sequence, and I was, like, 'Holy crap!' He dies drowning in a car. And I couldn't do that now."
That Mumbai-based 2016 ghost story made $15 million -- three times its production budget -- and remains one of Fox International's most commercially successful movies.
Roberts is best known for writing and directing the suspenseful 2017 shark thriller "47 Meters Down," the first fictional feature to be filmed almost entirely underwater.
It was days away from a DVD release -- with copies already out in some stores -- when Entertainment Studios bought and released it theatrically, making $65 million from a $5 million budget.
Next up for Roberts is the sequel, "48 Meters Down," which sounds like it will be taking its sharks into even creepier waters.
"If I can put it in a nutshell, I'm making 'The Descent' underwater," he said.
"I learned to cave dive while I was doing '47 Meters Down' and it's the most terrifying thing in the world and I was just like, 'OK -- cave sharks. How wrong can you go here?' It just seemed like a fun thing to do." afp
Unauthorized use or reproduction of The Finance Today content for commercial purposes is strictly prohibited.