Health /
Govt decides to administer Covid booster dose to above-60 citizens
---
Staff Correspondent
Published:
2021-12-01 19:12:59 BdST
Govt decides to administer Covid booster dose to above-60 citizens
---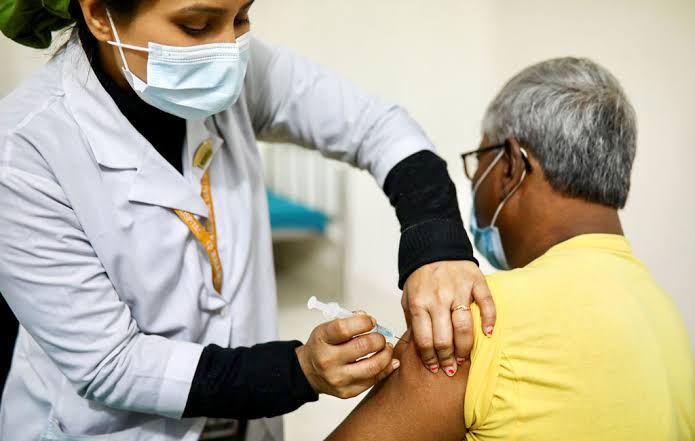 The government will administer Covid-19 booster doses to senior citizens aged above 60, but the date for the campaign has not yet been decided, Health Minister Zahid Maleque said on Tuesday.
"We will sit later to set the date. We have a plan to provide booster dose to those who are seriously ill," he said while talking to reporters after an inter-ministerial meeting on Covid-19 at the ministry.
He said the meeting discussed measures on how to prevent Omicron, a new powerful variant of the infection, from entering the country and contain its spread.
The minister said the government is recommending a ban on flights from African countries and discouraging travelers arriving from Africa in a move to stem the infections.
"Those who still arrive will be placed under institutional quarantine under the watch of the military," he said adding that this applies also for passengers from European countries. Vigilance along the borders will be strengthened.
"Many people have come and go to our neighbouring country and we have discussed restricting public movement in bordering areas," he said.
Zahid listed a number of other measures the meeting has decided to take in tackling the virus.
Deputy Commissioners will be asked to ensure that social, political and religious programmes are conducted on a limited scale.
Besides, directives have been given to conduct mobile court drives to ensure the use of masks and slap fines for breaches, he said adding "Our health department has been asked to form a national monitoring cells in all districts and upazilas and take decisions instantly."
He also urged people to arrange virtual meeting instead of physical presence.
No vaccine no service
"We are going to introduce no vaccine, no service system because we have found some people reluctant to be jabbed," he added.
"We have brought school students, slum dwellers and people from all walks of life under vaccination programme. Our move of 'no vaccine no service' is to accelerate the vaccination programme so that people come forward to get the jab."
Replying to a question Zahid said "We will send letters to all ministries and they will enforce it."
Zahid said the country is now better prepared with hospital treatment of Covid patients than before.
14-day mandatory quarantine
People who will arrive from Africa must go under a 14-day compulsory quarantine whether it is home quarantine or institutional quarantine, said the minister. "We want the armed forces personnel's intervention in it to manage the whole process."
"Omicron has spread in different parts of Africa and the new variant has been detected in some European countries including the UK. A discussion was held over how to stem the new variant and how to tackle it if found detected in our country," he said.
Mentioning that Omicron has the capacity to infect more people than Delta variant, the minister said "It is difficult to identify people detected with omicron as the patient has light symptoms with cough and weakness."
Replying to a question about the quarantine expenditure, Maleque said "Persons should have to bear their own expenses and if anyone fails to bear expenses then we'll consider it."
Hospital arrangements
The hospitals across the country are well equipped as there are 18,000 beds. Besides, central oxygen lines are available in 120 hospitals while the country is producing almost 300 tonnes of liquid oxygen."
Talking about the duration of testing time, he said "We are thinking about reducing the duration of the testing time from 48 or 24 hours from the existing 72-hour."
Replying to a question on arrival of about 240 people from South Africa, the minister said "Some 240 people have arrived from South Africa in the one month and they have provided wrong addresses and their phone numbers were found switched off. We are trying to detect them through contract tracing"
The covid preventive committee will be tasked to monitor it at the district, upazila and union levels and they can hoist red flag on the top of the house if needed.
HSC exam
The minister said the students will continue attending classes as it is going on and there is no need to extend the class time.
Besides, the Higher Secondary Certificate (HSC) examination will be held as per scheduled routine.
Replying to a question about the vaccination progress to students, Zahid said "Already 7/8 lakh students have bene vaccinated and we are trying to enroll more students under vaccination programme.
Amid the growing concern over the new 'Omicron' variant of coronavirus, the Directorate General of Health Services (DGHS) on Monday issued a 15-point guideline to fight the new variant.
The measures, including a travel ban from the countries affected by it, have been suggested by the National Technical Advisory Committee (NTAC) on Covid-19.
Unauthorized use or reproduction of The Finance Today content for commercial purposes is strictly prohibited.