Health /
PM urges rich countries to ensure universal healthcare for all
---
Staff Correspondent
Published:
2023-05-12 14:19:00 BdST
PM urges rich countries to ensure universal healthcare for all
---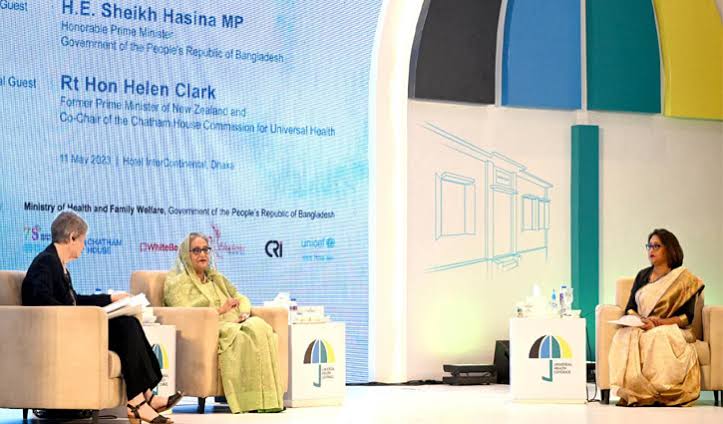 Prime Minister Sheikh Hasina on Thursday urged the rich countries to support the efforts to ensure universal healthcare for the lagging behind countries of the world.
"Rich countries must step forward to ensure universal healthcare. In this connection, funds (finance) have to be disbursed," she said.
The prime minister said this while addressing a high level programme titled 'Accelerating Universal Health Coverage Towards Smart Bangladesh' at Hotel InterContinental.
She said that many countries are still lagging behind. They need assistance.
Enough fund should be created to support health and nutrition in areas that are not yet developed or that have not made much progress towards health. Because health is the root of all happiness," she said.
Former Prime Minister of New Zealand and co-chair of the Chatham House Commission Helen Clark also spoke at the programme as the special guest.
The programme was divided in two parts – in the first part the chief guest, special guests and experts answered various questions.
This part of the programme was moderated by Saima Wazed Putul, Adviser on Mental Health and Autism to the Director-General of the World Health Organization (WHO) and Commissioner of the Chatham House Commission on Public Health.
Calling for an international plan for universal healthcare, Hasina said this is very important.
"This issue needs to be given more importance and an international plan should be made," she said.
She said this has to be done to figure out which country needs more.
"It can thus be specified and health services can be ensured for all. But I believe we all need to do it together," she said.
The prime minister briefly described various steps of the government for providing free primary care and 30 types of medicines through community clinics, providing free insulin from community clinics, recruiting new nurses and doctors, training health care workers, providing maternity and post-natal services to mothers, maternity allowance and increasing the number of beds in various district and upazila hospitals.
She highlighted various initiatives of the government to bring medical services to people's doorsteps by increasing the quality of medical services using advanced equipment, building specialised hospitals, establishing hospitals, medical colleges, and medical universities.
"In this way we are taking health services to people's doorsteps", she added.
PM Hasina said besides taking these measures to ensure health services, Bangladesh has taken comprehensive measures including cleanliness, provision of sanitary latrines, provision of fresh water, health services are not only treatment or medicine, but also ensuring its food security, nutritional security.
Referring to the success of the government in the health sector, the prime minister said that it should not be forgotten that a small piece of land with a huge population is very difficult to manage.
"Still we are trying and we have achieved significant success," she said.
Hasina mentioned that not only in the health services, the government has a special focus on reaching other services to the people at the grass root level.
Highlighting the increase in budget-allocation in the health sector, the Prime Minister said, every time we provide a large part in the budget for the healthcare.
"Even if it is 2 percent in GDP, we are providing much more than that," she said.
She mentioned the issue of tax reduction on import of medical equipment and tax exemption on import of medical equipment for children in the private sector as well as for the government institutions.
Highlighting various measures and successes of the government to alleviate poverty, Hasina said, "We have been very successful in alleviating poverty."
She said that In 2006 the poverty rate was 41 percent while it has declined to 18.7 percent at present.
"Our extreme poverty rate which was above 25 percent, has come down to 5.6 percent, and this will not remain static. We are taking measures for everyone through social security programmes so no one will be poor anymore," she said.
Informing about the use of information technology in hospitals at different levels including district and upazila to monitor service activities, the prime minister said that the monitoring system will be strengthened by increasing the use of information technology in the future.
Health and Family Welfare Minister Zahid Maleque, United Nations Resident Coordinator in Bangladesh Gwen Lewis, World Health Organization Representative in Bangladesh Dr. Vardhan Jung Rana and UNICEF Representative in Bangladesh Sheldon Yate were present.
The second part of the programme discussed and sought to find solutions to the challenges related to the financing of healthcare and ensuring service delivery.
Two sessions were held in this segment - one on 'Improving Access to Affordable and Quality PHC for Universal Health Coverage' and the other on 'Health Care Financing for Accelerating Universal Health Coverage'.
The event was organized by the Ministry of Health and Family Welfare with the support of several national and international organizations such as UNICEF, WHO, World Bank, Suchana Foundation, Center for Research and Information and Chatham House, London.
Unauthorized use or reproduction of The Finance Today content for commercial purposes is strictly prohibited.