Spain orders partial lockdown on defiant Madrid
---
Diplomatic correspondent
Published:
2020-10-03 19:49:00 BdST
Spain orders partial lockdown on defiant Madrid
---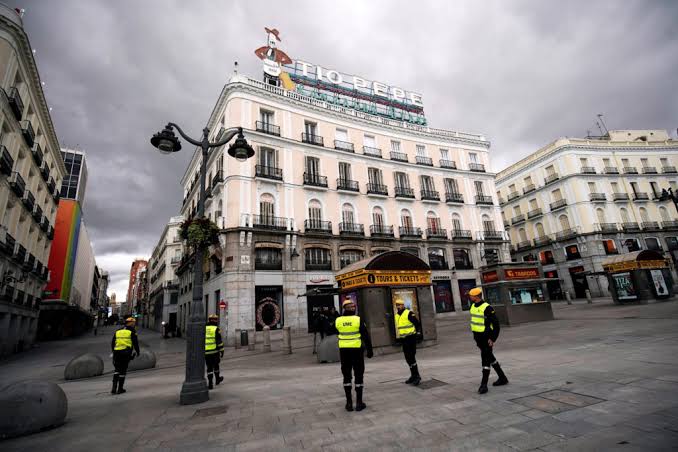 More than three million people in Madrid have had new restrictions imposed on their lives as Spain tries to control the most serious second wave of Covid-19 infections in Europe.
From this weekend, people can travel outside their home districts for essential journeys only.
Bars and restaurants cannot serve after 22:00. And a maximum of six people are permitted to meet in any setting.
The measures have been demanded by Spain's federal government.
They also take effect in nine towns around the capital.
The restrictions have been resisted by Madrid's city authorities, which tried to use the courts to block their imposition. Madrid's justice minister said it would cost the capital's economy €8bn (£7bn) and regional president Isabel Díaz Ayuso tweeted: "Thanks for the chaos, [Prime Minister] Pedro Sánchez."
Why Spain has ordered new measures
Signs of the second wave of Covid-19 infections now breaking over Spain can be seen at the emergency admission unit of the 12 de Octubre hospital, one of the biggest in Madrid.
Every hour ambulances arrive with new patients.
Some of the sick are helped into wheelchairs; others, already needing oxygen, have to be stretchered in by medical staff wearing full protective gear.
A red warning signal indicating the seriousness of Spain's predicament is that, at many hospitals across Madrid, existing intensive care units (ICU) are again full with Covid-19 patients.


Hospitals are having to use overflow capacity prepared at the height of the pandemic, including beds usually reserved for burns patients and for post-operative recovery.
At La Paz Hospital, another of Madrid's biggest, all 30 ICU critical care beds are occupied.
"There are more patients than we can attend in critical care units," says Juan José Río, Medical Director at La Paz.
"Psychologically it's the worst thing because all the staff here are afraid that the tsunami will come again."
Some 10,000 new Covid-19 cases are now being identified in Spain each day. On Friday, there were 11,325 new infections and 113 deaths.


Around one in four of all tests being done have been coming back positive, another warning signal about the prevalence of the virus.
Miguel Hernán, an epidemiologist from Harvard University in the US, advised Spain on its first lockdown. He says the country appears to have lifted that lockdown too fast and then reacted too slowly to curb the new rise in infections.
It means Spain's health service is again approaching saturation.
"The ICU beds are our last line of defence," he says. "Once those beds become full, countries are left with very few options other than a lockdown, even if it's a light one."
The new wave is likely to be lower than the first, the epidemiologist tells me, as long as people wear masks and practise social distancing.
One study earlier in the summer indicated that at least 11% of people in Madrid had already been infected by Covid-19.
That would provide some background immunity to help restrict the spread.
'They didn't control it'
But over the past two weeks around 700 people out of every 100,000 in Madrid have been infected by Covid-19. By comparison, in the UK the infection rate is roughly 100 per 100,000.
Spain has tried to target infection hotspots with local controls, much as other countries like the UK have done. But it's not clear how effective they've been.
For the past fortnight 200,000 people in the district of Fuenlabrada in the south of Madrid have lived under the restrictions. Now those measures are being expanded across the capital and to other parts of Spain.
Sitting outside a bar in Fuenlabrada, enjoying a last beer just before the 22:00 closing time, Paulino told me he blamed Spain's politicians.
"We all went back to work, crammed into trains, metro, buses," he says. "The infections are back, because they didn't control it."
And his drinking buddy Miguel agrees.
"Trying to stop the spread by closing some neighbourhoods and not others doesn't work. On the other hand, putting all Madrid back into lockdown will be really hard. How are we going to manage if we're all unemployed? I don't know what's worse."
Unauthorized use or reproduction of The Finance Today content for commercial purposes is strictly prohibited.