Malaysia's ex-PM Mahathir under investigation for fake news
---
Nirmal Barman
Published:
2018-05-03 10:34:02 BdST
Malaysia's ex-PM Mahathir under investigation for fake news
---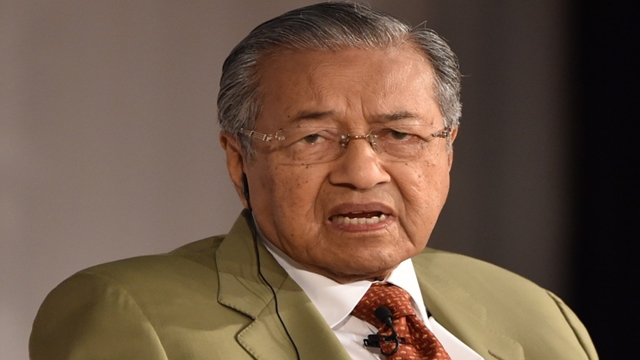 FT ONLINE
Malaysian former strongman Mahathir Mohamad, who heads an opposition alliance in next week's national elections, has brushed off concerns that he is under investigation for spreading false news.
Kuala Lumpur police have said they are investigating Mahathir under a new law banning fake news after complaints over Mahathir's claim that his chartered plane was sabotaged last week to prevent him from filing his candidacy in the northern resort island of Langkawi.
Mahathir, who was premier for 22 years until his retirement in 2003, said late Wednesday he isn't worried about the police probe.
"They can use whatever (law). I'm not afraid of any investigations. I have been investigated many number of times," he told reporters after a late-night rally in the central state of Pahang.
The law, which was rushed through parliament last month just days before election was called, carries a stiff penalty of up to six years in jail and a fine of 500,000 ringgit ($128,000). Critics say it is aimed at silencing dissent ahead of the May 9 general election. On Monday, a Danish citizen became the first person to be convicted under the law for making false claims over the killing of a Hamas militant on a video he posted on YouTube.
Mahathir, 92, has said he believed there was a "deliberate attempt" to stop him from going to Langkawi last Friday after the pilot found some damage to the jet just before departure. He said he tried to source for other planes but was rejected by three people, including one who claimed he was under pressure. Mahathir eventually found a plane and made it to the island to register Saturday for the polls.
"We are dealing with a government party which is known to use all kinds of tricks in order to win the election. And one of the tricks, of course, is to stop me from being nominated, and especially me, because I happened to be the leader of the opposition," he wrote on his blog. "So I maintain my belief that the plane was deliberately tampered with to stop me from going to Langkawi."
The Civil Aviation Authority said its investigation found no evidence of sabotage and the private plane company said it was a technical issue related to the front wheel. Prime Minister Najib Razak slammed Mahathir for making irresponsible allegations and urged him to stop his "politics of lying."
Mahathir made a political comeback amid anger over a massive corruption scandal involving the 1MDB state fund that was set up by Najib but accumulated billions in debts and is being investigated for money laundering in the U.S. and other countries. Mahathir has galvanized a fractured opposition and become their prime minister candidate, in the strongest bid to oust Najib and his long-ruling coalition.
Unauthorized use or reproduction of The Finance Today content for commercial purposes is strictly prohibited.