Najib Razak concedes defeat in Malaysia election
---
Nirmal Barman
Published:
2018-05-10 08:36:53 BdST
Najib Razak concedes defeat in Malaysia election
---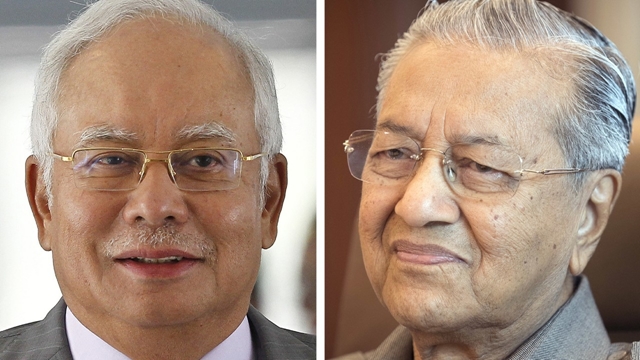 FT ONLINE
Malaysia's prime minister Najib Razak, who led the ruling National Front coalition to a historic loss in a national election on Wednesday, has conceded defeat.
At a televised press conference, Najib said, "I and my colleagues accept the verdict of the people."
He said the National Front "will honor the principle of democracy in the parliament."
Opposition parties, led by Malaysia's former authoritarian leader Mahathir Mohamad, tapped into anger over a corruption scandal and a new tax to end the National Front's 60-year hold on power.
Because no single party won a majority in the election, Najib said the country's king will have responsibility for appointing the next prime minister.
"The national front will respect whatever decision is made by the king," he said. "I urge all Malaysians to be calm and to trust the king's wisdom to make the best choice."
___
10:45 a.m.
Supporters of Malaysia's new government have taken to the streets of Kuala Lumpur to celebrate their unexpected election victory.
People stood on roadsides waving the white, blue and red flag of the opposition alliance that triumphed in Wednesday's national election. Cars honked their horns as they sped past.
"I'm so happy," said a woman waving the opposition flag. "I hope we'll have a better Malaysia now. Malaysia reborn!"
Malaysian voters were angered by a corruption scandal involving Prime Minister Najib Razak and new taxes. The opposition victory ends the ruling National Front's 60-year-old on power,
___
3:40 a.m.
Mahathir Mohamad says the new Malaysian government will not be seeking revenge on defeated prime minister Najib Razak, who is accused of involvement in a corruption scandal at state investment fund 1MDB.
U.S. investigators say at least $4.5 billion was stolen from the fund by associates of Najib between 2009 and 2014, including $700 million that landed in Najib's bank account.
Najib, who denies any wrongdoing, clamped down on dissent to survive the scandal.
Mahathir said he is not seeking revenge and wants to restore the rule of law.
He added that those found to have breached the law will be prosecuted.
___
3 a.m.
Mahathir Mohamad has said after he led a Malaysian opposition alliance to a historic election victory that he expects a prime minister will be sworn in within a day.
Mahathir was the country's authoritarian leader for 22 years until 2003. He says the opposition's majority is bigger than announced so far.
The 92-year-old Mahathir says a representative of Malaysia's constitutional monarchy has contacted the opposition to acknowledge its victory.
Mahathir emerged from retirement and joined the opposition after being angered by an epic corruption scandal involving Prime Minister Najib Razak.
The opposition's win ends the National Front's 60 year hold on power.
___
2:40 a.m.
Official results from Malaysia's national election show the opposition alliance led by the country's former authoritarian ruler Mahathir Mohamad has won a majority in parliament, ending the 60-year rule of the National Front.
The Election Commission says the opposition has so far won 112 seats and the National Front has 76 seats.
The opposition is also sweeping state elections, including Johor state where the dominant Malay party in the National Front was founded.
Malaysian voters have been angered by a corruption scandal involving Prime Minister Najib Razak and new taxes.
Mahathir is 92 and leads an alliance of opposition parties. ap
Unauthorized use or reproduction of The Finance Today content for commercial purposes is strictly prohibited.