Rescuers start mission to extract Thai cave boys
---
FARZANA
Published:
2018-07-09 07:19:06 BdST
Rescuers start mission to extract Thai cave boys
---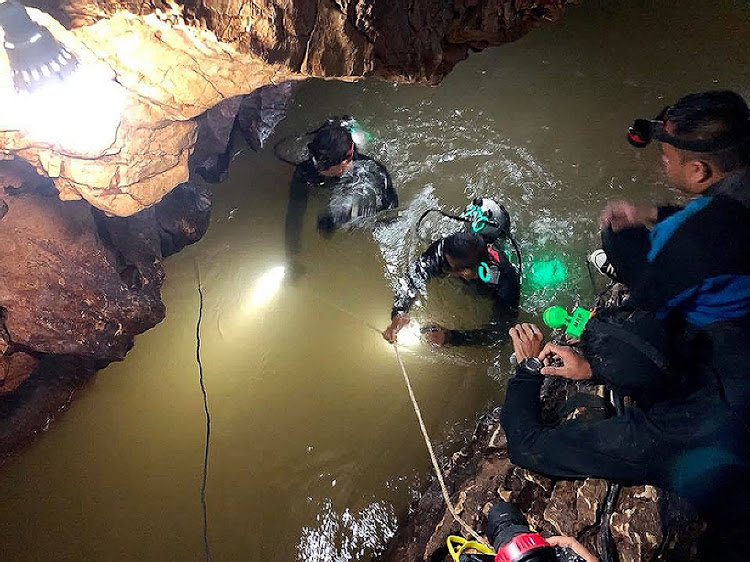 FT ONLINE
A dangerous mission to rescue 12 Thai schoolboys and their soccer coach trapped inside a flooded cave for more than two weeks began on Sunday and authorities said the first survivor may emerge around 11 hours later.
Thirteen foreign divers and five members of Thailand's elite navy SEAL unit are trying to bring the boys - some as young as 11 and weak swimmers – through narrow, submerged passageways that claimed the life of a former Thai navy diver on Friday.
"Today is D-Day," Narongsak Osottanakorn, head of the rescue mission, told reporters. "At 10 am today (0300 GMT) 13 foreign divers went in to extract the children along with five Thai navy SEALs".
He said the first boys – who have spent 15 nights trapped some 4 km (2.5 miles) inside the flooded cave - could emerge around 9 pm local time (1400 GMT).
Rain soaked the Tham Luang Cave area in northern Chiang Rai province on Sunday and stormy weather is expected for the next two weeks, increasing the risks in what has been called a "war with water and time" to save the team.
The boys, aged between 11 and 16, went missing with their 25-year-old coach after soccer practice on June 23, setting out on an adventure to explore the cave complex near the border with Myanmar and celebrate a boy's birthday, according to a Reuters report.
Extracting the whole group could take three to four days and depended on the weather, an army commander involved in the mission said.
The rescue teams had rehearsed the plan for several days, Narongsak said, and they had to move now.
"If we wait and the rain comes in the next few days we will be tired again from pumping and our readiness would drop. If that's the case, then we have to reassess the situation," he said.
To escape, the boys must dive through dark, narrow passageways sometimes no more than two feet (0.6 meter) wide, that have challenged some of the world's leading cave divers.
A former member of Thailand's SEAL unit died during a dive early on Friday morning.
Authorities have said it takes roughly 11 hours to do a round-trip from the cave entrance to where the boys are huddled on a muddy bank.
An Australian doctor who is part of Sunday's rescue mission checked the health of the boys on Saturday night and gave the all clear for the rescue to proceed.
Authorities said the rescue team included divers from "all around the world, mainly from Europe".
British divers Richard Stanton and John Volanthen discovered the boys on Monday. The British Cave Rescue Council said earlier this week they were sending five "key cave rescuers" to Thailand, some of whom were divers.
MUSK OFFERS MINI-SUB
Officials continued to explore other options to extract the team while the rescue effort was underway.
Rescuers drilled holes in the hills above the cave complex to seek alternative routes down into the cave.
Billionaire entrepreneur Elon Musk said on Twitter a team from his rocket company SpaceX in Los Angeles was building a mini-sub to help with the rescue.
"Got more great feedback from Thailand," Musk tweeted.
"Primary path is basically a tiny, kid-size submarine ... Light enough to be carried by 2 divers, small enough to get through narrow gaps. Extremely robust," he said, adding it would take eight hours to build and 17 hours to send to Thailand.
A team from a Musk company with drilling and exploration expertise was expected to reach the cave site on Sunday, Thailand's defence ministry said.
Unauthorized use or reproduction of The Finance Today content for commercial purposes is strictly prohibited.