Revelations of suspected spy at US embassy in Moscow could be tip of the iceberg
---
A H Khan
Published:
2018-08-04 06:46:20 BdST
Intelligence analysts warn that Russian worker believed to have had full access to secret data is unlikely to be an isolated caseRevelations of suspected spy at US embassy in Moscow could be tip of the iceberg
---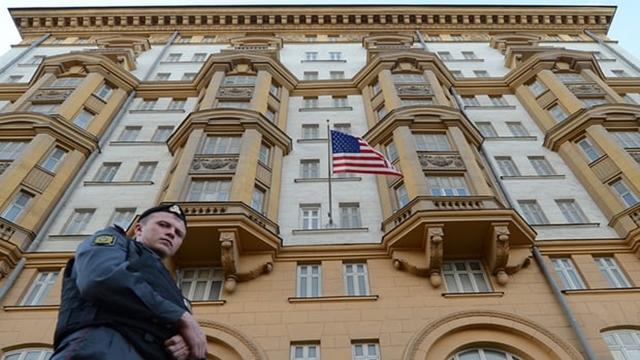 Russian police officer patrolling a street in front of the US embassy in Moscow
FT ONLINE:
A female Russian national, hired by the secret service, was dismissed after being caught holding regular and unauthorized meetings with the Russian intelligence agency the FSB.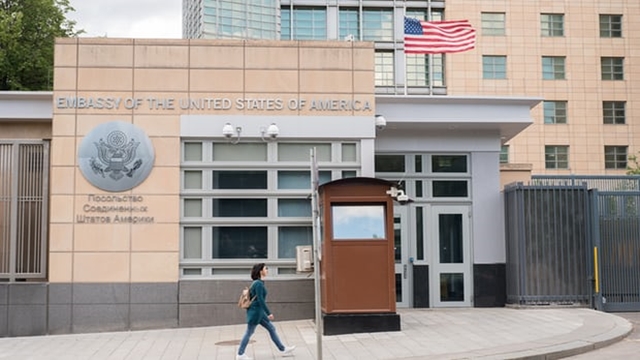 The explosive report that came just hours after an extraordinary joint press conference in Washington by America's top five national security officials who warned of a "broad and deep" effort by Russia to destabilize American democracy. Yet it is a threat that Donald Trump apparently fails to take seriously.
The suspected Russian spy came under suspicion after a routine security sweep by the state department. But intelligence analysts warned that this is unlikely to be an isolated example.
"The story is very credible and not very surprising to those of us who have worked in embassies," said John Sipher, whose 28-year career in the CIA's national clandestine service included serving in Moscow and running the CIA's Russia operations. "It is a constant problem – especially with the FSN-I [Foreign Service National Investigator] position. Those foreign nationals are hired to work with the local police and security services. They often come from those services.
"In high counter-intelligence threat countries they are almost always reporting to the local service. In Russia it is a given. The Russians would never let someone occupy that position that wasn't reporting to them."
Sipher added: "These jobs are an accident waiting to happen. In countries that don't have basic rule of law and a culture of service, the embassy needs people to make connections and help them get things done.... It helps the embassy get things done and helps the local service have eyes and ears inside the embassy."
The Russian national is understood to have had access to intranet and email systems, giving her potential access to highly confidential material including the schedules of the president and vice-president. A source said the secret service tried to minimize its embarrassment by firing the woman last summer when Russia ordered the removal of 750 personnel from the US embassy during a diplomatic spat.
Valerie Plame, a former undercover CIA operations officer, said: "This woman would have had access to the schedules of principals coming to Russia. You're just handing information to the FSB on a silver platter. It makes their jobs so much easier.
"The secret service were going through all sorts of real problems of discipline and training under President Obama. There was a series of real muck-ups. This appears to fall into the same bucket, that same period of time, and show clearly from the top down there were organizational, morale, bureaucratic, security problems.
Plame added: "We've been dependent on foreign nationals around the world for decades. It's just part of the accepted risk. It seems to me that, given she was hired under the auspices of the secret service, which has had its own deep problems, that means elsewhere in the world there are potentially foreign intelligence services that have exploited that weakness as well."
Indeed, although the discovery of the suspected spy came at a highly sensitive moment – investigations into possible collusion in the 2016 election, alleged Russian agent Maria Butina's attempts to infiltrate the Republican party, the Novochok poisoning in the UK – it points to a threat that is both widespread and decades old.
Paul Pillar, non-resident senior fellow at the Center for Security Studies at Georgetown University in Washington, said the case is a reminder of two unavoidable security vulnerabilities. "One is the need to rely for some embassy functions on local nationals, who always are subject to recruitment by host country intelligence services. A second is the skill and resourcefulness of the Russian services, which have a long history of operating against the US embassy in Moscow.
"The vulnerability involving the employment of local nationals can arise in any large overseas mission, but the Russians are a cut above most other intelligence services in being able to exploit such vulnerabilities."
There are likely to be similar cases at other embassies, and especially western embassies, in Moscow, he added. "Some will go undetected. Most, even if officially detected, we will not hear about publicly."
Larry Pfeiffer, a former CIA chief of staff and now director of the Michael V Hayden Center for Intelligence, Policy, and International Security, said: "This incident only underscores the persistence and pervasiveness of the Russian counter-intelligence threat. It has historically been and remains our greatest and most sophisticated threat. We should be glad this one has been caught but remain vigilant against those who, through exquisite tradecraft, remain undetected."
Unauthorized use or reproduction of The Finance Today content for commercial purposes is strictly prohibited.