National /
Allocate emergency budget for repairing embankment in upcoming dry season
---
Rezaul Karim Chowdhury & Mostafa K Akanda
Published:
2020-10-18 05:20:53 BdST
Allocate emergency budget for repairing embankment in upcoming dry season
---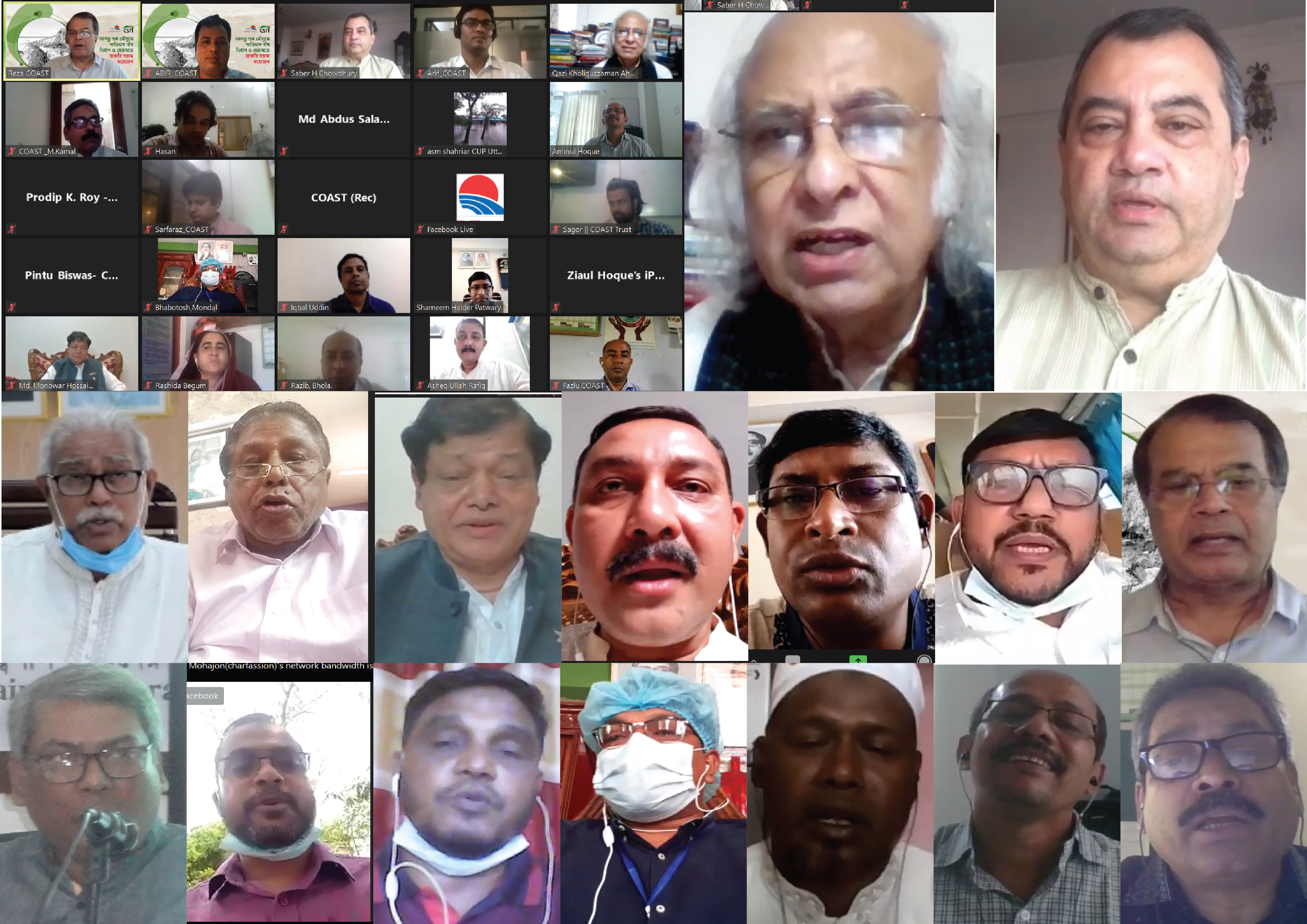 Policymakers and local government representatives urged government to allocate emergency budget for embankment repairing due to damage by recent cyclone and flood across the country.
They placed the proposals in a virtual seminar titled "Demand Emergency Budget allocation in upcoming dry season to embankment repair & maintenance".
This seminer was organized by COAST Trust and CSRL (Campaign for Sustainable Rural Livelihood).
The seminar was chaired by Dr Qazi Kholiquzzaman Ahmad , Chairman of PKSF (Palli Karma Sahayak Foundation) and Mr. Saber Hossain Chowdhury MP (Member of Parliament) and the Chair of Parliamentary Standing Committee on Ministry of Environment, Forest and Climate Change as Chief Guest.
Seminar was moderated by Mr. Rezaul Karim Chowdhury from COAST Trust and Ziaul Hoque Mukta of CSRL, where Mr. Talukdar Abdul Khaleque (Mayor Khulna City Corporation), Mr. Asheq Ullah Rafiq MP, Cox's Bazar-2, Mr. Nurunnabi Chowdhury MP, Bhola-3, Md. Monowar Hossain Chowdhury MP, Gaibandha-4, Mr. Dhirendra Nath Shambhu MP, Barguna-1, Barrister Shamim Haider Patwary MP Gaibandha-1, many Union Parishad (UP) chairmen of affected areas from Cox's Bazar, Satkhira, Khulna, Rangpur, Bhola and Gaibanddha district have participated and spoke.
In a key note presentation, Mr. Arif Dewan of COAST Trust said the latest cyclone Amphan and prolonged flood has been damage around 600 Kilometre embankment across the country along with BDT 75 billion economic losses. In this context, emergency repair is needed in upcoming dry season to avoid further devastation.
He also shown that ensuring only 3.0% funding per year through national budget will cover necessary cost of climate resilient embankment construction in five year period.
He made some demand regarding embankment construction and repair; (1) Government should allocate at least BDT 120 billion as emergency allocation for embankment construction in upcoming dry season, (2) Ensure necessary finance through national budget doing long term embankment management plan (3) Stop so called sub-contracting process and Local governments should be given mandate and budget for embankment maintenance.
Dr. Qazi Kholiquzzaman Ahmad said we have plan but not prioritized. We need an all parties parliamentary group to ahead the issue of embankment management strategy along with development issues. That will work with integrated approach and might result.
Saber Hossain Chowdhury said that due to lack sustainable embankment and river management policy, every year huge financial loss being happened in the name of embankment repair & construction. We need for a long term plan and explore how work with integrated approach engaging with ministries those are related with water & river management direct and indirectly.
M. Ziaul Hoque Mukta made some recommendation as WDB office and personnel should deployed in respected vulnerable area and district, rehabilitation of displaced people by taking especial measure due to river erosion and embankment failure, Repair & maintenance work must be implemented in dry season.
M. Rezaul Karim Chowdhury said, government should divided and declare national allocation into two part for construction and maintenance. So that maintenance cost can go to the local government and construction fund will be kept for WDB. So the timely maintenance will reduce the damage.
Mr. Talukdar Abdul Khaleque said Water logging is mainly caused by river siltation but embankment failure has been escalating the issue. So that government should consider both issues as long term solution. Budget must be placed in local government if proper output sought.
Mr. Dhirendra Nath Shambhu MP has emphasis to ensure transparency and accountability of WDB (Water development Board) in case of implementation at least.
He also recommended to place fund as emergency basis for repairing damage embankments in upcoming dry season.
Monowar Hossain Chowdhury MP said that siltation from up streaming rivers are causing the erosion and embankment damage in northern districts and recent flood damage huge number of infrastructures. Planned action on dredging is important to save the people and asset.
Barrister Shamim Patwary MP said that around 5000-50000 people are being displaced every year due to river erosion and main cause of increasing poverty in northern districts. Current national budget is insufficient and need to increase finance even foreign support for protection of embankment and river erosion as long term basis.
Mr. Asheq Ullah Rafiq MP said, due to lack of appropriate design and construction by WDB, embankment doesn't sustain in south east coastal areas especially in Cox's Bazar district and people suffer.
He urge for appropriate embankment design based on the soil structure and geological difference in coastal areas.
Mr. Nurunnabi Chowdhury MP demanded effective and sustainable embankment design and implementation to save Bhola district from river erosion as this district situated in the mouth of Bay of Bangle and continue facing erosion.
Unauthorized use or reproduction of The Finance Today content for commercial purposes is strictly prohibited.