National /
PM opens installation of metro rail first span on Pohela Boishakh
---
Nirmal Barman
Published:
2018-04-09 13:04:50 BdST
PM opens installation of metro rail first span on Pohela Boishakh
---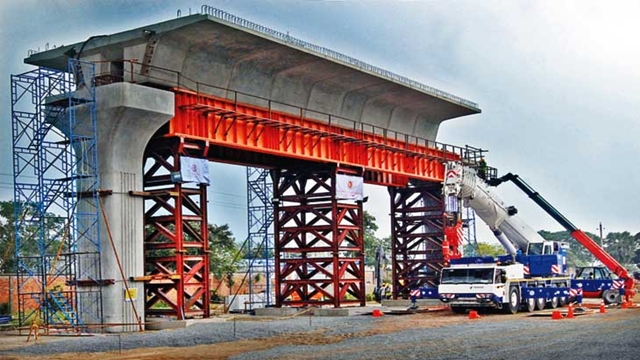 FT ONLINE
Prime Minister Sheikh Hasina will inaugurate the first span of the metro rail on the day of the Bangla New Year, April 14.
According to those affiliated with the metro rail project, the construction work for the first span is already in the final stages. The span will be placed within a few days.
Other than that, the second span will be placed in the Agargaon area of the capital within April.
Several engineers working in the metro rail project have informed that the work for installing the first span outside the area of the main depot is in the last stages. In total, 770 spans will be installed from Diabari in Uttara to Motijheel area.
The engineers hoped that the construction work from the 3rd project in Uttara to the one in Agargaon would be completed by 2019. From Uttara to Motijheel, there will be 16 stations throughout the whole project.
According to affiliated sources, the installation work of the depot (contra package-3) in Diabari is going on in a faster rate than that of Agaragaon (contra package-4). Until now, 550 filings have been done in the Diabari package. The filing work of the Diabari package is estimated to end in July.
Originally, a span in Agargaon was supposed to be installed first, but since the Diabari package progressed faster, its span will be placed before the Agargaon one.
After completion, commuters will be able to travel from Uttara to Motijheel in 37 minutes.
The electric trains, with six compartments each, will move at a speed of 32km per hour.
Each train will carry up to 1,696 passengers at a time. 942 of them will be able to sit, and the rest can stand. There will be a train every four minutes.
A total of 60,000 passengers from the both sides of the city will be able to commute every hour.
Sources have also confirmed that the construction work for the metro rail is going on in two separate phases. One of them is on building the main depot, while the other is about constructing the main line.
Piling has been almost completed in the main line until Agargaon. Now, pillars will be built to place one span after another on them.
Seeking anonymity, several engineers have said: "Our preparations are almost done. The prime minister herself will inaugurate the installation of the first span on April 14.
"It will be her gift to the city dwellers on Pahela Baishakh," they said.
Unauthorized use or reproduction of The Finance Today content for commercial purposes is strictly prohibited.