National /
Fire at the Rohingya Camps: Lessons and Initial Recommendations
---
Rezaul Karim Chowdhury
Published:
2021-03-30 12:08:26 BdST
Fire at the Rohingya Camps: Lessons and Initial Recommendations
---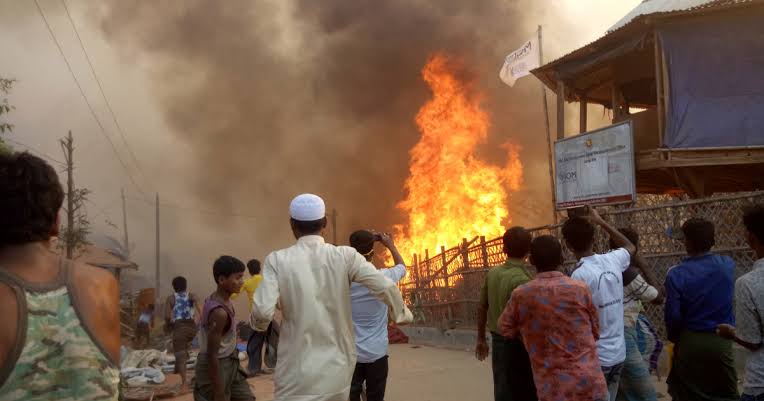 Thousands of Rohingya Muslims have left Myanmar in order to escape the Myanmar army's massacres. It seems that their sufferings are unending!
Even while living in the densely populated Rohingya camps in Cox's Bazar, they have been affected by numerous natural and man-made disasters.
The devastating fire on March 22, 2021, at one of the world's largest refugee camps, the Kutupalong Balukhali, added to their misery.
According to estimates, the fire destroyed and damaged over 12,000 shelters, affecting over 61,000 Rohingya refugees and the host community; 13 people were killed, 563 were injured, and 400 remain missing, including children; and approximately 50,000 people were displaced.
We are also waiting for the final investigative report to learn what caused the burn. However, we must act quickly to reduce the possibility of such catastrophic events in the future. To secure both the Rohingya and the host communities, we should take some immediate and long-term steps.
We should study the situation, incidences, and some realities of the camps before making recommendations or thinking of possible solutions to future disasters.
It is self-evident that the existence of the tens of thousands of shelters raises the likelihood of a catastrophe. Almost all of the shelters are made of bamboo and tarpaulin, both of which are highly flammable. The dense nature of these mega-camps, combined with the materials used to build shelters and tents, poses serious fire protection issues. Women from the Rohingya community, on the other hand, were not used to handling LPG. Gas cylinders were installed without proper knowledge of the risks associated with them. Though there is no proof that the gas cylinders were the cause of the massive fire, there are compelling reasons to regard them as a major hazard in the future.
Firefighting officials failed to reach the fireplace after the fire broke out because the roads were not suitable for driving fire trucks or transporting firefighting equipment. Another source of concern was water shortage. There is a lack of sufficient water reservoirs within the camps. Firefighters were limited to using only the water they had on hand.
We must take steps to minimize the chances of this happening again in the future. First and foremost, we must encourage healthy cooking practices at the camps. We encountered a gas cylinder being used inside a small shelter without the appropriate distance between the containers, combustible materials, and household equipment. There are, of course, safe and reliable alternatives to gas cylinders, but to be frank, none are available right now. We'll need some time to foster viable alternatives, and we'll need to think about them.
Consider the following options for urgent action:
• We must place a strong emphasis on encouraging the healthy use of gas and liquid fuels. Women, men, and children from the Rohingya community should receive training and orientation on how to use gas cylinders safely. Training in firefighting, particularly for children, is essential.
• Consumers and manufacturers should receive training on how to recognise faulty stoves and gas cylinders.
• In addition to a gas cylinder, each family should eceive one fire extinguisher and instruction on how to use it. Family should also have access to at least one bucket of sand. These can be useful in the early stages of a fire incidence.
• A robust quality management system is needed to ensure that gas cylinders are in good working order and that all safety precautions are in place.
• We should ensure that each shelter has at least one small outlet/point where smoke can escape. The scale of the point can be very small, like around 1-meter x 1, and it should be as close to the ceiling as possible. Water reservoirs must be provided inside the camps.
• We need to ensure wider roads and pathways so that firefighting vehicles and cars can easily access the location faster.
• Having access to a proper supply of water is crucial for putting out a fire that has already begun. As a result, some water reserves would need to be constructed inside the camps. Outside the camps and in the host group areas, there are wetlands. It is possible to re-excavate these wetlands.
• We need to develop an evacuation plan and conduct routine evacuation exercises in the event of an emergency.
Along with the above-mentioned short-term initiatives, we must also consider the following long-term solutions:
• This is high time of reconsidering the type and style of the shelters. Authorities should consider building two-story prefabricated shelters in the camps. The concept must be adaptable and detachable. It will free up space in the camps and relieve congestion. It would also reduce the chance of fire spreading quickly because the materials used would be less flammable, it will not us bamboo or other materials currently in use.
• We should look for alternatives to gas cylinders that are more sustainable, cleaner, and effective. A "Charcoal"-based enhanced cooking stove comes can be an option. If we encourage charcoal-based cooking, we will be able to promote Charoal-producing factories/entrepreneurs among the host community as a viable alternative to LPG and build local employment opportunities. It should be mentioned that rice husk can be used as a charcoal briquett as an alternative fuel.
• A group-based cylinder plant, rather than supplying gas cylinders to each family, can be a safer choice. Such lants have been found in cities and have proven to be relatively healthy.
• We can also consider bio gas plant. If we could introduce Bio gas plant two years earlier, we might be able to ensure safe gas for a huge number of families. Along with this local livestock resources could be developed.
• In Ukhiya, for about 2 lac people there is one fire station, but at the same Upazila, there are about 7 lac Rohingya.
Therefore, we need to establish a 4-5 substation of the fire service and civil defense department.
Above all, we must support the concept of 'Social Capital.' In Bangladesh, social capital, or people's solidarity, has proven to be crucial in the face of disasters. The Rohingya and host communities must work together to build good social cohesion. This social capital may be useful in the event of a possible catastrophe.
To increase social capital, we must encourage communities to engage in dialogue. Host societies can be included in various services as well. Volunteers and youth from host communities should be given more chances to respond positively.
Unauthorized use or reproduction of The Finance Today content for commercial purposes is strictly prohibited.