National /
Moitree Dibosh celebrated jointly by Bangladesh and India in 20 capitals
---
Diplomatic correspondent
Published:
2021-12-07 18:32:59 BdST
Moitree Dibosh celebrated jointly by Bangladesh and India in 20 capitals
---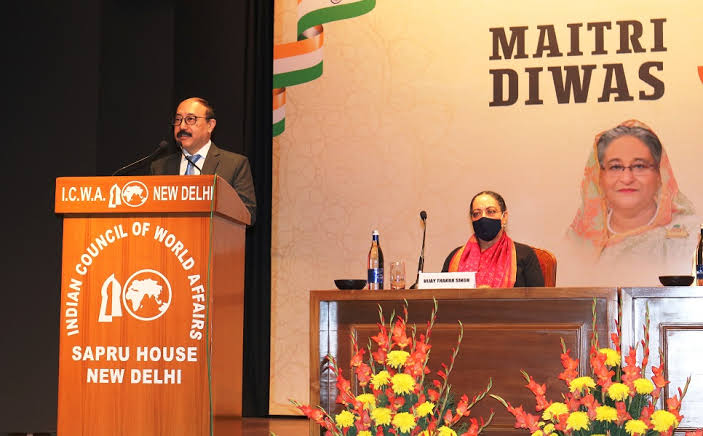 Bangladesh and India on Monday jointly celebrated "Moitree Dibosh", across 20 countries to commemorate the historic December 6, the day when Bhutan and India recognised Bangladesh as a sovereign and independent state in 1971.
The day has been designated by the Prime Ministers of Bangladesh and India as Bangladesh-India Friendship Day (Moitree Dibosh) in March 2021.
As part of the celebration, Friendship Day was jointly commemorated in 18 selected countries, including Australia, France, Japan, Malaysia, Saudi Arabia, South Africa, Switzerland, Thailand, UAE, USA, Belgium, Canada, Egypt, Indonesia, Russia, Qatar, Singapore and UK, in addition to the celebrations in Bangladesh and India by the respective diplomatic Missions of the two countries.
The celebration of Friendship Day coincides with Golden Jubilee of Bangladesh's Independence and 50th anniversary of Bangladesh-India friendship.
Report reaching from different foreign missions reads that the Friendship Day programme was observed on Monday as planned. In few of the cities, the celebration would be held at a later date due to the Covid-19 related restrictions declared by the host governments.
According to a message received from the Bangladesh High Commission in New Delhi, India and Bangladesh celebrated December 6 as "Moitree Dibosh", the 50th anniversary of India-Bangladesh diplomatic relationship. Governments of both the countries have taken number of programs to celebrate the day.
Moitree Dibosh event in New Delhi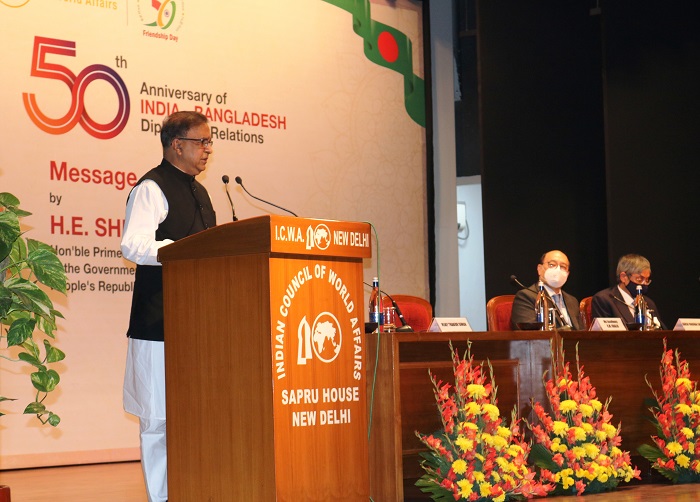 Indian Council for World Affairs (ICWA), a renowned think tank of Indian Ministry of External Affairs arranged a seminar in the afternoon on this day to reminiscence the historical and eventful ties of fifty years between India and Bangladesh.
Prime Minister Sheikh Hasina, who sent a video message to the seminar, mentioned historical aspects of friendly relationship of these two countries in her six minutes recorded speech to address the seminar.
She respectfully recalled the sacrifice of Indian soldiers and the cooperation of the people of India during our liberation war. She mentioned that the relationship of India and Bangladesh is blood relationship. She also remembered the great contribution and support of the then Prime Minister of India Indira Gandhi.
Prime Minister Sheikh Hasina said, over the last 50 years of friendship between Bangladesh-India is now at a unique height. Prime Minister said in her speech, the friendship between the two countries will remain strong forever. Because the relationship is built on the glory of deep trust, friendship and above all sacrifice.
Former Information Minister Hasanul Haq Inu said during the resime of the present government a new dimension has been added about Bangladesh-India relation. He said today is the time to realize that our relationship is always trusted and reciprocity. "So, If Bangladesh is good India will be good. We want to move forward with this goal."
Moitree Dibosh event in New Delhi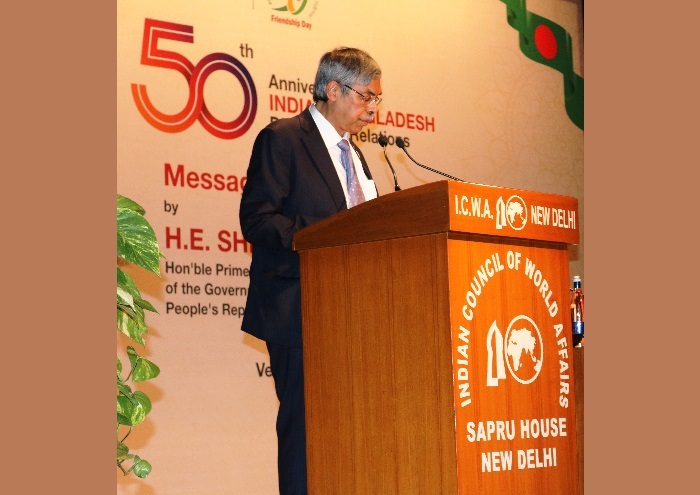 Harsh Vardhan Shringla, Foreign Secretary of India said, Bangladesh has graduated to list of the developing countries. He lauded Prime Minister Sheikh Hasina's Government – led development journey and said India would always stand by Bangladesh as a trusted friend.
Minister of State of Cultural Affairs KM Khaled, High Commissioner of Bangladesh to India Mohammad Imran, Director General of ICWA Shrimati Vijay Thakur Singh, Former High Commission of India to Bangladesh Rajeett Mitter took part in the seminar as discussants.
On the other hand, Bangladesh High Commission hosted a reception for the twenty Indian Army War Veterans who fought for Bangladesh Independence in 1971.
Bangladesh High Commission also hosted a cultural program in the Kamani Auditorium in New Delhi in the evening to celebrate the 'Moitree Dibosh'. Renowned Rabindra Sangeet singer Rezwana Choudhury Bannya among others performed in the program.
Report from Tokyo says, the Embassies of Bangladesh and India in Tokyo celebrated the 50 years of Bangladesh – India Relations through Friendship Day with due fervor on Monday.
To mark the day, a reception was organized at a local hotel on Monday evening where Honda Taro, Parliamentary Vice-Minister for Foreign Affairs of Japan graced the programme as Chief Guest. Ambassador of Bangladesh to Japan Sahabuddin Ahmed and Ambassador of India Sanjay Kumar Verma received the distinguished guests.
Moitree Dibosh event in Tokyo
Ambassadors and representatives of different diplomatic missions, dignitaries, high-officials, journalists, renowned businesspersons, academicians from Japan and expatriates from both Bangladesh and India attended the event.
Moitree Dibosh event in Tokyo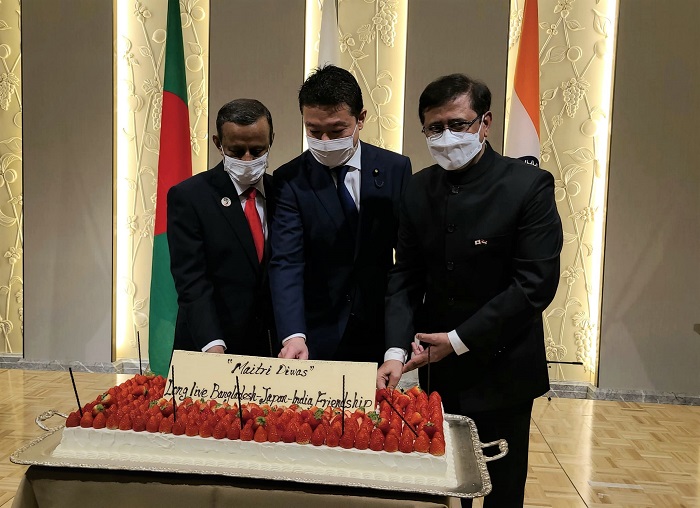 Attendees paid solemn respect to all Martyred who sacrificed their lives in the Liberation War of Bangladesh in 1971. A colorful cultural programme enthralled the audience. Besides, Ambassador Sahabuddin Ahmed and Ambassador Sanjay Kumar Verma gave their remarks.
Unauthorized use or reproduction of The Finance Today content for commercial purposes is strictly prohibited.